The Official Blog of Morningside Nannies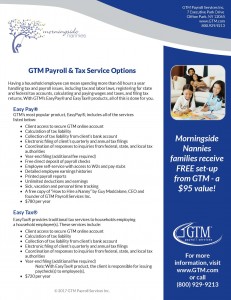 Having a household employee can mean spending more than 60 hours a year handling tax and payroll issues, including tax and labor laws, registering for state and federal tax accounts, calculating and paying wages and taxes, and filing tax returns. With GTM's EasyPay® and EasyTax® products, all of this is done for you.
Easy Pay®
GTM's most popular product, EasyPay®, includes all of the services listed below:
 Client access to secure GTM online account
 Calculation of tax liability
 Collection of tax liability from client's bank account
 Electronic filing of client's quarterly and annual tax filings
 Coordination of responses to inquiries from federal, state, and local tax authorities
 Year-end filing (additional fee required)
 Free direct deposit of payroll checks
 Employee self-service with access to W2s and pay stubs
 Detailed employee earnings histories
 Printed payroll reports
 Unlimited deductions and earnings
 Sick, vacation and personal time tracking
 A free copy of "How to Hire a Nanny" by Guy Maddalone, CEO and founder of GTM Payroll Services Inc.
 $780 per year
Easy Tax®
EasyTax® provides traditional tax services to households employing a household employee(s). These services include:
 Client access to secure GTM online account
 Calculation of tax liability
 Collection of tax liability from client's bank account
 Electronic filing of client's quarterly and annual tax filings
 Coordination of responses to inquiries from federal, state, and local tax authorities
 Year-end filing (additional fee required)
   $720 per year
Note: With EasyTax® product, the client is responsible for issuing paycheck(s) to employee(s).
Morningside Nannies families receive FREE set-up from GTM – a $95 value!
For more information, visit www.GTM.com or call (800) 929-9213
Posted in
Advice for Parents
|
Comments Off
(Houston, TX) March 9, 2017- Though over 50% of families use non-nanny agency sources to find their nannies, 25% of families who tried to find a nanny on their own end up using a nanny agency, according to the results of the 2017 nanny employer survey conducted by GTM Payroll Services, Inc.
"These findings are not a surprise" said Michelle LaRowe, executive director of Morningside Nannies, a Houston based award-winning nanny placement agency. "Using a reputable agency offers families safety, security and peace of mind."
And parents agree. While 90% of families report that security and screening of candidates is a top reason for using a nanny agency, other top reasons included time savings and quality of candidates.
"When clients come to us, they know that every nanny they are introduced to through our agency has already been fully screened. Every nanny has completed a child development and safety assessment, has completed an employment application, has been interviewed in our office, has had their childcare experience and work history verified, has had their references checked and has undergone a background screening," said LaRowe who added that only 2 or 3 out of every 10 nannies who come into their office make it through their screening process.
"We have encountered applicants who provide fake references, have a criminal history, lie about their experience and are not legally able to work in the United States."
"When doing a search on their own, parents are really playing Russian roulette. They may get lucky and find the perfect nanny for their family, or they may not. When they come to our agency, the odds are in their favor. When using our agency, every nanny we present to the family meets or exceeds their hiring criteria, has been thoroughly screened and has been hand-selected for their family and job. We've done the hard work for them."
What advice does LaRowe have for parents who want to do a nanny search on their own? LaRowe offers these tips. "First, be sure you know who you're considering to care for your kids. Have the nanny complete an application, check all of her references, verify her complete work history, and do a high-quality background check. Second, trust your gut. Never underestimate your intuition."
Posted in
Advice for Nannies
,
Advice for Parents
|
Comments Off
At Vivaldi Music Academy, we understand that parents desire the best music education for their children. With a fun-filled and encouraging environment, our community of teachers can help your children reach their goals and develop a lifelong passion for music.
Here are the top 10 reasons to join our Vivaldi family:
1.     The largest music academy in Houston with over 1300 students and providing the best comprehensive music education.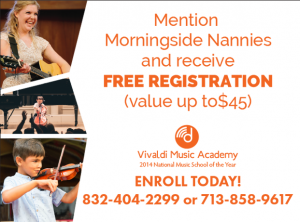 2.     The most qualified, talented and friendly faculty with instrument specific degrees from celebrated music conservatories such as Oberlin School of Music, Boston Conservatory, Yale University, Rice University and more.
3.     Incredible performance opportunities for our students including Carnegie Hall in New York City, Vivaldi's church in Venice, Italy and the Kennedy Center in Washington, D.C.
4.     2014 National Music School of the Year!
5.     Open seven days a week for today's busy families with two convenient locations in West University and Bellaire. Stay tuned for the opening of our third Vivaldi Music Academy in Memorial!!
6.     Tuition includes biannual recitals in Houston at prestigious venues including the Shepherd School of Music at Rice University and Houston Baptist University
7.     A variety of classes and lessons for students of all ages and levels including customized individual lessons, Vivaldi Strings Performance program, Children's Choir, Vivaldi Rocks Group Guitar program and of course for our youngest musicians, Vivaldi Seasons Early Childhood Classes (ages 1-5).
8.     Top of the line upright and grand pianos in spacious and studio rooms for a comfortable learning environment! Our modern facilities provide free wi-fi, water and magazines for waiting parents.
9.     Vivaldi Music Academy has been featured in TLC's the Little Couple, KHOU11's Shaping Houston, the Houston Chronicle, Village News, Buzz Magazines, Good Day Houston, and the Houston Business Journal!
10.  A phenomenal achievement and rewards program to keep our students motivated and parents engaged in their children's progress!

 Mention Morningside Nannies and receive 
FREE 
registration (up to a $45 value). Offer ends 5/1/2017. Call us at Bellaire 
832-404-2299
 / West U 
713-858-9617
. Learn more about private music lessons in piano, violin, guitar, cello, voice and more, group music classes and early childhood music classes by visiting our website at 
www.vivaldimusicacademy.com
.
Posted in
Activities
,
Advice for Nannies
|
Comments Off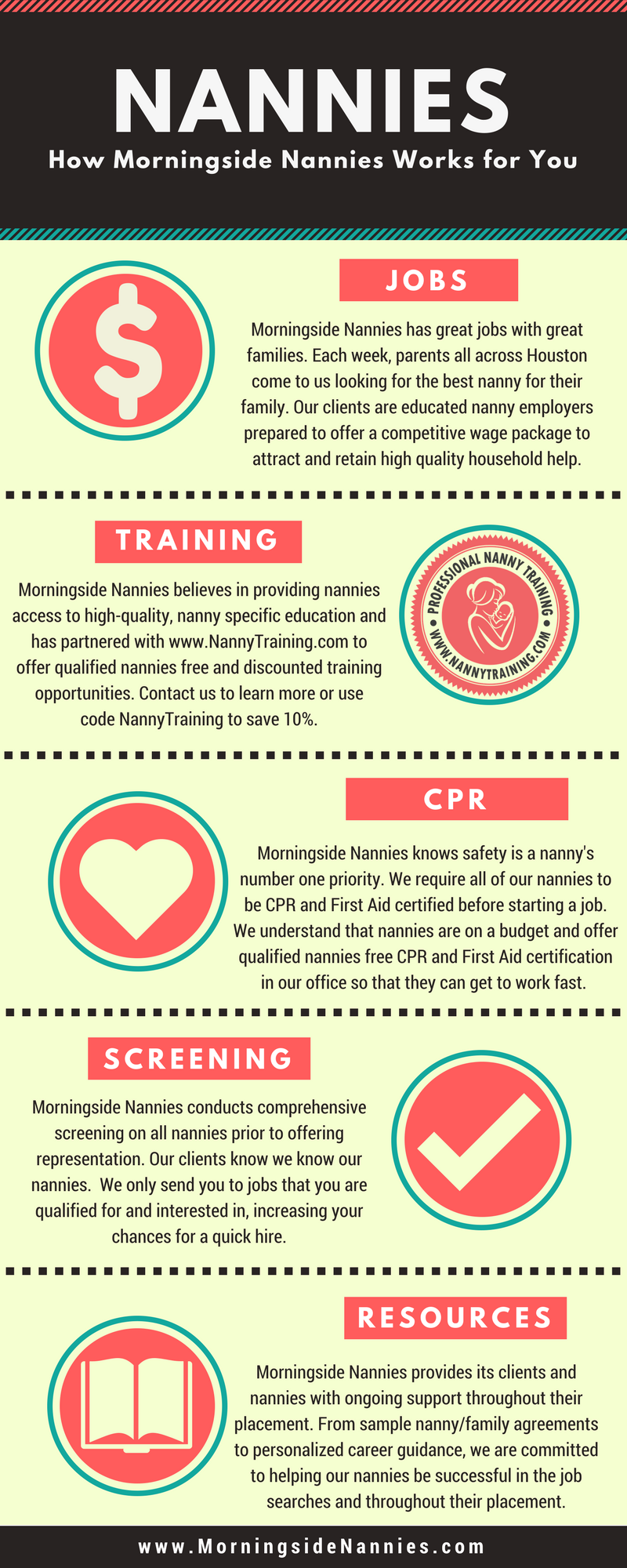 Posted in
Advice for Nannies
|
Comments Off
For many larger families, nanny care is the most affordable, effective, and efficient childcare option. Unlike with daycares, nannies don't charge a per child fee or age children out of their care, so for parents with several children of differing ages, nanny care is an attractive childcare option. And given that most nannies transport children as part of the job duties – and are willing to be a bit flexible with their scheduling when required – nanny care is most often the ideal childcare choice for multi-child families.
However, many nannies are hesitant to take on jobs with more than two children. Since jobs caring for one or two children are often offering the same wages as jobs that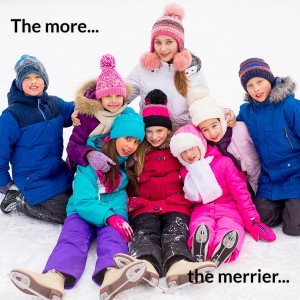 require caring for three or more children, the slight bump in hourly wages isn't appealing enough to take on the extra work.
But as parents in large families will tell you, double the children isn't necessarily double the work. Here's why:
1. The scale of economy. Translated to childcare, the more children there are, the less "above and beyond" work required to care for each individual child. If you're cooking pasta for dinner, for example, the work required to make pasta for an additional person isn't really that much.
2. Forced routine, structure, and organization. Successful large families will tell you that when caring for multiple children of various ages with unique needs, having routine, structure and organization are essential. Most larger families operate like a fine-tuned machine and the hard work of establishing consistent patterns from day to day is already done.
3. Increased social/emotional development. Children in large families tend to have solid social/emotional relationships and are used to having to wait their turn, share, and get along with others. These kids tend to know how to develop relationships with their peers because they get lots of practice doing so.
4. Group friendly activities. When caring for several children, having activities that all the kids can participate in at their age an interest level is essential. Nannies caring for large families can adapt many activities to be all inclusive. Having theme days where activities revolve around a centralized theme and having children engage in the arts and outdoor play can help ensure fun for everyone.
5. Opportunities to fine-tine your caregiving skills. When caring for several children, nannies must meet the needs of one child without sacrificing the needs of another. Nannies who are competent in caring for multiple children learn to prioritize needs, multi-task and learn to be fair, which doesn't always mean ensuring equality. Nannies caring for children in large families have a real opportunity to increase their caregiving abilities through rich the rich experiences afforded by hands-on care.
Nannies who find their niche out earn and outperform their peers in the areas where they specialize. If you're looking to stand out in your career, consider specializing in caring for multiple children in larger families. A well-referenced nanny who has experience caring for several children of all ages will quickly stand out among peers when applying for jobs that require experience caring for several children of varying ages. Nannies who have a background working in daycare are especially poised to specialize in caring for children in large families since they already have experience caring for several children of varying ages under their belt.
Posted in
Activities
,
Advice for Nannies
,
Houston
|
Comments Off
Holiday Bonuses: How Much to Give?
It's that time of year again – the holidays are right around the corner. Giving a nanny a holiday bonus is a common practice among household employers, but many families might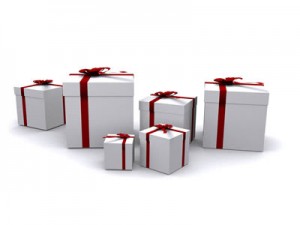 be wondering how much to give their nanny.
GTM's recent survey of nannies found that 71% of those who responded said they received a year-end bonus/holiday gift. Of those, the survey found that:
20% got cash + a gift certificate
20% got a one week's salary bonus check
19% got a gift or gift certificate
7% got 2 week's salary
5% got more than 1 month salary
Please share with your families who aren't sure how much to give their nannies to show their appreciation during this time of year.
Wondering About Year End Taxes?  Visit GTM's Year End Tax Planning Page for More Information 
Posted in
Advice for Parents
|
Comments Off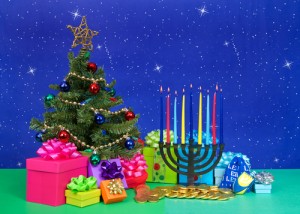 For nannies and families who share different faiths or celebrate different holidays, the holiday season can be a sensitive one. As children notice new decorations go up in their home or sense the holiday excitement, they often ask questions and don't wait until 6 o'clock or when their parents get home to do so. The nanny is then faced with answering the child's innocent questions about what a decoration may symbolize or what she is doing for the holidays, which if not handled carefully, may cause confusion to the child or for some parents, irritation that their child received an answer that they preferred they had not.
As nannies and employers navigate this holiday season, consider these 5 tips:
Be Upfront
If you know that you celebrate the holidays differently or have different beliefs, talk to the parents before the holidays are here. Ask them if you are free to be honest with the children about how you celebrate, should they ask or if they have any preferences or concerns about holiday crafts you are considering doing or books you are considering reading. If the parents have preferences about how holidays should be handled, they should discuss this with the nanny before the holiday season is here.
Focus on your similarities rather than your differences
Even for families and nannies who celebrate different holidays, there are some events and activities that can unite rather than divide you. If you celebrate different holidays, focus on doing more neutral celebrations and festivities. Instead of making faith inspired crafts, for example, make winter inspired crafts like snowflakes and snowmen.
Have mutual respect
Successful nanny and employer relationships are based on mutual respect. Respect doesn't mean you agree on everything, it dictates how you respond to your disagreements. If you are concerned about something holiday related, have a respectful conversation about it.
Ask questions
If you aren't sure about something, ask. If you want to give your charge a Christmas present, but the family celebrates Hanukkah and you aren't sure how it would go over, ask.
Keep things in perspective
The holiday season provides a great opportunity for children to learn about the different ways people celebrate the holidays. If you are a person of faith, remember that your faith is rooted in how you live your life every day, not just on the holiday you celebrate. Instead of viewing celebrating with your employer or nanny as a negative thing, consider how learning about different holidays can enrich your understanding of each other.
The longer the nanny and family have been together, the more comfortable the holiday season will be. Focus on what brings you together, rather than what brings you apart this holiday season. When you do, the stress and anxiety over holiday differences will be minimized.
Posted in
Advice for Nannies
,
Advice for Parents
|
Comments Off
Morningside Nannies refers fully screened and referenced full-time, part-time, temporary and occasional childcare providers.
We offer before and after school placements, childcare during school closings and holidays, and care for mildly ill children.
Call (713) 526-3989 to register now to secure childcare when you'll need it most.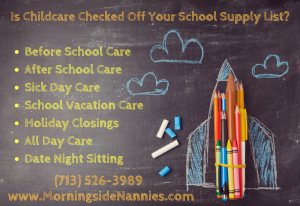 Full-time nannies work at least 35 hours in a 7-day period.
Part-time nannies work a few hours per day, a few days per week or just work on evenings and weekends.
Temporary nannies provide occasional, back-up or sick child care.
Babysitters provide occasional, back-up or sick child care and are concerned with meeting the child's immediate care needs.
Posted in
Advice for Parents
|
Comments Off
Recently I had a chance to connect with Leah Whitley,  International Board Certified Lactation Consultant and founder of  SOS Lactation here in Houston. I asked her to share some of her best advice for new, nursing moms and the nannies who support them. Here's her top tips for our nanny network. – Michelle
Top Challenges New Nursing Moms Face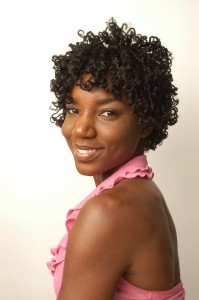 Frequent feeding and exhaustion.
Many new parents do not fully realize newborn feeding patterns and frequency. Newborns spend the majority of their first days logging around 16-19 hours of sleep each day. I have even had parents say to me "Oh that's easy! It's just like my cat!" But what makes it challenging is that they feed very frequently and in an unpredictable pattern in the beginning. A newborn could go 3 hours between feeds. Or they could breastfeed for 45 minutes and need to eat again 10 minutes later.
Getting the right latch.
Getting a good latch is important to prevent nipple pain and ensure that the baby is transferring the right amount of milk. The latch isn't perfect every single time in the beginning, but with practice you get better. For most new mothers they begin to get comfortable with breastfeeding after the first two weeks. If a new mother is experiencing excessive pain, that is a sign that she needs help with latch and positioning.
Getting help when you need it.
Most expecting mothers have heard of the terms supply and demand in regards to breastfeeding. The more a woman breastfeeds, the more milk her body will make. Conversely, the less she breastfeeds, the less milk her body will make. This is true after the first 2-4 weeks. A woman's breast are not fully developed at birth. Milk supply is established in the first 2-4 weeks. If a new mother is not breastfeeding frequently and properly in the beginning, then she may have a compromised milk supply leaving her unable to make enough milk for her baby. The hardest time of breastfeeding is the beginning, but the most critical time is the beginning. That is why it is so important for new breastfeeding mothers to seek help early if they need breastfeeding support.
Top Tips for New Nursing Moms
Keep expectations realistic.
It takes time to get adjusted to a new baby in the house. Many women are so accustomed to juggling multiple task at once that they expect to be able to do a lot after the arrival of the baby. Newborns take a lot of time. The transition is smoothest when parents minimize extra obligations. New mothers often tell me that they feel overwhelmed because they should be doing (insert random activity) and I'm like, "Relax! You are doing well!" Any task outside of eating, drinking, resting, comforting, feeding and changing your baby should be considered a bonus in the beginning!
Enjoy the special moments with your baby.
The time passes so quickly and newborns grow at an amazingly fast rate. You blink, and developmentally you have a whole new older baby with different behaviors and patterns. So enjoy those special moments in the beginning, relax, and try not to worry or stress out.
Don't be afraid to ask for help.
As women we tend to be polite and do not want to be seen as demanding. Many times we decline when friends and family offer to help out. This is no time for modesty. Take them up on it! If somebody says "Let me know if there is anything I can do to help" for goodness sake, give them something to do! If they didn't truly mean it they won't ask anymore. Usually the last thing a new parent needs is another blue or pink onesie, however a home-cooked meal or a trip to the dry cleaners is golden.
Best Resources for Nursing Moms
Short Order Support 
The SOS in SOS Lactation stands for Short Order Support. We pride ourselves in being one of the very best resources for nursing mothers as we see clients within 24 hours of initial contact. Usually we see them that very same day. When new mothers are in need of breastfeeding care it is an urgent case, and waiting to address breastfeeding concerns can exacerbate the underlying issue. We do in-home consultations, as traveling with a new baby can be stressful and cumbersome. This also gives us the opportunity to provide quality care in the comfort of your own home, which is most ideal when practicing latch and positioning techniques. We are also very accessible so new mothers can always call and speak with an International Board Certified Lactation Consultant and ask questions they need to know.
Mom Meet-Ups
Mom meet-up groups and breastfeeding support groups are wonderful. I went to my first breastfeeding support group when my daughter was 2 weeks old. I met lifelong friends that I still meet with regularly who turned into my Houston family. It has been amazing having the comradery and watching all of our children grow up together. Ask your birthing facility if they offer any breastfeeding or new mom groups postpartum. Many hospitals and Birthing Centers offer such groups for mothers who have been patients/clients. The Birthing Place Birth Center offers Healing Mondays where new mothers meet in different locations every Monday and walk, do yoga, swim or other planned activities. All new mothers are welcome. It is a wonderful way to meet new mothers with shared experiences.
Meal Help 
Nutrition is important for not only the baby but the entire family. Sometimes new mothers are so engulfed in adjusting to the new baby that they forget to eat and drink the appropriate amount of fluids. Mealtrain.com is a website that allows friends and family members to organize meal deliveries for families experiencing life events. It is free, user friendly and helps your supportive inner circle maximize their efforts to help loved ones with new babies.
How Nannies Can Best Support Nursing Moms
Nannies can help make the transition easier and smoother by relieving new parents of much of the day-to-day tasks that take time away from bonding and learning about your baby. If there is a helping hand available, new parents can maintain a sense of normalcy and really enjoy their baby.
I know so much about the behaviors and general care of newborns because as a Lactation Consultant new parents ask all types of questions. Many of their inquiries are not feeding related. Parents wonder if certain appearances and behaviors are normal. Having an experienced nanny in the house can reassure parents when everything is okay, as well as confirm when they may need to seek help. This is preferable to worrying and leaving messages for the pediatrician, or having to google and worrying about the search results.
Nannies can provide parents with a much needed break. Before having children it is so easy to just leave the house and run an errand. Any parent will tell you that having a baby can turn a typical 15 min trip into an hour-long ordeal. Having somebody there who can provide care gives a new parents the freedom and option to run that errand. It may not sound all that appealing, but having just a few moments on your own can help parents recharge.
Leah Whitley is an International Board Certified Lactation Consultant and the founder of  SOS Lactation. She prides herself in providing quality breastfeeding care within 24 hours of initial contact with mothers. With nearly a decade of experience, Leah has taught classes and facilitated consultations with thousands of new Houston parents. She currently offers private prenatal breastfeeding classes as well as lactation consultations for new parents and babies. If you are in need of breastfeeding support you can reach SOS Lactation at 832-680-0872.
Posted in
Advice for Nannies
,
Advice for Parents
|
Comments Off
Party Girl? Political Junkie? Lover or Hater? Responsible Childcare Provider?
What Does Your Facebook Say About You?
By now it should be no secret; when applying for a job employers will look at your Facebook page. They'll also often look at your Twitter, Google+ and Instagram profiles and pages in addition to doing an broad based Internet search.
What does your social footprint say about you?
When considering what you share publicly for the world to see, you must ask yourself how others who don't know you personally will perceive you based on the information you have shared.
When job searching, here are seven examples of things that potential nanny employers won't be impressed with and may cost you the chance at a job:
Pictures of you partying.
Videos sharing messages of hate.
Profanity in posts.
Nudity or suggestive photos.
Nonstop political jargon.
Extreme religious or cultural views.
Inappropriate public displays of affection.
Any questionable content.
While you certainly have every right to express yourself, your opinions and your views, before exercising that right you should ask yourself who has access to what you are sharing and how what you have shared may be perceived by others.
Job seekers may wish to review their privacy settings to ensure that what they are sharing is only shared with a selected audience and to review their past history for questionable content.
Photo Credit: maxpro / Shutterstock.com
Posted in
Advice for Nannies
|
Comments Off
← Older posts
Newer posts →