The Official Blog of Morningside Nannies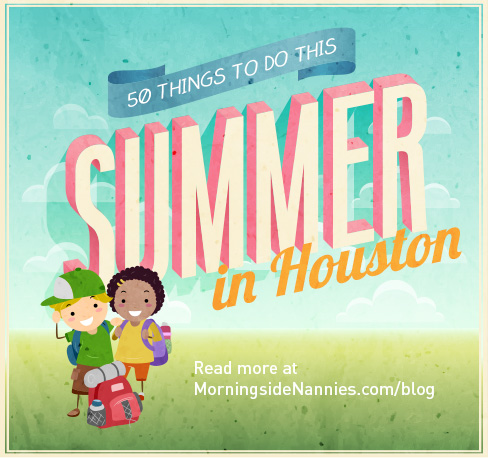 Looking for some fun things to do this summer in Houston? Look no further. Beat summer boredom by taking advantage of some of these family events, date ideas for couples, kids-only activities and more.
Activities
,
Houston
|
Comments Off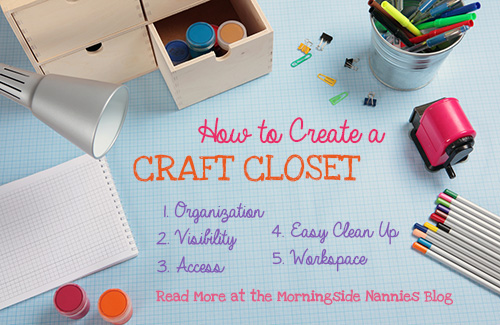 Most nannies love to do crafts with kids, but having craft stuff scattered around the house makes it hard to get started. From crayons in the toy box to wrapping paper in the attic, finding everything you need to do crafts can be frustrating if you don't have a centralized crafting area. That is where a craft closet comes in handy. You do not need to make a whole room into a crafting space to have an organized and useful place to store your craft goods. Consider asking your employer if a broom closet or other small storage space can be converted into a craft closet for the kids..
Once you've got the approval to create a space, here are some tips for creating and maintaining a craft closet:
Making a craft closet doesn't have to be a big deal. You probably have almost everything you need already. If you don't, consider asking your employer for a small budget to stock up on supplies. Setting aside a special craft area can help you make the most of your crafting time together and cut back on time spent searching for crafting supplies.
Posted in
Activities
,
Advice for Nannies
,
Advice for Parents
,
Houston
|
Comments Off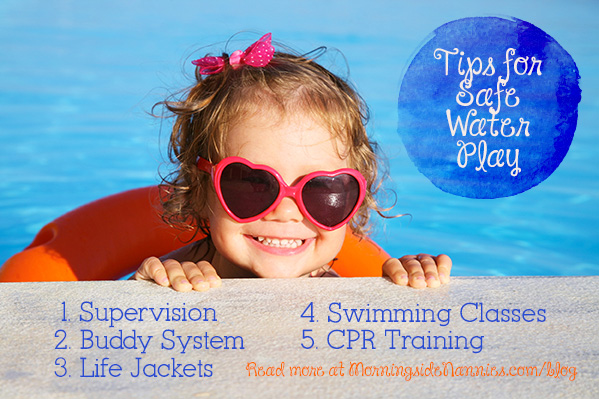 Summer is a great time to get outside and cool off in the water, but if you have children then water safety should be on your mind. According to Safe Kids Worldwide, "Drowning is the leading cause of injury-related death among children between 1 and 4 years old. And it's the third leading cause of death among children." How can you keep your children safe around water?
Playing in and around water is a great way to spend the hot summer months. However, you should remember that children need to be constantly supervised, no matter how responsible they seem. You should take the proper precautions when playing in or near water to ensure your child's safety.
Posted in
Activities
,
Advice for Nannies
,
Advice for Parents
,
Houston
|
Comments Off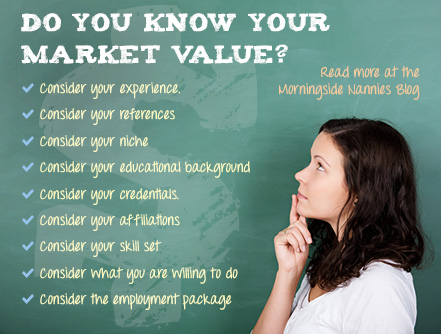 When conducting your job search, it's vital that you know your market value. To determine wage expectations, many nannies simply add up their expenses each month and set their salary requirements based on those results. Others come up with with a random wage requirement that they are satisfied with and set that as their earning goal. Some even base their wage requirements on what they believe the parents can afford to pay them given where they live and the type of car they drive. And a few see advertisements for high-end positions posted on recruiting websites and assume that's the norm. Unfortunately, these are not accurate ways to determine a nanny's market value and earning potential.
The International Nanny Association conducts an annual salary and benefits survey each year. You can review the results of these surveys at http://nanny.org/resources/industry-services/salary-and-benefits-survey/. The median wage rate for nannies in the US is $16 per hour. In Houston, we fall slightly under that market. 99% of all of our jobs place at $14 to $16 per hour for full-time positions and $15 to $17 for part-time ones.
How can you fairly assess your market value and earning potential starting from this base wage range?
Like with any industry, the more experienced and educated you are, the higher your earning potential becomes. The more you are willing to work and do, the higher your earning potential becomes. The more specialized experience you have, the higher your earning potential becomes. When considering your market value and wage requirements, please be able to justify why you are expecting a wage outside of local averages. We will gladly present you with your requested wage rate to families, but we need to be able to justify to parents why you are worth a wage rate that is outside of the local Houston average.
Posted in
Advice for Nannies
,
All About Nannies
|
Comments Off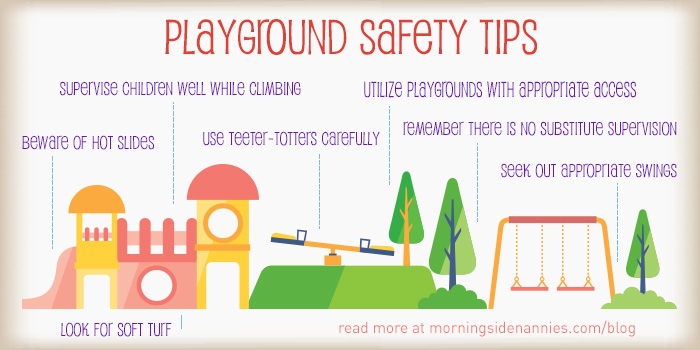 Playgrounds are a great place to take your child for active, social fun. However, they are also a hotbed for injuries. According to the National Safety Council, "Each year more than 200,000 children visit hospital emergency rooms because of playground injuries." What can you do to prevent your child from being hurt while on the playground?
Going to the playground should be a fun adventure, not a painful memory. Make sure your local playground is safe for children. If you have issues or questions, contact the owners or the Consumer Product Safety Commission.
Posted in
Advice for Nannies
,
Advice for Parents
,
Houston
|
Comments Off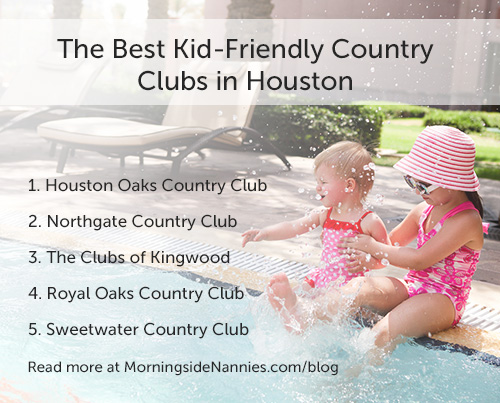 Having a private club to go to is one of the joys of living in an exclusive neighborhood. No matter where you live in Houston or the surrounding areas, you can have access to wonderful, state-of-the-art, family-friendly country clubs. Catering to both kids and adults, these country clubs offer the best of both worlds for families.
As you can see, there are many country clubs in the Houston area that offer family-friendly activities and events. Get fit and have fun with your children at your local country club!
Posted in
Activities
,
Houston
|
Comments Off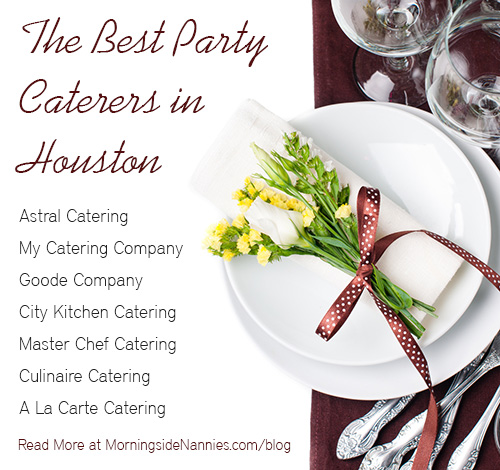 Whether you are throwing a birthday party, anniversary gala or wedding celebration, the food is often a definite focus to delight and entertain your guests. Luckily, the Houston area is rich with party caterers offering up elegant and casual cuisine designed for all ages.
From finger foods to fancy fruits and vegetables, find out what Houston caterers have to offer with this quick guide to the best party caterers in the area.
Houston
|
Comments Off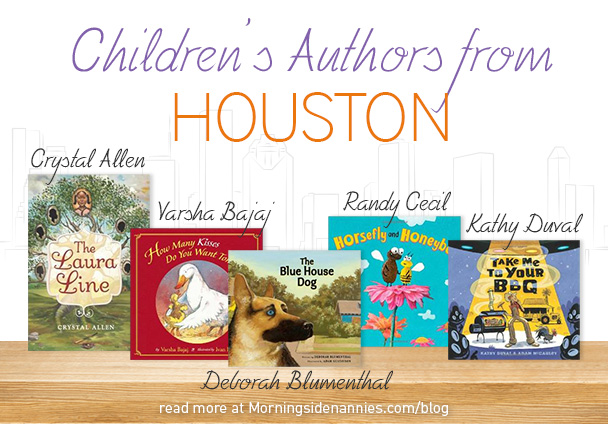 It's likely your children have a favorite book that they want to read or have you read over and over again. While enjoying the rhymes, illustrations and story plots, what your children may not know is that many of these authors hail from the same city – Houston.
For your reading enjoyment, check out the publications of these Houston authors – known for delivering insightful stories, lessons and illustrations to delight readers young and old.
Houston
|
Comments Off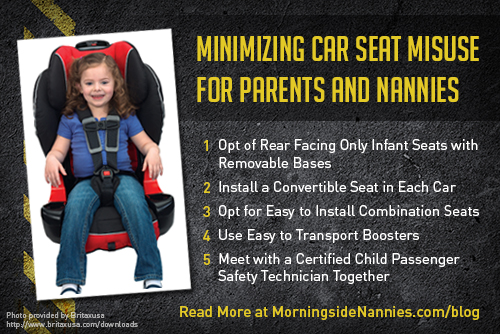 With statistics ranging from 70 to 90 percent, it's safe to say that a majority of car seats are incorrectly installed or misused.
For parents and nannies who often share the responsibility of transporting the children, it's essential that there is a clear mutual understanding of state laws governing car seat use as well as best practices for safely transporting the children in their care. It's important to note, however, that state laws and best practices aren't always equivalent. While the law may state that  children can be turned forward facing once they reach age 1 and 20 pounds, for example, The American Academy of Pediatrics recommends that children ride rear-facing until age 2 or until they reach the maximum height and weight for their car seat. With a number of rear-facing seats having higher height and weight limits, children can ride rear-facing even longer, with the gold standard being keeping kids rear-facing as long as possible.
To ensure that children are transported safely every time they ride, parents and nannies should work together to ensure that they are using the best car seat possible. The best car seat is the seat that fits the child best based on age, height, weight and developmental level, fits the vehicle properly, and is used correctly each and every time.
What are some ways parents and nannies can work together to minimize car seat misuse?
When it comes to safely transporting children, parents and nannies should communicate often and discuss their transportation practices in detail. Including information relating to transporting the children in a nanny and family work agreement can help to ensure that there is no miscommunication when it comes  to the expectations and safety standards surrounding transporting the children in their care.
Michelle LaRowe is the executive director of Morningside Nannies and a nationally certified child passenger safety technician.  The Britax Frontier 90 and Bubble Bum seat were provided at no cost for editorial consideration. Michelle is not affiliated with either company and no payment for this post or guarantee of inclusion was made. Michelle has personally used the Britax car seats since 1999 and believes Bubble Bum offers parents and nannies of booster appropriate children a simple solution to common transportation dilemmas. 
Posted in
Advice for Nannies
,
Advice for Parents
,
Nanny Training
|
Comments Off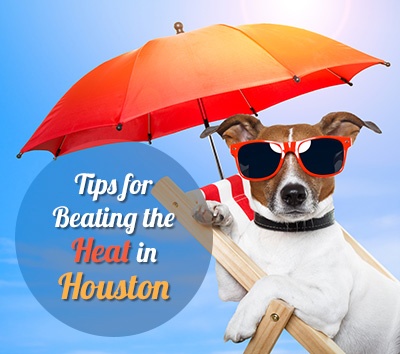 When the sun is shining and your children are eager to play outside, fun in the sun is inevitable. Whether your family is ready to splash around at a local waterpark, enjoy a jaunt to the park or launch a sporting event in the backyard, a sunny day is the perfect setup.
Safety, though, is a concern when the Houston heats up. Summer safety in the heat of the summer involves preparing yourself and your little ones so you can all enjoy those sunny days and maintain a healthy lifestyle.
Advice for Parents
,
Houston
|
Comments Off
← Older posts
Newer posts →