The Official Blog of Morningside Nannies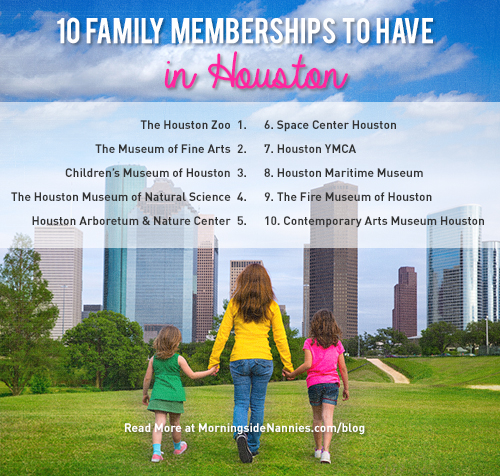 Since there are so many family-friendly attractions in the Houston area, it can wreak havoc on your weekly budget to indulge in the sights and scenes around town. However, family memberships can give you more bang for your buck and allow your family to take in the sights without breaking the bank.
Check out these 10 must-have family memberships in Houston that offer a variety of entertainment and fun-filled days for both you and your little ones.<
Activities
,
Houston
|
Comments Off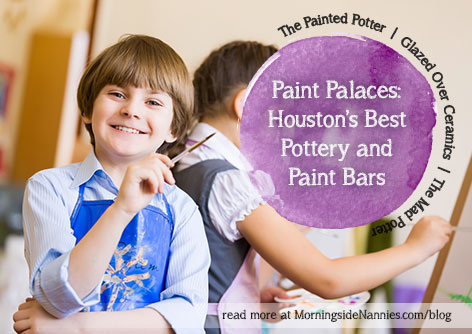 Often times, kids are natural artists. Their imagination runs wild and they create characters, crafts and works of art with ease. From finger painting a picture for mom or crafting a stick figure of their loved nanny, your little one has the world at her fingertips when immersed in art.
A child who wants to express herself through art, though, does not need boundaries. "Children have an amazing innate ability to be creative when they play freely on their own, and unfortunately, the act of overparenting dampens or even wipes out that innate ability," according to Mike Lanza of Playborhood.com and author of Playborhood: Turn Your Neighborhood into a Place for Play.
It's important to figure out how to facilitate your child's creativity without managing it, he says. Pottery is one outlet that can help your child cope with struggles or pain and help her to develop confidence and social skills.
Luckily, the Houston area has many pottery and paint bars designed to enrich the creativity of the entire family. Check out these local hot spots and allow your child's imagination to run wild.
The key to a successful day of pottery making is to keep it simple for your child, says Pam Allyn, executive director of Lit World and Lit Life and the author of many books, including Your Child's Writing Life: How to Inspire Confidence, Creativity, and Skill at Every Age. "It's important to give your child unstructured time, Allyn said.
Posted in
Activities
,
Houston
|
Comments Off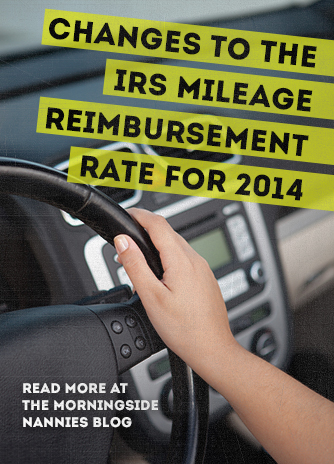 As a nanny, it's crucial to keep track of expenses you incur that can be deducted from your taxes. With ever-changing tax laws and policies, knowledge is key to ensure you are reimbursed by your employer.
One of the most costly work-related expenses nannies incur is automobile expenses. When using your own vehicle to transport children and complete work-related errands, you will need to use the mileage allocation stipulated by the IRS standard mileage reimbursement rate.
Before transporting children in your vehicle, it is imperative that you check with your automobile insurance provider to ensure that the policy covers transporting children for work. It may be necessary to modify your policy so you can continue using your vehicle for work. Make sure that you are aware of the safety laws regarding child restraints, car seats and air bags.
Advice for Nannies
|
Comments Off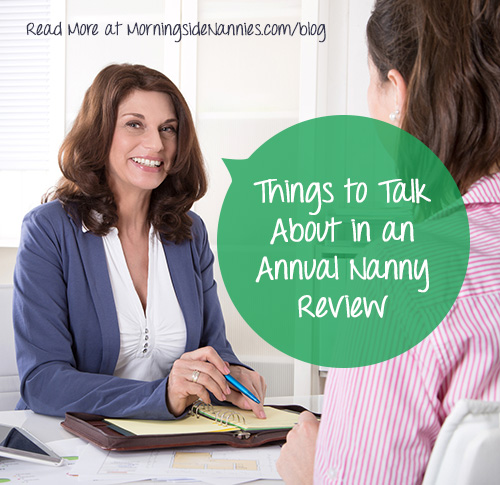 In order to sustain a healthy and productive relationship with your nanny, it's important to evaluate and meet for a performance review at least once a year. Even though you may be offering praise and tips along the way, a formal meeting with your nanny can help clarify expectations and provide feedback for both the nanny and parents on how to maintain a healthy parenting partnership.
Before you begin the review, consider the topics you want to discuss. From an evaluation of your nanny's techniques as a childcare provider and caregiver to salary and benefits, prepare yourself before the review by determining your preferences and what is ultimately the best for your family.
Advice for Parents
,
All About Nannies
|
Comments Off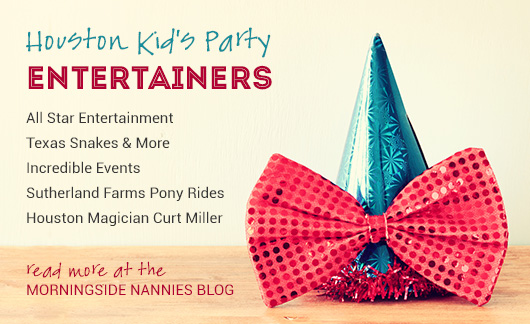 Planning a party for a child's birthday or special occasion can be a huge undertaking for a nanny or parent. Beyond preparing snacks, meals, goodie bags and games and activities, it's crucial to provide entertainment for the party goers.
Kids' party entertainers have gained popularity in recent years because they bring the fun with them and relieve parents and nannies from having to plan multiple activities that will keep little ones engaged and giggling.
The Houston area has a wide variety of kids' party entertainers who can offer entertainment ranging from magic and clowning around to puppet shows and plays. Check out our list of must-have entertainment perfect for a kids party in the Houston area.
Activities
,
Houston
|
Comments Off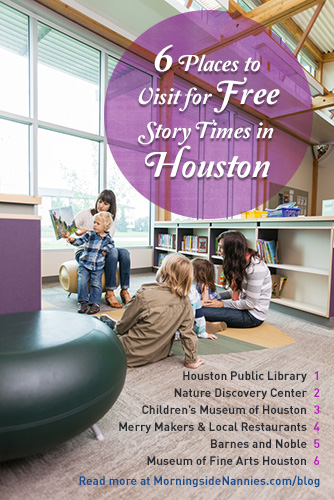 As a parent or nanny, one of the most important things you can do to enhance your child's development is to read to him or her. A bedtime story about princesses and fairies or an afternoon story session with adventures of spotted dinosaurs will help develop your child's imagination and create a bond between the two of you.
According to the Early Moments Book Club organization, reading to a child offers many benefits that span from academic excellence and improved speech skills to better communication skills and a mastery of language. Your child's concentration and discipline is also improved through story telling.
"Toddlers may initially squirm and become distracted during story time, but eventually they'll learn to stay put for the duration of the book," says the experts at Early Moments. "Along with reading comprehension comes a stronger self-discipline, longer attention span, and better memory retention, all of which will serve your child well when she enters school."
Take your story time and your child's development to a new level by involving him or her in one of the many free story times available in Houston. From art museums and public libraries to local bookstores and restaurants, many Houston organizations offer interactive book readings the entire family can enjoy.
Activities
,
Houston
|
Comments Off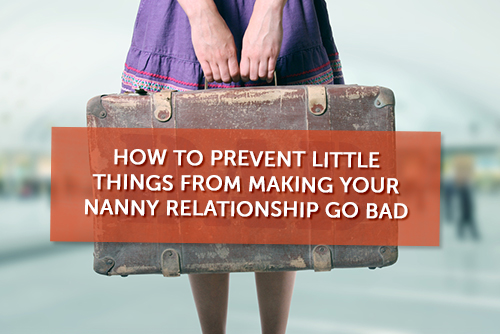 The phrase "Don't Sweat the Small Stuff" can apply to many aspects of life. It especially rings true when parenting with the help of a nanny.
In an ideal world, parents and nannies would agree on every belief, strategy and goal of parenting and caring for children, but the reality is that diverse beliefs and strategies can actually enhance the lives of your children, as long as everyone is respectful of each other's viewpoints.
Learning how to communicate and work together with your nanny – by resisting the temptation to sweat the small stuff – can prevent the little things from turning your nanny relationship from cooperative and caring to miserable mayhem.
Even though the little things may continue to bug you – regardless of how much space, organization and communication you provide for your nanny – it is important to understand that the little things often seem overwhelming when you are shouldering the burden alone, says Brown. "Whether you have a partner or not, consider your support network and whether you can draw them closer," she says. "Our feelings and reactions offer clues all the time. We've just got to figure out how to solve the mystery."
Posted in
Advice for Parents
|
Comments Off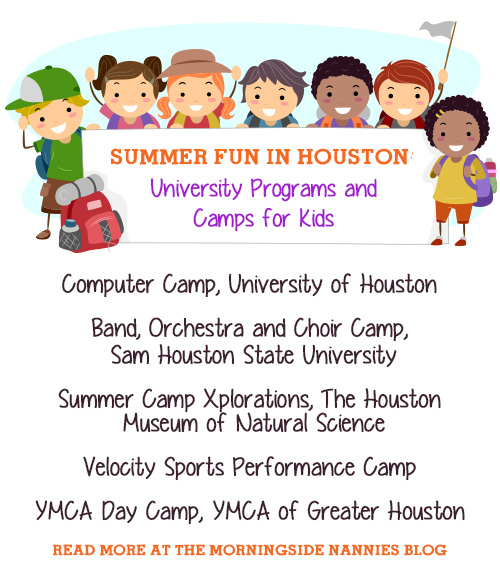 Gear up for summer break by making plans for your kids to keep their minds and bodies active. Summer camp provides children with an opportunity to meet other children with the same interests, embark on educational journeys and keep their minds active when school is not in session.
Luckily, Houston has plenty of educational and entertainment-based camps for your kids to enjoy. From computer camps to science explorations, your child can stay active close to home this summer.
Activities
,
Houston
|
Comments Off
Houston is home to a plethora of entertainment venues and night life – perfect for moms, dads and nannies to enjoy some time out on the town. However, when you want to expose your children to concerts and performances, Houston does not disappoint.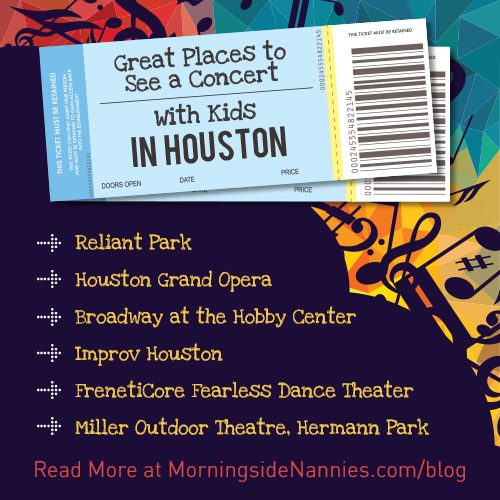 There are many kid and family-friendly concert halls and performing arts centers that feature musical amusement for all ages.
Activities
,
Houston
|
Comments Off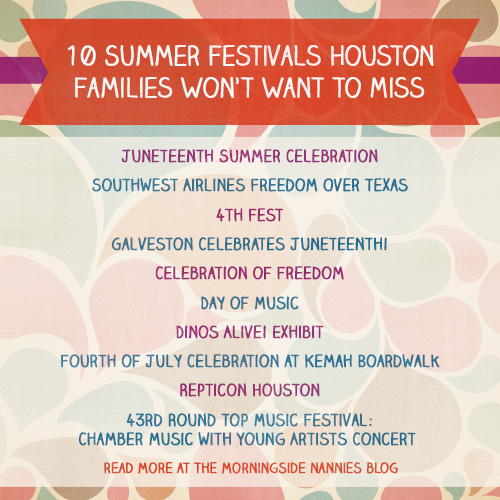 When the school year ends and summer clothing comes out of winter storage, the long days and warm nights make staying inside feel almost like a crime. For residents of the Houston area or lucky vacationers, the possibilities for outdoor summer entertainment are almost endless. These ten seasonal events are among the most exciting in the area, and are sure to rank high on your "can't-miss" list of summer 2013!
Houston is a world-class city with much to offer in the way of cultural pursuits, so keep your eyes peeled for smaller festivals and celebrations in the area that often cater to more specialized tastes.
Posted in
Houston
|
Comments Off
← Older posts
Newer posts →