The Official Blog of Morningside Nannies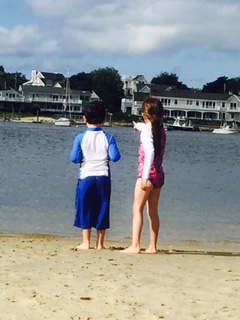 When you spend a lot of time outdoors, protecting your skin is essential. For most people, their skin protection routine includes lathering on the sunscreen before heading out to play. But for young babies, children with sensitive skin and those who are in the sun more than they are out, applying sunscreen repeatedly throughout the day just isn't always practical and isn't always enough.
For those wanting additional sun protection, UPF rated clothing is a great option. BabyBanz is a leader in sun protection offering fashionable swimsuits, hats, sunglasses and more for infants and up. Their swimwear is rated UPF 50+ and exceeds Australian testing standards. Since the swimwear has tagless necks and flat seams, they provide the ultimate in comfort, even for those children who are typically sensitive to swimwear.
But the protection doesn't stop after you're done swimming. UPF swimwear offers protection for:
Water Play
Are the kids outside playing with the sprinkler or water table? UPF rash tops, hats and shorts offer sun protection during any kind of outdoor play when getting wet is a possibility. Slip-n-Slide? Water balloon fights? Keep the kids sun safe while they have fun.
Warm Weather Rainy Days
Don't let the rain deter your plans. Heading to the zoo? Don't worry about the kids getting wet. Rash tops and swim shorts are cute enough to sport on your next rainy day adventure and unlike traditional swimsuits, you don't have to worry about not being covered up enough when heading into stores or restaurants.
Amusement Parks
No one likes to get off a water ride only to have their clothing soaked. That's not a problem if you're wearing water friendly clothing. Because swim wear offers sun protection and dries super-fast, it's the perfect attire to ride on amusement park attractions.
BabyBanz provided review products to Michelle LaRowe at no cost. No guarantee of media coverage was made. These opinions are entirely Michelle LaRowe's.
Posted in
Advice for Nannies
,
Advice for Parents
,
Houston
|
Comments Off
The benefits of rich musical experiences are endless. Just listening to music can affect your mood and has even been casually linked to an increase in spatial intelligence. Making music boosts creativity and even self-esteem and even teaches many "non-musical lessons" related to math, cultural expression and perseverance.
If you don't make music an active part of your children's life, now is the time to start. Here's how: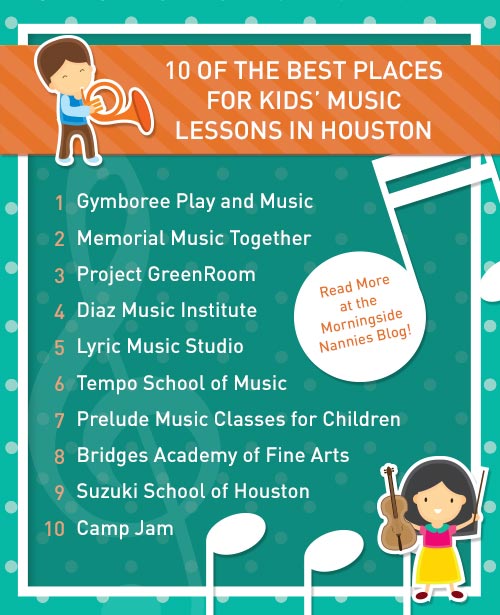 1. Expose children to different types of music.
Your car rides don't have to be limited to toddler tunes. From your favorites to classical pieces by the masters, expose your children to lots of different types of music with different instrumentations and rhythms.
2. Attend live music events.
Most communities offer free cultural programming that includes access to a variety of performances. Check with your local cultural council to see what is offered in your area.
3. Make music at home.
Whether it's banging pots and pans or investing in some kid-safe egg shakes and maracas, join the kids in creating a marching band. And don't worry if you can't carry a tune. Your children love your voice, however you think it may sound.
4. Play musical games.
Cups has become a popular kid's favorite where you simply bang out rhythms on different objects and body parts using a plastic cup. For the older set, ThinkFun puts out a great game called Compose Yourself which allows users to create their own melodies from a deck of music cards. Once they have created their own masterpiece, they can hear how it sounds when played by a professional orchestra.
5. Sign your child up for music classes.
Music Together is a nationally recognized program that provides an awesome opportunity for parents and children to explore music making together. Other programs like Kinder-Music also combine music and movement making them a win-win for parents and children alike.
Given all the benefits music exploration provides, it makes sense to do what you can do increase your child's exposure to music and to take the time to make music together.
*ThinkFun provided a review copy of Compose Yourself at no cost to me. All opinions are my own. Michelle
Posted in
Activities
,
Advice for Nannies
,
Advice for Parents
|
Comments Off
At Morningside Nannies we pride ourselves on having dedicated staff members who provide the highest level of client services. We are confident that the newest addition to our team will provide you the level of customized care that you have come to expect from our staff at Morningside Nannies.
Introducing Tia Thomas
Morningside Nannies is pleased to welcome Tia to our Houston team as our new nanny coordinator. Tia has a strong background in human resources and recruiting which makes her a perfect fit for our nanny coordinator role here at Morningside Nannies. With extensive experience in candidate screening, interviewing and on-boarding, she brings an excellent skill-set and personality to our team.
Tia has excelled in her prior roles as a senior recruiting coordinator, human resources assistant and executive assistant and we trust she'll do wonderfully here as well. Tia is a stepmom to three children who range in ages from 8 to 21 and has a solid understanding the need parents have for high quality childcare.
When she's not working she enjoys singing, cooking and spending time outdoors with her family. Tia used to sing professionally and even auditioned for American Idol!
Micah's New Role
After several years of dedicated service, we're sad to see Micah leave our team, but know that she will enjoy the next chapter in her life traveling to South Africa with her husband who has recently graduated with his Master's degree. She will be relocating short-term and hopes to return to Houston in the future. She has enjoyed her time with the agency and meeting all of the nannies who provide quality care to Houston families.
To learn more about our Morningside Nannies team visit our staff page at www.MorningsideNannies.com.
Posted in
News
|
Comments Off
Looking for something fun and different to do with the older kids? Children 8 and up can experience paintball at TANKS Paintball in Houston.
Low Impact Paintball
TANKS offers SPLATMASTER and low impact paintball. These options allow younger players to use smaller paintballs that shoot at slower speeds. Kids also use lighter markers during play with these options. This gives younger players the opportunity to try out paintball with less fear of being hit by a paintball. It allows younger kids to experience paintball but with without the speed and force traditional paintballs provider.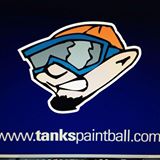 Safety First
Beginners enjoy their first outing with the TANKS staff and they separate players by skill level. TANKS is serious about safety and as such, does not allow the use of outside paintballs. All players must use paintballs provided by TANKS and must wear appropriate protective gear.
Birthday Parties
TANKS offers three levels of birthday party play; SPLATMASTER, low impact and full on paint ball, depending on the ages and comfort level of the attendees. Partygoers can even extend their time at TANKS by paying an additional $5 to play the rest of the day after the party ends.
TANKS is proud to be a family operated business that prides itself on having an awesome facility, a great staff and a dedication to ensuring all participants have fun. To learn more about TANKS Paintball visit www.TANKSPaintball.com
Posted in
Activities
|
Comments Off
School is almost out for the summer. If you're looking to keep your sanity while keeping the kids engaged this summer, be sure to check out these three tips.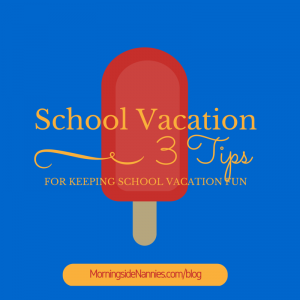 1. Have Playventrues
Instead of hosting the standard playdate, take your playdates on the road. Meet up with friends at the park, zoo or other kid-friendly venue. The kids have fun and you'll have no mess to clean up.
2. Have Fun Fridays
Make Fridays fun days. Plan a special outing or adventure on each Friday of the summer. Have the kids make a day trip bucket list. Each time you visit one of their destinations, check it off from their list.
3. Have Theme Weeks
Create your own summer camp. Pick a theme for each week during summer. Arts and crafts, cooking, water play and sports themes work well for school-aged kids. Let your imagination guide you as you create hands-on activities that pair learning with fun.
With a little planning and creativity you can have a blast with the kids the summer, without losing your mind.
Posted in
Activities
,
Advice for Nannies
,
Advice for Parents
|
Comments Off

If you're looking to do something interactive, educational and fun, it's time to get gaming.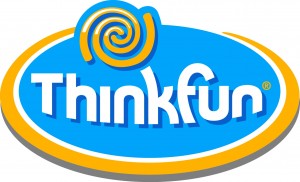 ThinkFun, the leader in making fun games that build reasoning and creative thinking skills through play, has some outstanding options that families with children of all ages can play together.
Looking for some new games to check out? Here are a few of my favorites.
Roll & Play
The first game designed specifically with the toddler in mind, Roll & Play is a simple, addictive and fun. Toss a plush cube, pick a matching color card to the landing side and do what the card says. Clap your hands? Moo like a Cow? There isn't a better first introduction to game play.
Zingo!
Zingo!- A kid-friendly and creative take on Bingo!, the goal is to be the first to cover your game card and yell Zingo! With an easy to master concept, kids love being able to play many versions of the same game that focus on word building, sight words, time-telling and even Spanish –English translation. This game reinforces age appropriate learning concepts and has an awesome "Zinger" that makes dispensing cards a cinch. The Zingo! Games are a huge hit with older toddlers, preschoolers and early elementary school aged children.
Robot Turtles
Robot Turtles – Preschoolers and up can learn to code with this easy to play game. Kids learn the fundamentals of programming as they make silly noises while directing their turtles where to go. There are different levels of play making it a game that can be customized to a child's play level.
Gravity Maze
With this gravity powered logic maze, build a path that will carry your marble to the target to win. With challenges ranging in level from beginner to expert, family members can take turns seeing who can beat a challenge and solve the maze or you can play alone. For ages 8 and up, this is a great single player game.
Visual Brainstorms
For ages 10 and up, these 100 brainteasers composed of visual puzzles, logic problems, mazes, math challenges, encoded messages, and more will test and amuse you. This is a great take anywhere game that you can play in five minutes or five hours, depending on how many teasers you tackle.
In addition to being fun and educational, ThinkFun makes high quality games. The pieces don't break, the cards don't tear and the packaging holds up nicely.
Michelle LaRowe is the executive director of Morningside Nannies, was the 2004 International Nanny Association Nanny of the Year and is the mom of two young children, Luke age 5 and Abigail age 6. ThinkFun has provided games review consideration at no cost to Michelle.
Posted in
Activities
|
Comments Off

By Megan Gilbreath
Nanny employers have a tricky task of balancing a personal and professional relationship with their nanny. But parents must have full confidence with this boundary, putting their working relationship first. And within this working relationship, it is of vital importance that parents actively manage their nannies, this way your nanny can be set up for success.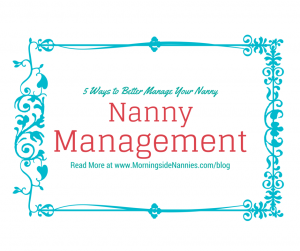 1. Set Clear Expectations
When your nanny first starts out, make it very clear what is expected of her and what her duties will consist of. To make it concrete, have a detailed written work agreement. The agreement should have a complete job description, pay and raise agreements, and any other ground rules you wish to establish. Once your nanny begins, be sure to communicate exactly how you want things done, from how to fold the laundry to disciplining the kids. And if something isn't to your liking, you must speak up.
2. Earn Each Other's Trust.
Your nanny is taking care of your most precious beings, your children, so it is essential to trust her. Nanny cameras are often thought to be the solution to nurturing this trust (which can work, if it's fitting for you) but it's best to disclose if you are taping your nanny. Another idea is coming home unexpectedly, which can ensure that your nanny is properly caring for your children. Just as important, your nanny must be able to trust you. Be sure to keep your word and respect the time she offers for your family.
3. Strive for Open and Honest Communication.
Over time, your nanny will begin to take on her role as a parenting partner. To benefit the children, it is best to discuss all aspects of the parenting style you would like to adopt. Include your nanny in setting goals and be open to her suggestions and her feedback. You could even create a log book that can serve a communication journal and behavior and schedule tracker.
4. Keep Business, Business
Your nanny likely cares deeply about your children, but the bottom line is this is also her job. And with a job comes professionalism, needed from your nanny and from you. So be sure she gets paid legally and on time and come home when you agreed to. But if something happens and you can't release your nanny from her shift on time, be sure she is compensated fairly and legally.
5. Invest in the Relationship
Just like an office job, have scheduled meetings and check-in times with your nanny. Depending on her experience and your comfort level, these meetings can be help anywhere from weekly to annually. Within these meetings discuss not only your children and your nanny's performance, but also how she feels within her positon and any suggestions you have for moving forward. Acknowledge not only what your nanny can improve upon, but also acknowledge areas where she is thriving. Be sure to recognize work anniversaries and personal matters. Take an interest in your nanny's personal life, but not too much.
Your nanny is one of the most important people in your life and she influences your children daily. Be sure she is managed well, so that she can best meet your caregiving expectations.
Megan Gilbreath is a California college student pursuing journalism and public relations. She is also a working nanny who spends her time caring for two toddlers who keep her busy and joyful as she navigates caretaking through their medical conditions of high functioning autism and developmental delay. Connect with Megan on Twitter @meganrgilbreath.
Posted in
Advice for Parents
,
All About Nannies
|
Comments Off

By Megan Gilbreath
With the end of another year, we all look back and laugh, wondering what happened to those New Year's resolutions we made on January 1st.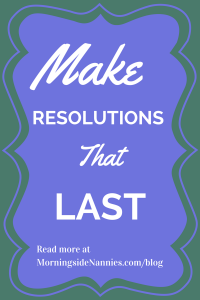 There were plans to get thinner, healthier, and happier. Such great intentions! But with another new year, comes setting those new goals.
This year, how about putting a twist on traditional New Year's resolutions and establish goals focusing on how you can better yourself, so you can better your kids. Here are five resolutions that you can set into motion, in order to cultivate admirable character in your children. Added bonus? When you hit these goals, they'll last your child's lifetime.
1. Workout and eat right.
Yes, we said no traditional New Year's resolutions, but how else will you keep the kiddos in order without having enough energy to race after them? Trade the morning coffee for a morning run and not just your body will thank you, your kids will too. Before you know it, chase and tag will become a breeze.
2. Inspire, don't demand.
We all want our kids to be the very best. We discipline for kindness, honesty, courage and so much more. But we must remember that there is a fine line between pushing our kids to be better and just pushing our kids. When you are trying to shape your child's behavior, be sure to inspire your kids to be the best they can be, not just demand and bark orders.
3. Give your child more of you.
More often than not, a spike in tantrums or endless hours of whining aren't just a phase, but your child's way of sending you a message: I need more of you and more of your attention. Of course our to-do lists can run for miles, but be sure your children are at the top of the list. Putting your phone down and going on a tech-diet may not be a bad idea, helping you to be more present when you're in your child's company.
4. Listen with intention.
Kids have a funny way of getting excited over itty-bitty things, rambling and rambling over something so minute. Sometimes it can be the cutest thing in the world, and other days we just don't have the time or the patience for engaging in childish conversations. But our mmhm's and uh-huh's may be short-handing the kiddos. It's important that kids feel their thoughts and opinions matter. By putting more effort into silly kiddie conversations and spending time answering their never-ending questions—you'll let your child know his thoughts and feelings matter to you.
5. Laugh more.
From dusk till dawn, mommies and nannies put full-effort into making sure everyone is taken care of and happy. Yet, some days don't go as smoothly as we would have hoped. We get down on ourselves that there's laundry still left to do, or frustrated that a fight between the kids got out of hand. But the reality is we must stop being so hard on ourselves. As long as you put your best efforts forward and have a great attitude, it's alright if things don't go perfectly every day.
As you tackle your New Year's resolutions, keep the focus not on just bettering yourself, but bettering yourself for your kids. Remember, when you take care of yourself, you're better able to take care of everyone else—especially those little ones who need you most.
Megan Gilbreath is a California college student pursuing journalism and public relations. She is also a working nanny who spends her time caring for two toddlers who keep her busy and joyful as she navigates caretaking through their medical conditions of high functioning autism and developmental delay. Connect with Megan on Twitter @meganrgilbreath.
Posted in
Advice for Nannies
,
Advice for Parents
|
Comments Off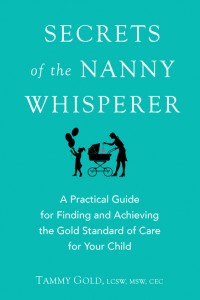 Recently I had the opportunity to review an advance copy of the new book, Secrets of the Nanny Whisperer by Tammy Gold.
Given the complexities of the nanny/family relationship and the practical aspects of employing a nanny, it's always good to see new media that aims to address common dilemmas and guide parents in the right direction when it comes to all things nanny related. However, having been in the nanny industry more than half of my life, I always approach new media by unfamiliar sources with caution, given the nuances that exist in the nanny industry.
While the concept of Secrets of the Nanny Whisperer is a solid one and Ms. Gold shared many helpful points that would point the reader in the right direction, there were some glaring errors and missed opportunities in the text that left me feeling like an industry outsider wrote this book. The quality of resources and statistics were lacking in many places and statements that are presented as fact lack supporting sources and unfortunately often leave the reader completely misguided because the information provided is blatantly incorrect.
With a little more research, the author could have presented a more factual picture of the industry and provided resources that would further steer the reader to a better understanding of the nanny industry.
For example, when instructing readers how to determine average nanny wages, rather than direct the reader to a credible non-profit organization like the International Nanny Association that publishes annual nanny salary and benefits information, the reader was instructed to punch in a zip code on a nanny recruiting website.
On the topic of wages again, the author seems to fail to discuss that nannies are non-exempt employees and must be paid on an hourly basis at least minimum wage for all hours worked and in many cases overtime. Even if you've agreed to pay your nanny X dollars for 50 hours per week, live-out nannies and live-in nannies and some states must be paid overtime at the rate of 1.5 times their base hourly wage rate for all hours worked over 40 in a 7 day period. This is the law and is not negotiable. While you can set a weekly "salary" if the nanny works a set schedule and work backwards to determine base and overtime wage rates to be wage compliant, as long as you are sure to track the hours, this is not explained.
And when discussing live-in nannies, the author insists live-in nannies offer 24/7 coverage in one place than says they'll also want a set schedule. In addition to being contradictory, it seems in this section that the author fails to address the importance of legal payment of live-in nannies and the importance of having mutual and clear expectations with the nanny prior to hiring, not to mention the reality that most live-in nannies won't work around the clock on an ongoing basis.
But one of the most disappointing statements, however came when the author suggested daycare or group care would be a better choice than a nanny who provides care at home. The author correlated stimulation against the provider/child ratio, but failed to discuss the benefits of having one on one care through the first years and ways which nannies actively socialize the children in their care.
That coupled with the statement that you should expect your nannies to be happy every day, really had me questioning the author's industry experience. This is an unrealistic expectation for anyone in any job or arena. No one is happy every day.
And the mention of children not picking up their nanny's accent or mannerisms is ludicrous. Children most certainly emulate those they around most often. When a nanny cares for children 40 to 60 hours per week you bet the children will start walking and talking like their nanny.
While the author refers to nannies as professionals and seems to advocate for their treatment as such, she doesn't seem to expect them to have basic skills, like good language skills, driving abilities or the ability to stimulate children while home. And if they are professionals, as the other suggests, why isn't there information on paying nannies legally and why isn't the author advocating for benefits like contributions towards health insurance, not to mention any information about nanny training opportunities?
Other missed opportunities include referencing employee handbooks without the mention of GTM's Household Employee Handbook or providing the Alliance of Professional Nanny Agencies or the International Nanny Association's best practices when discussing background checks. How can you have a conversation about the nanny industry without discussing the Domestic Workers Bill of Rights, Park Slope Parents, The International Nanny Association, the Alliance of Professional Nanny Agencies, Domestic Workers United and household payroll experts like GTM Payroll Associates, Breedlove and Associates and HomeWork Solutions? These are driving forces in the nanny industry that would have had the data, resources and information needed to paint a truer picture of the nanny industry that needs to be shouted to all, not whispered to a few.
If you can get past the professional and business aspects of the nanny/family relationship that are lacking, some value in the book remains. The author does do a nice job at addressing some of the dynamics of the nanny/family working relationship, her voice is good, it's an easy read and the call-outs, scenarios and appendix are all helpful.
Michelle LaRowe is the executive director of Morningside Nannies, the 2004 International Nanny Association Nanny of the Year and author of Nanny to the Rescue! and Working Mom's 411. She was provided a copy of this book at no cost for review. 
Posted in
Activities
,
Advice for Nannies
,
Advice for Parents
,
All About Nannies
|
Comments Off

By Megan Gilbreath
Christmas may be over, but school vacation isn't. With New Year's around the corner, check out this easy to do craft to keep the kids busy and mealtimes less of a mess.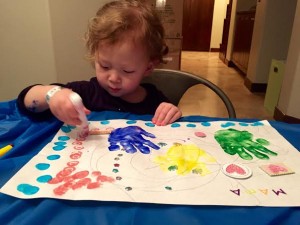 Supplies:
• Several colors of non-toxic paint and brushes
• Various markers
• Various stickers (minimal height, flat stickers work best)
• Colorful tape
• Laminating machine
• Large white construction paper (to fit the 11×17 black mat)
• 11×17 sturdy black plastic-type mat (Kinkos is best!)
This is the back-bone of the placemat, there to make it strong and durable. Try to find plastic-type paper that is designed for binding notebooks. If your local office supplies store doesn't have this, look for any strong plastic-type backing that will make the placemats solid. If you want the placemat bigger or smaller, here is where you would alter the size.
How-to:
1. Cut the large white construction paper smaller than the 11×17 black mat, about a half inch smaller than the mat on all sides.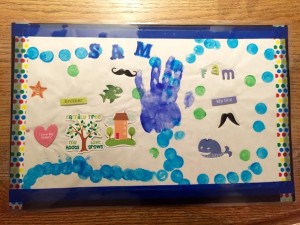 2. Decorate! It's best to be strategic when handing out the paint colors so you don't end up with a big brown mess. Have him use markers, paint and stickers to create his masterpiece, but be sure to keep the project one dimensional so the laminating machine won't get angry. Handprints turned reindeer or snowman are a fun winter-themed addition.
3. After the decorated paper is dry, center it on top of the sturdy black plastic-type mat. Use colorful tape to seal the decorated paper to the black mat (continuously flatten the two together to avoid air bubbles). The tape will also create an attractive border.
4. Laminate the final product. Stop by your local office supply store to laminate the final creation. This will ensure the placemats will be able to endure any foodie mess!
Megan Gilbreath is a California college student pursuing journalism and public relations. She is also a working nanny who spends her time caring for two toddlers who keep her busy and joyful as she navigates caretaking through their medical conditions of high functioning autism and developmental delay. Connect with Megan on Twitter @meganrgilbreath.
Posted in
Activities
,
Advice for Nannies
|
Comments Off
← Older posts
Newer posts →