The Official Blog of Morningside Nannies

By Megan Gilbreath
Christmas may be over, but school vacation isn't. With New Year's around the corner, check out this easy to do craft to keep the kids busy and mealtimes less of a mess.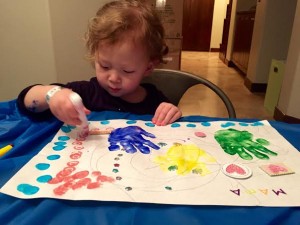 Supplies:
• Several colors of non-toxic paint and brushes
• Various markers
• Various stickers (minimal height, flat stickers work best)
• Colorful tape
• Laminating machine
• Large white construction paper (to fit the 11×17 black mat)
• 11×17 sturdy black plastic-type mat (Kinkos is best!)
This is the back-bone of the placemat, there to make it strong and durable. Try to find plastic-type paper that is designed for binding notebooks. If your local office supplies store doesn't have this, look for any strong plastic-type backing that will make the placemats solid. If you want the placemat bigger or smaller, here is where you would alter the size.
How-to:
1. Cut the large white construction paper smaller than the 11×17 black mat, about a half inch smaller than the mat on all sides.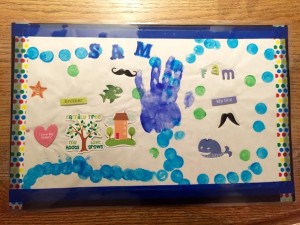 2. Decorate! It's best to be strategic when handing out the paint colors so you don't end up with a big brown mess. Have him use markers, paint and stickers to create his masterpiece, but be sure to keep the project one dimensional so the laminating machine won't get angry. Handprints turned reindeer or snowman are a fun winter-themed addition.
3. After the decorated paper is dry, center it on top of the sturdy black plastic-type mat. Use colorful tape to seal the decorated paper to the black mat (continuously flatten the two together to avoid air bubbles). The tape will also create an attractive border.
4. Laminate the final product. Stop by your local office supply store to laminate the final creation. This will ensure the placemats will be able to endure any foodie mess!
Megan Gilbreath is a California college student pursuing journalism and public relations. She is also a working nanny who spends her time caring for two toddlers who keep her busy and joyful as she navigates caretaking through their medical conditions of high functioning autism and developmental delay. Connect with Megan on Twitter @meganrgilbreath.
Posted in
Activities
,
Advice for Nannies
|
Comments Off

By Megan Gilbreath
With Christmas around the corner, your to-do list may feel like it's growing longer. How are you going to get all the family presents ready and keep the kids occupied over Christmas break? The answer is creating Christmas cards.
These toddler friendly activities will keep the kids entertained and will make great personalized gifts. Here's how to make three DIY kids Christmas cards your family can use to spread holiday cheer.
Hand-printed Christmas Tree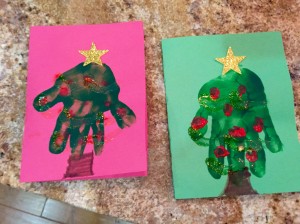 Supplies:
• Green, red and gold glittered non-toxic paint
• Brown paint/marker
• Star sticker (or yellow paint/marker)
• Various markers
• Various stickers
How-to:
1. Cut construction paper to fit the shape and size you want your card to be, then fold the paper in half to create the card.
2. Paint the child's hand green, this will be the Christmas tree image. Position the child's hand so that his fingers are at the bottom of the card and his thumb is closest to the fold in the card. Press down to make the print.
3. Once the tree is dry, have the child use his index finger to add red dots. These will symbolize red ornaments.
4. Once the ornaments are dry, add the gold garland. To do this, drag the child's finger across the tree with the gold glitter paint. Voila!
5. Next, draw or paint the brown Christmas tree trunk beneath the hand printed tree.
6. Place the star sticker (or draw the star) at the top of the finished Christmas tree.
7. Lastly, open the card up and decorate the inside. Have the child dazzle the card with stickers or by drawing a picture. Don't forget to include a Merry Christmas message and to have the child sign his name.
(Credited: Fun Handprint Art)
Thumb-printed Candy Cane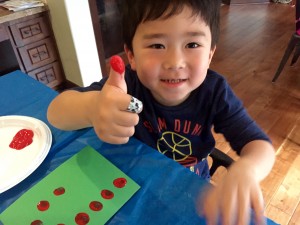 Supplies:
• Red and white non-toxic paint
• Silver sharpie/marker/ non-toxic paint
• Various markers
• Various stickers
How-to:
1. Cut construction paper to fit the shape and size you want your card to be, then fold the paper in half to create the card.
2. Dip the child's thumb into the red paint and have him press down firmly on the front of the card. Create a pattern of thumb prints to resemble the shape of a candy cane. Be sure to leave enough space between the red prints so that you can add white prints afterwards. The pattern should alternate continuously from red to white.
3. Draw or paint a silver bow on the middle of the candy cane for a nice finishing touch.
4. Lastly, open the card up and decorate the inside. Have the child dazzle the card with stickers or draw a pretty picture. Don't forget to include a Merry Christmas message and to have the child sign his name.
(Credited: Leapfrog & Ladybugs)
String of Light Bulbs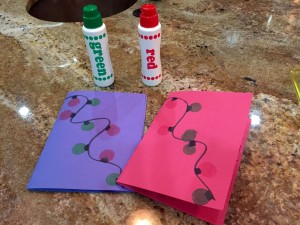 Supplies:
• Red and green Do-A-Dot paint markers (or non-toxic paint)
• Various markers (be sure to have black)
• Various stickers
How-to:
1. Cut construction paper to fit the shape and size you want your card to be, then fold the paper in half to create the card.
2. With the black marker, draw a squiggly line from the top left corner of the card to the bottom right corner of the card.
3. Keep using the black marker to create the bottom of the bulbs. You want the width to be skinny but the height tall. Be sure the bottom of the bulbs are positioned a decent distance apart from each other, not too cramped but not too spacious either.
4. Push the Do-A-Dot paint markers (alternating red and green) on top of the drawn bottom of the bulb. (If you don't have the Do-A-Dot paint markers, use the child's thumb by dipping it in red and green paint).
5. Lastly, open the card up and decorate the inside. Have the child dazzle the card with stickers or draw a pretty picture. Don't forget to include a Merry Christmas message and to have the child sign his name.
(Credited: Meet the Dubiens)
Megan Gilbreath is a California college student pursuing journalism and public relations. She is also a working nanny who spends her time caring for two toddlers who keep her busy and joyful as she navigates caretaking through their medical conditions of high functioning autism and developmental delay. Connect with Megan on Twitter @meganrgilbreath.
Posted in
Activities
|
Comments Off

By Megan Gilbreath
Every college student needs to earn a living, but with a class schedule that fluctuates from semester to semester and the blocks of time needed for homework and preparing for exams, how can a college student effectively earn decent wages without compromising their college career?
By putting past childcare experience to work, that's how.
If you're looking for a good paying job that fits your crazy busy college schedule, here's five reasons why working as a nanny may be the end of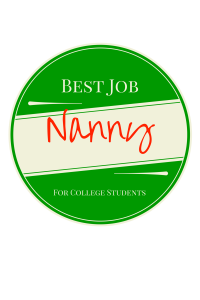 your financial blues.
1. Earn Great Pay
Whether you will nanny full-time or part-time, you're taking care of the parents' most loved beings — their children. The parents will reward you for your efforts if you perform well and the children are thriving in your care.
And for many parents, finding a college-educated childcare provider who can assist with homework is an answer to prayer. If you can double as a caregiver/tutor, an increase in your earning potential will be reflected. In the Houston market, Morningside Nannies regularly places nannies in positions where starting pay is $14 to $18 or more per hour. That sure beats tidying up fitting rooms or seating guests at your local restaurant!
2. Secure Flexible Hours
Each family has different needs, so regardless of if you have morning classes, night classes, or are only available specific days of the week, there's likely a family out there who needs care when you can provide it. While parents of babies and infants tend to need full-time care, many families are also seeking part-time assistance for preschool arrangements and after-school nannies.
Even if you have a jumbled schedule, you can work as a temporary or back-up care provider. Morningside Nannies regularly places qualified caregivers in positions that last as little as four hours to setting a full-time schedule for up to 90 days. Once you establish your availability, you can find a family who is looking for care when you're able to provide it.
3. Increase Your Skill Set
Nannies acquire better caretaking skills while on the job. Children go through different phases and have different needs throughout various stages. And since every child is unique and each nanny job is unique, you're provided with an ongoing opportunity to hone your skills. Try working with infants, preschoolers and school aged children. This way you're ready for any future nanny job, since your skill set will grow to accommodate bottle feeding, potty training and even offering social advice.
Some families also need a nanny who can take on household management type tasks. Supervising repair workers and organizing family schedules could become part of your daily routine. This hands-on approach would provide you basic management skills that can be applied to many other future careers.
4. Do Something that is Memorable and Enjoyable
There's more to being a nanny than changing diapers and driving children to and from activities. From taking a trip to the zoo to pushing a child on the swing at the park, nannies and children get to experience life and make memories together.
In many positions, nannies have the freedom to craft how they spend their time with the children, which means you can make your day as fun and memorable as you wish. As with any job, there will of course be ups and downs, but when it comes to caretaking, the good days almost always outnumber the bad.
5. Build Relationships
Once you began to get comfortable with the children, they will likely see you as a respected confidant or even as an extended member of the family. Giving and getting affection will become regular and the end of your work day may not even be something you look forward to.
When you work as a nanny, you become part of the children's life as you watching them grow and discover their personalities. The relationships you create with the family will likely become relationships you treasure forever. Visit www.MorningsideNannies.com/jobs to view families seeking nannies in your area or call (713) 526-3989 to speak to a nanny coordinator today.
Megan Gilbreath is a California college student pursuing journalism and public relations. She is also a working nanny who spends her time caring for two toddlers who keep her busy and joyful as she navigates caretaking through their medical conditions of high functioning autism and developmental delay. Connect with Megan on Twitter @meganrgilbreath.
Posted in
All About Nannies
,
Houston
|
Comments Off

By Megan Gilbreath
With Thanksgiving around the corner, your children are likely hearing a lot about this upcoming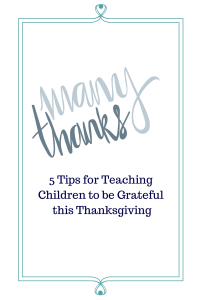 celebration. But how can we be sure that kids know there's more behind the holiday than classroom crafts and grocery store runs?
What does Thanksgiving mean anyways? According to Merriam-Webster, thanksgiving is the act of giving thanks.
But in the crazy, consumer me-me-me society we live in, how can parents and nannies teach children to take a moment to stop and express thanks?
To be sure you don't get stuck in the holiday gobble, gobble, here's five ways you can cultivate an attitude of gratitude in young kids.
1. Say "Thank you."
It's as simple as that! Whether your child gets a new gift, a compliment or is the recipient of another act of kindness, "thank you" should immediately follow. We often forget that these two simple words can go such a long way in making someone feel special and appreciated. When "thank you" is instilled in a child's vocabulary at a young age, offering up thanks will become a lifelong habit.
2. Lead by Example.
When you stop and think about it, it really is mind boggling how well little eyes and little ears can see and hear. Children are learning machines, growing in knowledge every day. But learning goes deeper than gaining knowledge. Children pick up the behaviors and characteristics of those around them, shaping them into who they later become. Be sure to let your children hear you give thanks and offer praise when someone shows you kindness. And of course, don't forget to tell your children why you're thankful for them.
3. Turn negatives into positives.
Regardless of age, at some time or another, most people struggle with turning lemons into lemonade. Wouldn't it be so rewarding to help a child learn to see the silver linings, rather than leaving him to focus on life's frustration and disappointments? The next time your child complains he can't go to the park because it's raining, find a creative way to make staying inside seem just as fun.
4. Take a look around.
Go for a nature walk with your child. Have her point out a few beautiful items that catch her eye. Maybe she noticed how big and bright the sun is or how bright the wings of a cardinal really are. Help your child see and appreciate the beauty in the world around her.
5. Give thanks together each day.
Oftentimes we get caught up in our busy lives and forget what's truly important. Make a habit out of sharing what you're grateful for each day while you're sitting around the dinner table. A simple family activity like this can go a long way in helping children to appreciate the people, places and things around them.
By putting some of these strategies into place, you can cultivate thankful hearts that will continue to be grateful long past the holiday season.
Megan Gilbreath is a California college student pursuing journalism and public relations. She is also a working nanny who spends her time caring for two toddlers who keep her busy and joyful as she navigates caretaking through their medical conditions of high functioning autism and developmental delay. Connect with Megan on Twitter @meganrgilbreath.
Posted in
Advice for Nannies
,
Advice for Parents
|
Comments Off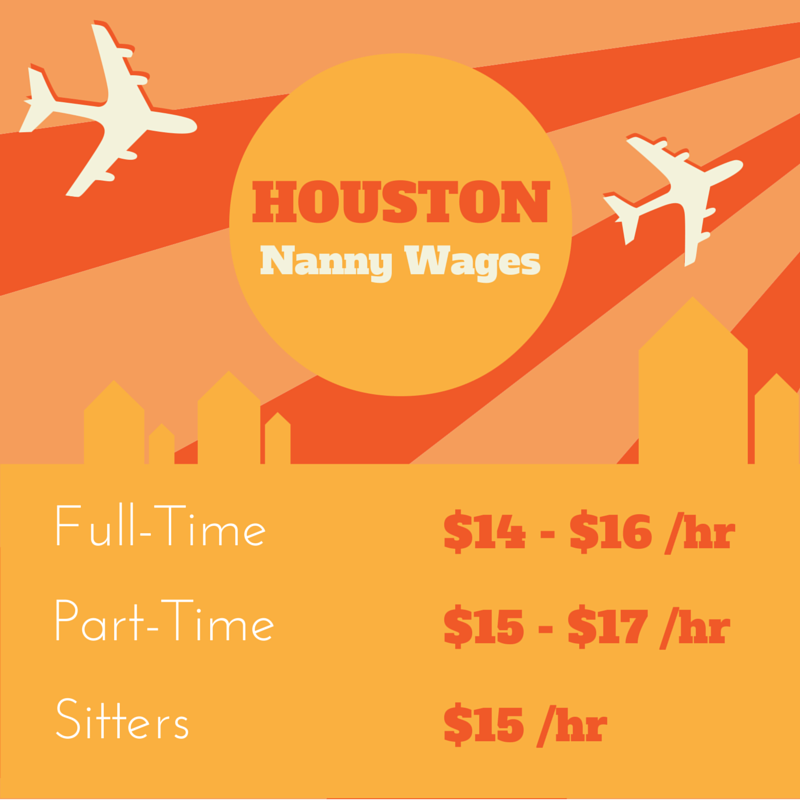 When parents and caregivers contact Morningside Nannies, one of the first things they ask is "What is the going rate for a nanny?"
Fortunately, our staff is well-equipped to answer.
Nannies in the Houston area placed through our agency typically earn $14 to $16 per hour in full-time positions and $15 to $17 in part-time positions.
How are those numbers determined?
We know from the International Nanny Association's Annual Salary and Benefits Survey that the national average hourly wage rate for nannies in 2013 was $17.44 with the median rate being $16 per hour.
We also know from our placement experience that the Houston average is slightly lower than the national average and the majority of our positions place in the $14 to $17 per hour range.
While each nanny sets her own wage requirements and each family sets their own childcare budget, we have found that that $14 to $17 per hour is the range where most nannies will accept a position at and the range where most families are offering their position at.
But, like any other industry, there are factors that drive a nanny's wages up. Nannies who have a college degree, teaching certifications, a specialized skill set or extensive experience can command a higher wage rate than those who don't. Families who require the nanny to take on non-childcare related household responsibilities or a flexible schedule will have to pay a higher wage rate to attract and retain a quality provider than those who don't.
Also, nannies can't be paid a "salary." As non-exempt employees, they are protected by the Fair Labor Standards Act and are required to be paid at least minimum wage for all hours worked and live-out nannies in Houston are required to be paid time and a half for all hours worked over 40 in a 7-day period.
While parents can certainly work backwards from their weekly childcare budget to determine a compliant base and overtime wage rate to come up with a weekly "salary" based on a set schedule where working hours are tracked week to week, if they require their nanny to work more than 40 hours per week and that base number gets too low, many nannies won't consider the position.
It's also important to remember that these numbers are provided in gross terms and that the nanny will take home less than these averages due to tax withholdings and that parents will have employer tax responsibilities as well, which can be estimated at 10 to 12% of the nanny's gross annual wage. Fortunately, there are tax credits that can offset this amount.
The cost of employing or being a nanny is different from the going rate for a hiring a nanny. Our staff can walk you through the difference and ensure that you have a clear understanding of the financial considerations when hiring and working as a nanny.
Posted in
Advice for Nannies
,
Advice for Parents
,
All About Nannies
,
Houston
|
Comments Off

Are you currently seeking your next nanny position? If so, be sure to avoid these top 5 mistakes nannies make when job searching.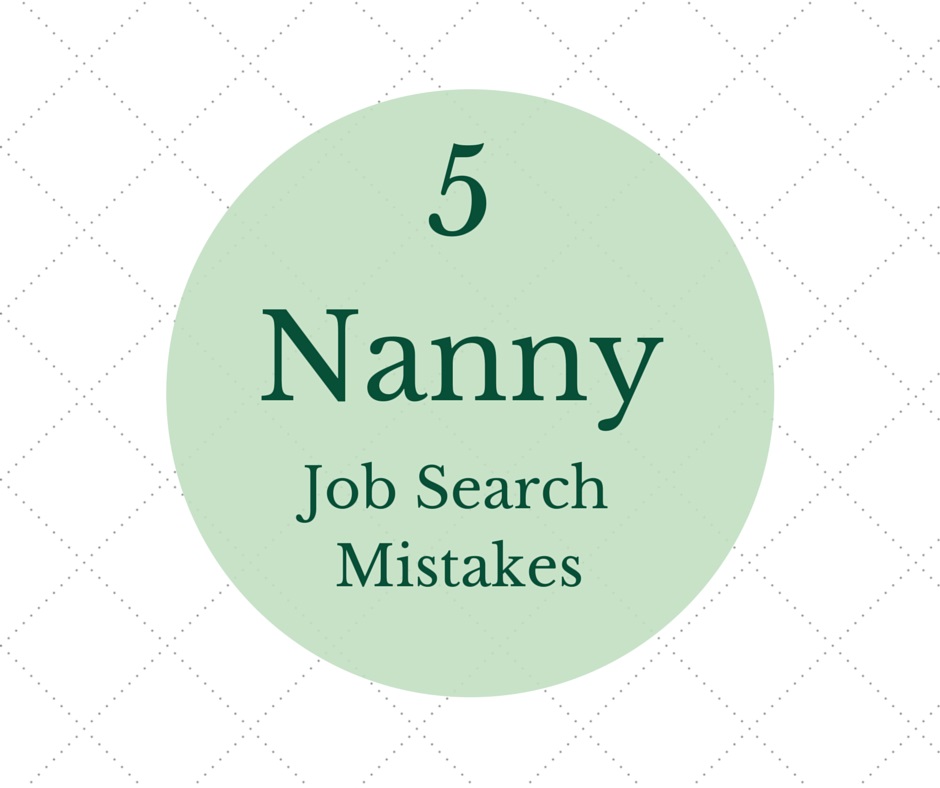 1. Not being able to back-up your desired wages.
As a placement specialist, I'm more that glad to present families a $18, $20 or $25 an hour (or more) nanny for hiring consideration if I think they're the right fit for the job and family, provided that they can articulate why the wages they are commanding are higher than Houston market averages. When a family asks "Why are her wage requirements outside of the norm?" I need to provide a convincing answer. In addition to having loads of extensive experience and outstanding references, nannies who earn outside of market averages typically have an area they specialize in, like caring for twins or newborns, a college degree in early childhood or a related field, or a specialized skill set. Like with any business, if you're asking for over and above what others being considered for the same position have, you need to be able to articulate why you're worth it.
2. Forgetting that all that glitters isn't gold.
I once heard a preacher say that "even poison ivy glitters in the morning sun." Every career nanny would tell you that you're better off making a dollar or two less per hour than being in a toxic position. Sure, anyone can work 24/7 for a short period of time or deal with a family who has difficult moments, but if those things are the norm, it's a problem. If a family is offering a huge salary and has gone through a string of nannies, there is typically a reason for it. Reputable agencies can piece together these reasons and present a fair assessment of the job to nannies who are considering applying. If you're considering a job where the salary seems too good to be true, be sure to ask to speak to previous nannies to help you better understand the pros and cons of the job.
3. Not waiting for the right match.
Job searching can be stressful, especially if you can't afford to go without work, but finding the right job with the right family is essential. Fortunately, many agencies have temporary and babysitting positions you can take on while searching for the right job with the right family. Jumping into a position that you know isn't the right fit can have serious and lasting implications. Besides causing you misery, since most agencies require you to honor your initial commitment with a family, taking the wrong job, with the wrong family can leave you without agency support, should you opt to leave the job simply because you've found something better or you've had a change of heart. And given that having stellar references is essential, having a bad reference or having to explain a gap in employment should you not wish to use that family as a reference, can hamper your next job search, leaving you back at square one or worse.
4. Leading families on.
Time and time again I've seen nannies have two or three job offers only to walk away jobless. Why? Because they'll keep putting the family off until they can get a better offer from the next family. Sure, take 24 hours to consider a job offer; that's the smart thing to do. But if that 24 turns into 48 turns into 72 because you're fishing for higher offers from other families, generally the family is going to get cold feet and feel slighted. And while being transparent is important, if there is a family you really want to work for, pushing them to match an offer that they really can't, from your second or third choice family, can cause them to think you won't be happy with what they can provide and they'll move on to another candidate. If a family that you really want to work for makes an offer that is within the range of what you've told them you're required, think twice before passing their offer up.
5. Not knowing your bottom line.
Just like no nanny is perfect, no nanny job is perfect. When you're job searching, you need to know what your negotiables and your non negotiables are. These will change from nanny to nanny and even can change over the course of your career. When job searching, you need to ask yourself right here, right now, what is essential and what is non essential when it comes to your next position. For some nannies, non negotiables may include being able to take the kids on outings or having an employer provided vehicle for work use. For others, it may include having contributions towards health insurance and eligibility for a year-end bonus. Ask yourself if you were offered the right job, with the right family, what would you need to feel good about accepting the position. That's your bottom line.
Recently I heard from a nanny we placed several months ago. She wanted me to know that last week her charge had told her she was the most awesome nanny ever and that this was the position that she had to wait for. In this industry, the right match is essential. If you're only chasing dollar signs, you will learn quickly that working in the right job with the right family is what's priceless.
Posted in
Advice for Nannies
|
Comments Off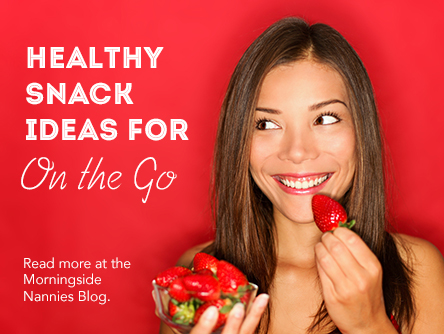 Don't let the "I'm hungries" ruin your day. Well-fed rested and well-fed kids are better behaved kids. Having a variety of healthy snacks available that can be eaten anytime, anywhere will help to ensure your little one has the energy she needs to make it through the day.
1. Keep it fresh
Sounds simple because it is! Having an assortment of fresh fruits and veggies on hand makes grabbing a snack to go easy. Hit the local farmer's market and encourage the kids to choose a rainbow of fruits and veggies to eat through.
2. It's a wrap
Spread some hummus on a tortilla, roll it up, wrap it up and voila! A one handed snack that can be eaten on the go.
3. Get nutty
Barring no allergies, an assortment of bagged nuts can be the perfect on the go snack for older kids whose eating them doesn't pose a choking hazard. Introduce the kids to a variety of nuts like almonds, pistachios, walnuts and peanuts and see which they like best.
4. Cheese, please
Individual portions of all sorts of cheeses are readily available at the grocer. You can find string cheese or cheese rounds that are perfect for on the go snacking. For younger children, consider bagging bite-sized pieces of cheese to reduce the choking hazard.
5. Hit the trail
Add a little of this and a little of that for a healthy and tasty snack bag. In snack sized bags or containers add a few of each of your child's favorite dried fruits, cereals, nuts, pretzels and even a few chocolate chips to create an option your kid will love.
6. Go green
Sprinkle some olive oil and sea salt on fresh kale leaves and bake for 10 to 15 minutes at 350 degrees. Line a baking sheet with parchment paper to make clean up a breeze. Once cooled, package in snack sized portions for easy to grab snacking.
7. Eggcellent idea
Cook up a batch of hard boiled eggs on Sunday night and you'll have a healthy grab and go snack option all week. Once boiled, store them in an air tight container in the refrigerator to maximize shelf life.
8. Get Corny
Bag up freshly popped corn for an easy to grab snack. Instead of adding salt, try adding grated parmesan cheese for a tasty alternative.
9. Carry on
The prepackaged tubes and pouches of yogurt are certainly easy to carry anywhere, but they are often loaded with sugar. Instead try adding plain or Greek yogurt and fresh fruit to a reusable pouch for a healthier option.
10. Smooth operator
Experiment by adding some berries or bananas, yogurt and orange juice to your blender and seeing which tastes your little ones love. Try adding some honey to sweeten it up.
Posted in
Advice for Nannies
,
Advice for Parents
|
Comments Off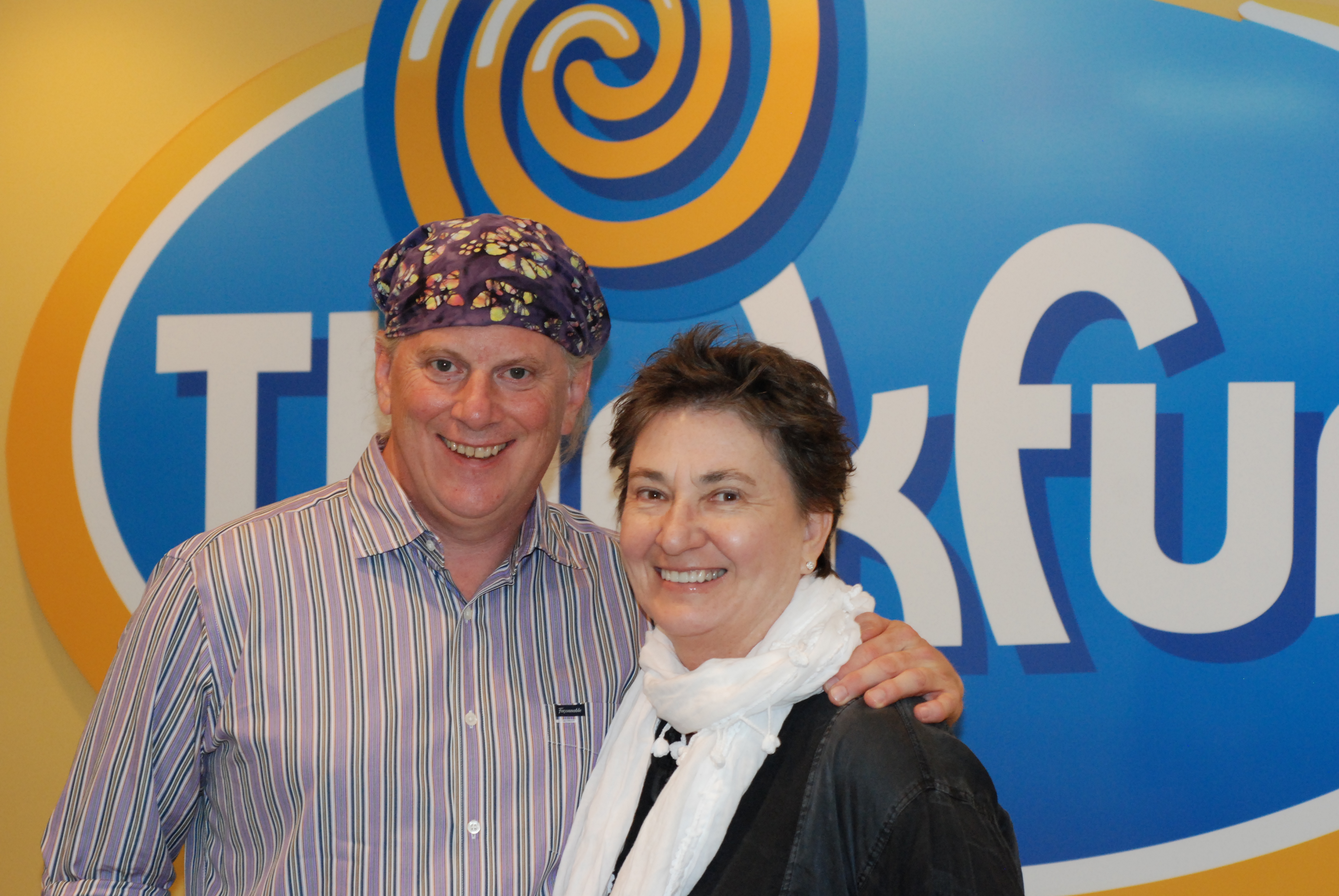 Recently I had the opportunity to connect with Bill Ritchie, CEO of ThinkFun, to learn more about what makes a good board game, why we should be playing more board games and how playing board games can support learning. Here's a little of what he had to say.
Why should parent and kids get excited about playing board games?

First of all board games are fun and fantastic. That's reason number one. But you need to make a distinction between board games that are good and ones that are not so good. So let's start with good board games. What are they capable of doing? They provide an opportunity for people to come together – nannies, parents and kids – in social ways where the games provide a construct for people to engage around a set of rules. You can test out feelings and emotions and go through a controlled and managed experience in the context of your family and play group, providing a great socializing opportunity. Good board games are socializing influence. Playing good board games is also a way of bringing people together in appropriate way that is rewarding and fun. They are physical and tactile. They require talking and looking into each other's eyes and laughing and empathizing with each other. Playing games provide an emotional experience, as well. These social and emotional experiences are essential. Playing good board games really provide a masterful way and structured way to become more social and to learn to process your environment.
How can parents generate excitement when it comes to playing board games?

Number one, I think parents and nannies need to choose board games that they themselves won't become bored with when playing with the kids. Of course you don't want the kids to become bored either. You want to choose a board game that once you get into it, it continues to provide for a fun experience. The primary thing to remember is that good board games allow parents and nannies to have an engaging social experience with the kids. The real reason to get excited is that you get to engage and interact with the kids. Playing good board games together gives you a chance to have a wonderful, enriching and memorable time with the kids. That's something to get excited about.
What do board games offer that electronics don't?

Tablets and electronic games have many benefits, but they tend not to be socializing influences and tend not to allow for interpersonal interactions. They provide a different kind of experience where the tablet itself becomes the center of attention and draws the child through the experience that is programmed in it. Tablet games can provide for a fascinating experience and definitely draw children into them, but by and large they are not social.
What inspired you to create ThinkFun?

Andrea Barthello, my wife and ThinkFun's co-founder and chief operating officer, and I started ThinkFun in 1985. Our first name was Binary Arts. We had that name until 2004. We've been around for a long time. My dad was a Bell Labs engineer. He followed really clever and smart people who were writing for Scientific America and other journals. So when I was growing up I was aware of this community of really super smart people- engineers and those figuring out how to make the modern world work. Some of them had really cool and creative ideas for puzzles and brain teasers. When I was young I used to think that everyone in the world was exposed to this type of stuff. Then I realized many people didn't see the logic games and toys I was exposed to.
I also realized that these type of people aren't really involved with toy companies as they view toys as fads. I met my wife and we really weren't happy with where we are at in life, so we decided to make a left turn and create a company where we can take really smart people and translate what they are trying to say into things that kids can understand and play with. The idea was that if we put as much effort and work into designing a play experience that is rich and rewarding, both emotionally rewarding and with real brain building benefits, we'd have something special.
We believe working the brain can be fun so we strive to make games that really challenge you and make the rewards worth playing. This is really rewarding. There aren't many companies that care about this. If you want to be super creative you go into apps, not board games. The toy industry is really traditional. We want to put out high quality toys and games so families have a better experience. Some board game are great, some are not so great. We feel it's our responsibility to create really good games that really catch on in the marketplace. We are blessed to be in this position and to work with inventors and to invent our own games. We put lots of effort and energy into the details to provide the best game experience we can.
What was your favorite childhood game? What's your favorite ThinkFun game?

I loved to play Risk. I loved the crazy names of all of the locations. I love to travel. By age 21, I traveled to every state except Hawaii. Some of my desire to travel came from playing Risk. I was made aware of all these cool places around the world and wanted to see them.
What's my favorite ThinkFun game? That's a hard question. Today I am going to say Math Dice. It was actually invented by my older son, Sam, when he was in 6th grade. He is 27 now, so it has been around for a long time. It's just five dice and you just play. It's so simple and it's so neat. My younger son, Mike, who was in 3rd grade at the time; I taught him how exponents work because I used them as a game rule. If he would want to beat me, he had to play by the rules.
For years I would carry a set of dice around with me. I'd show anyone who was interested how to play. Everyone knows the dread that comes with learning new math skills, but this is a game that makes you say "Hey! This is kind of fun." It's still such a surprise to me that something so simple really caught on. It's like taking spinach and learning you can make it taste good. Math Dice is so closely associated with my kids and family, and I personally invested a whole lot into developing ideas for it so I am going to say it is my favorite.
Do you consider gender when making and marketing games?

Do we distinguish ourselves and our games through genders? By and large we don't. With our Robot Turtles game for example, we started encouraging people to come up with adventure quests story and we asked ourselves do we want to write boy or girl themed stories. But what we've said and what we stick to is that our games are gender neutral but allow kids to imprint their own story on top of them to play however they want.
We also get asked fairly frequently by groups of families of children with special needs if we create games for specialized groups, like for children who are on the autism spectrum . We make our games as accessible and as true to themselves as possible. The kids will come and play and take what they can. With our games, each child will have his or her own experience and no one feels like they are being held back or not experiencing the game. You also get a different experience each time you play. We believe these things are what makes our games good.
When thinking about what games you're going to take on, what things do you look for?

We make it really clear right up front that there are certain types of games we don't want to look at. We consider ourselves curators, so when we see a range of games we choose games that fit our brand mission and that align with our vision.
I have this notion that games, if chosen right and done right, can help build thinking skills. To us that means you have to be able to look at one of our games and have to be able to develop a systematic way of thinking about it to be successful. There needs to be set patterns that start simple and build and lead you to a feeling of achievement. Some games are about number sense, some logical deduction, some spatial imagination and some word recognition, but they need to be challenging and fast paced.
We also look for things that are fresh and new. We encourage our team to look outside the box. For example, Robot Turtles was found on KickStarter. And Laser Maze. Who doesn't want to bounce a laser off mirrors. You're deeply studying and learning new things but you're using a laser and having fun while doing it.
Another thing we look for is if a game teaches a new skill. Next year it is looking like we will put out a game to teach kids to create their own music. So that's a new skill that can be taught through game play.
Can playing games reinforce back to school learning? How? What's your best tips for parents on how they can use games to do this?

First of all, I think in some sense kids are being pushed too hard to grow up too fast. Everything doesn't have to fit into a box and point towards sending a kid to Harvard. That said, I think people care about learning and I think kids care about learning too.
When you are taking about young kids, 4 to 6 year olds, the readiness a child has to have is not just an intellectual readiness, but an emotional readiness. Learning is interesting and fun when kids are emotionally ready to learn. So we need to find that zone between emotional and cognitive readiness to show kids how learning can be fun.
I also like to think about executive function. A good board game reinforces executive function. Robot Turtles, for example, is teaching coding skills to young kids, but in some ways learning coding skills for a preschooler is the same as building executive function. To play you have to focus yourself to understand goal and then break in into a series of steps to achieve it. You have to stay on task and look at the big picture and the details and then recalibrate when necessary. You have to focus on understanding the goal and being on task and moving between the big picture and small steps. These are huge skills that help with school success.
Where can Houston based nannies and parents find ThinkFun games?
Learning Express-Houston (Town & Country)
Town & Country Village
12850 Memorial Drive
Houston, TX 77024
6531 Woodway Dr.
Houston, TX 77057
1715 Post Oak Blvd,
Houston, TX 77056
2401 Rice Boulevard
Houston, TX 77005
Thank you to ThinkFun for providing review copies of some of their newer games for this piece.  
Posted in
Activities
|
Comments Off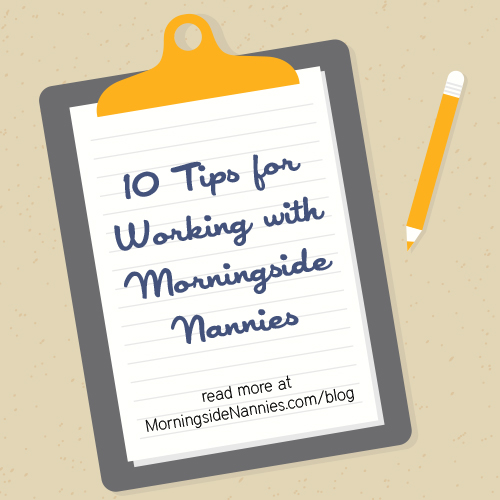 At Morningside Nannies, we strive to earn your trust and ensure that you are satisfied with our services during each and every interaction. With backgrounds as nannies, nanny employers, agency owners, nanny organization administrators and caseworkers for child protective services, our staff is passionate about quality in-home childcare and helping nannies and families find their right employment match. We're often asked by nannies and families how they can best work with our agency, so we've put together our best advice for utilizing our services.
1. Be transparent.

The best nanny in the world isn't the right nanny for every family. It's our job to understand what each family's and each nanny's unique needs are so that we can match the right nannies to the right jobs with the right families. Being honest about your needs helps us to best meet them.
2. Give us feedback.

We depend on your feedback to make adjustments to your search. We want to hear what you really thought about a family or nanny so that we can adjust our search criteria to better close in on your match. We don't disclose specific feedback to any candidate or family unless we are specifically asked to do so.
3. Respond to us as soon as you can.

Nannies are interviewing with several families and families are interviewing several nannies. Because our caregivers are the cream of the crop, they tend to get hired quickly. Because our families are motivated to hire, they want to interview qualified candidates right away. Substantial delays in response times can result in missed opportunities for both nannies and families.
4. Read the information we provide you.

We know searching for a nanny or work family can be overwhelming, that's why we condense the information you need into one single document. For nannies it's our Welcome Nanny Guide and for families it's our Welcome Family Guide. These guides contain essential information that will help your search and employment relationship run smoothly.
5. Know where you can be flexible and where you cannot.

Nannies and families are only human. There is no perfect nanny or family; there is only the right nanny for the right family. With each candidate and each job opportunity comes strengths and weaknesses or pros and cons. Know what's most important, what you'd consider an "added bonus," and what things matter least to you when considering your search.
6. Understand our role.

When working with families seeking permanent nannies, it's our role to present qualified candidates for hiring consideration. For nannies, it's our role to represent qualified candidates by presenting them to families whose hiring criteria they meet and who we think they'll be a good employment match for. We gather and provide as much information as we can so that we can make educated and informed decisions on which nannies we present to which families.
7. Understand your role.

Of course it's our goal that by the time a nanny and family are in the interview phase the hiring decision really comes down to if the nanny and family "click," but it's important to remember that families and nannies always make the final decision on who they hire and who they work for. We never pressure a family to make a job offer or a nanny to accept a position. We believe it's essential that both the family and nanny believe they've found their match.
8. Keep us informed.

During your search you can expect to hear from us often. We like to keep you informed of the status of your search and would love if you could keep us informed too. If your needs have changed and you are no longer searching, we'd love to know. If you've moved, you'll be out of town or you won't be accessible for a period of time during your search we'd love to know that too. Keeping our records current helps us better to help you in your search and in future searches.
9. Let us do the work.

Sometimes it may seem easier to deal directly with a nanny or family during your search rather than go through your placement specialist, but when we're left out of the loop it can be difficult for us to manage your search. Keeping us in the loop helps to ensure that we can meet your needs most effectively and that our agency's best practices are followed.
10. Understand our approach.

At our agency, we take an empowerment approach to helping nannies and families find the right match and maintain healthy working relationships. We believe in educating nannies and families about best practices, employer and employee responsibilities and local and national hiring trends. Whether it's alerting you to potential obstacles in your search or providing you with a complimentary consultation to a tax and payroll specialist, we do so with your best interests in mind.
Posted in
Advice for Nannies
,
All About Nannies
|
Comments Off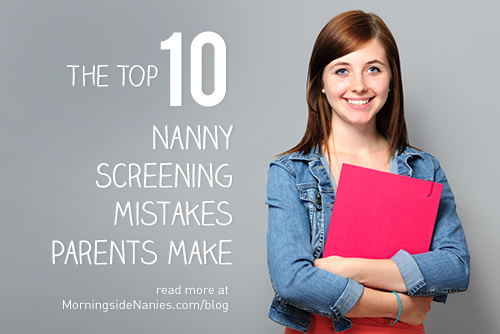 Hiring a nanny can be one of the best decisions your family makes, if you hire the right nanny for your family that is. If you're thinking about going the nanny route, you'll want to be sure to avoid these top 10 nanny screening mistakes parents make.
1. Hiring based on someone else's experience.

The best nanny in the world isn't the right nanny for every family. Just because your friend or colleague had an amazing experience with a nanny doesn't necessarily mean you will too. Each family, job and nanny is unique and the right nanny for one family may not be the right nanny for another.
2. Failing to gather enough information.

Don't hire a nanny sight unseen. It's not enough to accept the information a nanny provides you on face value. From verifying a candidates identity to reviewing her work history, you need to gather enough information so you can make an educated and informed hiring decision.
3. Asking the wrong questions.

Forget the yes or no and how would you handle x, y, z questions. If you want the nanny candidate to share real and detailed information with you, you need to give her the opportunity to do. Instead of yes and no questions, ask open ended questions that give her room to share. And who cares how she thinks she'll handle a situation, like a temper tantrum in public. You want to know how she has handled the situation in the past, so rephrase "how would you handle" to "how have you handled" to get the information you are seeking.
4. Not doing a complete background screening.

Nationwide background checks are referred to as preliminary checks for a reason. To do a thorough screening, you need to check county court records where the candidate has lived for at least the last 7 years. A social security trace will lead you to addresses associated with that social security number and from there you can identify what court records should be checked. Remember, your background checks must be FCRA compliant, which in addition to many things, means you need the candidate's permission to do the checks.
5. Getting a false sense of security from the results of a background check.

The results of the background check only provide information regarding records found (or not found) in the locations searched in the name that you provided. They do not provide a guarantee that your candidate has not or will not have committed a crime. Of course it's important to take the results of a background check into consideration, but the background check should be viewed as one of the many tools in your screening arsenal, not the end all be all of nanny screening.
6. Trusting their gut too much.

It's great that you have a really good feeling about a candidate. That's what you're going for. However, when hiring a nanny, more than your gut has to point you towards the right candidate. Use your intuition as a launching point to let the screening process verify that you intuition is spot on. Just remember to give what you learn as much credence as what you feel if something turns up.
7. Not trusting their gut enough.

While nanny screening is essential, don't let any amount of research or data (or even a nanny agency) persuade you into hiring a candidate that you have a bad feeling about. When it comes to hiring a nanny, ultimate hiring decision is yours alone. If something doesn't feel right about a candidate, just move on.
8. Not gathering the right information from references.

Screening references can be tricky. I mean think about it. When applying for a position yourself, don't you only provide references who you are fairly certain are going to say good things about you? In addition to confirming the information the nanny provided with regards to the job facts, like when she started, how old the children were, what her duties were, etc., gauge her reliability by asking how often she called in sick or was late for work and her responsibility level by asking if the children experienced any injuries while in her care, if she relayed accurate messages from school to home or if her tasks were always completed. If a reference seems reluctant to open up, the best think you can say is "I am thinking of hiring this person to care for my children unsupervised, in my home. That's a big job. Should I have any concerns about hiring this nanny for this role?"
9. Not considering a nanny's childcare philosophy.

Children thrive when their caregivers are on the same page of the same parenting book. They don't have to necessarily agree on every detail when it comes to raising the kids, but they do have to remember whose boss when it comes to calling the shots. When considering a nanny, you do want to be in alignment when it comes to discipline, how you approach sleeping and eating and how you approach your days. If you're a tiger mom and hire a nanny who favors the attachment parenting approach, for example, there's going to be trouble.
10. Underestimating the power of a personal connection.

The nanny and employer relationship is just that, a relationship. And since the workplace is in the employer's home, it should be no surprise that the relationship is an intimate one. While you certainly need not be BFFs with your nanny, simply tolerating her is not enough. You, your children and your nanny are going to be spending a lot of time together. If you don't want that time to be miserable, you'll want to hire someone you genuinely like. Especially since it's pretty likely your children are going to pick up some of her traits.
When it comes to screening nanny candidates, reputable nanny placement agencies are here to help. Morningside Nannies can significantly reduce the time you spend screening candidates by doing the leg work for you and presenting to you only those candidates who are qualified for your job and are a good match for your family.
Posted in
Advice for Parents
,
Houston
|
Comments Off
← Older posts
Newer posts →