The Best Kid-Friendly Country Clubs in Houston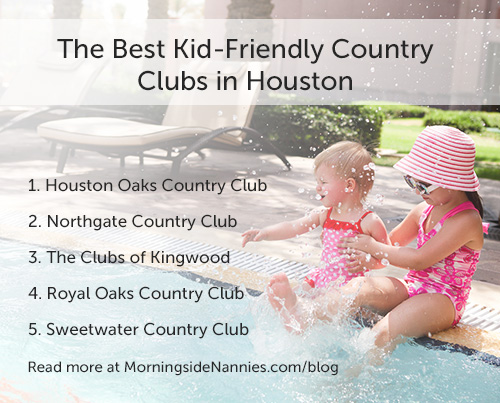 Having a private club to go to is one of the joys of living in an exclusive neighborhood. No matter where you live in Houston or the surrounding areas, you can have access to wonderful, state-of-the-art, family-friendly country clubs. Catering to both kids and adults, these country clubs offer the best of both worlds for families.
Located 35 miles northwest of Houston, this country club is expansive, covering over 400 acres with "15 stocked fishing lakes, 27 holes of golf, a sandy beach with paddle boats, kayaks and water bikes, a beautiful family lap pool, a "field of dreams" baseball field, a fish camp and an amazing tree house." You and your kids can walk the nature trails, go fishing, swim or play tennis. There is something for everyone at Houston Oaks!
Located in north Houston, near Spring, Northgate Country Club has "27 holes of championship golf. Fine and casual dining. 8 lighted tennis courts. Banquet and private event space. 3 pools for swimming, diving & more. Active, family friendly event calendar and extensive junior activities." They also offer a summer golf camp for kids aged 7 to 12 as well as a junior tennis academy.
Located northeast of Houston in Kingwood, this collection of country clubs offers a lot of value for the price. "One of the world's largest private country clubs, The Clubs of Kingwood offers 90 holes of championship golf at two distinct locations, Kingwood Country Club and Deerwood Golf Club." The have a great summer camp for kids that includes: "swimming, games, arts & crafts, tennis, golf, soccer, archery, paint ball target practice, water day, team building, volleyball, sport skill development, kickball, karate, special events and much more!" They also offer Junior Golf Camp, Tennis Camp and Golf & Fishing Camp. Additionally, they have a full water park with slides, a lazy river, a water play area for small children and both adult and children pools.
Located in the heart of Houston, just eight miles west of the Galleria on Westheimer Road, Royal Oaks Country Club is located in a pristine walled community. They offer a variety of things, from swim lessons and golf camps to tennis academies and ballet classes. They even have a Tot Stop "where kids can stay and have fun while their parents work out, play golf or enjoy a romantic dinner." During the summer they offer Junior Tennis & Sports Camp, which includes "Tennis, Golf, Basketball, Soccer, Swimming, Fishing, Flag Football, T-ball, Pickleball, Kickball, Arts & Crafts, & plenty of Fun!" for ages 5 to 14. Junior Golf clinics, a Junior Tennis Academy, and a summer Swim League are also available.
Located in southwest Houston near Sugar Land, Sweetwater Country Club offers a sitting service for young children called Kids Cove. Beyond that they have summer camps that specialize in golf, tennis, cross country and swimming. They also have activities like kid's cooking and art classes, as well as Mommy and Me playdates. Special weekly camps have themes like color and art, science, crafts and outdoor activities. Archery, basketball and sports of all kinds are always on the menu! They also have an Arnold Palmer Golf Academy where kids, adults and families can learn and enjoy golf together. They even have family night activities, like Bingo with a meal.
As you can see, there are many country clubs in the Houston area that offer family-friendly activities and events. Get fit and have fun with your children at your local country club!
← The Best Party Caterers in Houston | Playground Safety Tips →