Ways to Stay Fit When Working in Houston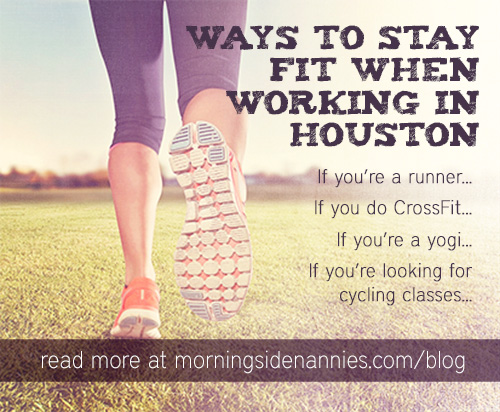 There's no shortage of ways to stay fit if you're working in Houston. From running to CrossFit, and everything in between, there's something for everyone who's looking to break a sweat.
If you're a runner, check out these trails:
Terry Hershey Park: Located just off of I10 and the Beltway, Terry Hershey Park boasts miles and miles of paved trails for runners to enjoy. The trails are tucked away in a serene setting filled with trees, wildlife and water – you won't even realize you're right next to two major freeways!
Memorial Park: At Memorial Park you'll find an easy-to-follow a 2.88-mile dirt pathway that is always filled with runners. Because the path is a big loop, Memorial Park is an easy favorite for runners who want to run without worry of getting lost.
Hermann Park Trail: Runners will enjoy a variety of scenery and a dirt running trail that is easy on the joints. From the park's website: "Joggers love following the 2-mile Marvin Taylor Exercise Trail around the golf course under the shade of the Park's historic live oaks."
If you do CrossFit, head to one of these boxes:
CrossFit EaDo: This box boasts that it's the biggest CrossFit box in Texas, and has received rave reviews for not just the box itself, but also the coaches.
CrossFit H-Town: Named one of the top 15 CrossFit boxes in America, CrossFit H-Town is a celebrated box in downtown Houston that serious CrossFitters will love.
CrossFit Roughnecks: Located in the heart of Downtown Houston, CrossFitters who work in the city will love the ease of access to this box.
If you're a yogi, find your inner peace at one of these studios:
YogaOne: YogaOne has five different locations around the Houston area and offers Hot Yoga, Forrest Yoga and Vinyasa Flow classes. These studios are a favorite among Houstonians.
Republic Yoga Studios: Classes at Republic Yoga Studios are capped at 14 students so that each student gets the personalized attention they need and deserve. Students will find this unique setting a breath of fresh air from bigger studios where it's easy to get lost in the shuffle.
Jennyoga: Jennyoga describes their studio as, "an open and supportive community committed to the study and celebration of yoga." The studio specializes in Hatha yoga forms, offering classes for everyone from beginners to the more advanced student.
If you're looking for cycling classes, head to one of these spin studios:
My Indoor Cycle: Small classes, upbeat instructors and top of the line spin bikes make My Indoor Cycle one of the best spin studios in Houston. Spin enthusiasts also enjoy no contracts and low drop-in rates.
Define Body and Mind: Define Revolution promises to combine "principles of isometrics with cardio-blasting, high intensity fun". But don't just stop at the spin classes; Define offers several other types of group classes as well, allowing you to explore all areas of fitness.
Revolution: Everyone is welcome at Revolution Studio, no matter what your fitness level or spin experience. From the website: "In each class, your instructor will lead the way, suggesting target resistance levels and movements but YOU decide what is right for you with individual resistance knobs located on each bike."
These classes only scratch the surface of the options available for fitness enthusiasts in Houston. Whatever your preferred method for getting fit, Houston is sure to have it!
← Creating a Nanny Log Book | BACK TO SCHOOL STATISTICS for 2014 →