10 Places to Go for a Mom's Night Out in Houston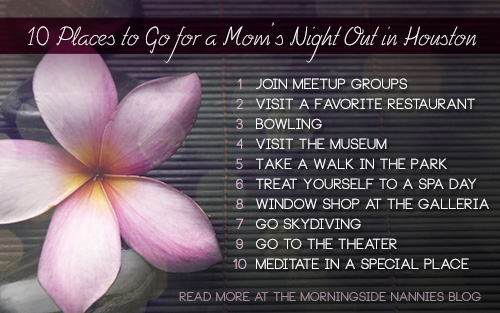 The Thursday before Mother's Day has been declared National Mom's Night Out by founder Rachel Wright. Ms. Wright established  the day as a time when mothers could get together with friends, go play or do whatever they wanted to, without worrying about kids in tow. Celebrating Mom's Night Out means she gets time off to do exactly what she wants to do, and can recharge herself.  If you missed it, don't be discouraged; you still get to declare your own night out whenever you need one.
1. Join Meetup Groups
One way to get out of the usual routine, make friends, network for play dates for the kids and yourself is to get involved with a Meetup Group. Some groups do things on a regular basis while others meet for specific activities. You'll find a wide variety of activities from baby yoga to trips to the zoo and so much more.
2. Visit a Favorite Restaurant
Make a date with yourself. Get dressed up and go to your favorite restaurant, and order a meal that makes you happy. Take a book to read, or get a booth or table in the corner and do a little people watching. If you prefer not to dine alone, make a date with your best friend and have some girl talk.
3. Bowling
Grab some friends and go bowling without the kids for a Mom's Night Out! Check with your neighborhood bowling alley to find out when they hold Cosmic Bowling or other fun events, and plan your escape around that time.
4. Visit the Museum
So many natives of this world-class city live in an area bursting with all kinds of exciting things to do, but rarely take advantage of them. Tourists come from all over to see things that are in your own backyard, but you are so used to seeing them that it seldom occurs to you to visit them yourself. If you've never been to Houston's Museum District, now is the time to don your walking shoes and check out the fabulous offerings right under your nose. Plan your visit at the right time, and it may even be free.
5. Take a Walk in the Park
Summertime is a great time for enjoying the parks in the Houston area. Take a book, or your camera, or both and just enjoy being out of doors and communing with nature. Since it gets dark later in summertime, you can enjoy the serenity of the park after dinner with the family, if you like. If you frequent a particular park with your kids, now would be a ripe time for explore other areas for your own amusement.
6. Treat Yourself to a Spa Day
Ahhh! Relaxation and more! If you've never had a spa day, this is a treat you will truly enjoy. Take time off from motherhood for a few hours, and get rejuvenated. Your troubles will be massaged away, and the aromatherapy will help you forget about all the concerns that have been plaguing your mind. You deserve to be indulged for a little while, so find a spa that caters to your needs and let your troubles melt away.
7. Window Shop at the Galleria
Browse the offerings in this high-end mall without spending a dime, or treat yourself to something in a blue box at Tiffany's. While it can be tempting to drop a bit of money when you're surrounded by such luxury, there's nothing wrong with looking over the goods without making a purchase. You don't need to buy anything, just brows around the shops and pretend that your bank account is unlimited. The Galleria is a perfect place to explore. Creative types with a flair for interior design will get excellent decorating ideas, and fashionistas can browse the lines of posh design houses from around the world.
8. Go Skydiving
Moms are forced to keep their feet planted firmly on the ground, but that doesn't mean that they can't spend a bit of time with their head in the clouds once in a while. If you're the adventurous type and you want to do something completely wild and crazy, take the plunge and go skydiving. If you can do this, you can do anything! The thrill of flying through the air will invigorate you for years to come.
9. Go to the Theater
Houston has a lot to offer where theater is concerned. Whether it's a community theater or something special like Miller Outdoor Theater, you'll enjoy the break away letting your mind travel into another world.
10. Meditate in a Special Place
Sometimes what you really need is just a quiet place to collect your thoughts and experience a little peace. One such place is Rothko Chapel. Just sit and drink in the beauty of your surroundings, and let the peace and serenity fill you up.
← 10 of the Best Preschools in Houston | 10 Tips for Keeping Kids Safe in the Hot Houston Heat →
Comments are closed.