10 Tips for Working with Morningside Nannies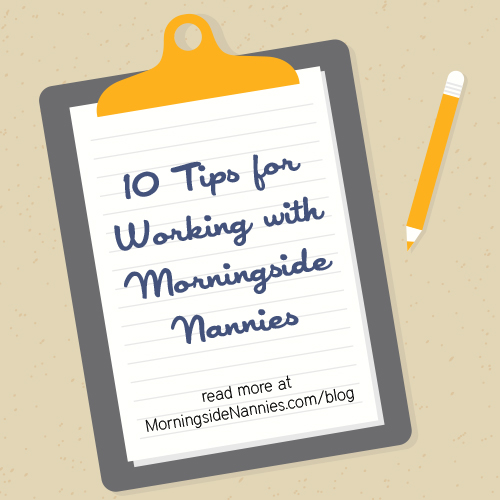 At Morningside Nannies, we strive to earn your trust and ensure that you are satisfied with our services during each and every interaction. With backgrounds as nannies, nanny employers, agency owners, nanny organization administrators and caseworkers for child protective services, our staff is passionate about quality in-home childcare and helping nannies and families find their right employment match. We're often asked by nannies and families how they can best work with our agency, so we've put together our best advice for utilizing our services.
1. Be transparent.

The best nanny in the world isn't the right nanny for every family. It's our job to understand what each family's and each nanny's unique needs are so that we can match the right nannies to the right jobs with the right families. Being honest about your needs helps us to best meet them.
2. Give us feedback.

We depend on your feedback to make adjustments to your search. We want to hear what you really thought about a family or nanny so that we can adjust our search criteria to better close in on your match. We don't disclose specific feedback to any candidate or family unless we are specifically asked to do so.
3. Respond to us as soon as you can.

Nannies are interviewing with several families and families are interviewing several nannies. Because our caregivers are the cream of the crop, they tend to get hired quickly. Because our families are motivated to hire, they want to interview qualified candidates right away. Substantial delays in response times can result in missed opportunities for both nannies and families.
4. Read the information we provide you.

We know searching for a nanny or work family can be overwhelming, that's why we condense the information you need into one single document. For nannies it's our Welcome Nanny Guide and for families it's our Welcome Family Guide. These guides contain essential information that will help your search and employment relationship run smoothly.
5. Know where you can be flexible and where you cannot.

Nannies and families are only human. There is no perfect nanny or family; there is only the right nanny for the right family. With each candidate and each job opportunity comes strengths and weaknesses or pros and cons. Know what's most important, what you'd consider an "added bonus," and what things matter least to you when considering your search.
6. Understand our role.

When working with families seeking permanent nannies, it's our role to present qualified candidates for hiring consideration. For nannies, it's our role to represent qualified candidates by presenting them to families whose hiring criteria they meet and who we think they'll be a good employment match for. We gather and provide as much information as we can so that we can make educated and informed decisions on which nannies we present to which families.
7. Understand your role.

Of course it's our goal that by the time a nanny and family are in the interview phase the hiring decision really comes down to if the nanny and family "click," but it's important to remember that families and nannies always make the final decision on who they hire and who they work for. We never pressure a family to make a job offer or a nanny to accept a position. We believe it's essential that both the family and nanny believe they've found their match.
8. Keep us informed.

During your search you can expect to hear from us often. We like to keep you informed of the status of your search and would love if you could keep us informed too. If your needs have changed and you are no longer searching, we'd love to know. If you've moved, you'll be out of town or you won't be accessible for a period of time during your search we'd love to know that too. Keeping our records current helps us better to help you in your search and in future searches.
9. Let us do the work.

Sometimes it may seem easier to deal directly with a nanny or family during your search rather than go through your placement specialist, but when we're left out of the loop it can be difficult for us to manage your search. Keeping us in the loop helps to ensure that we can meet your needs most effectively and that our agency's best practices are followed.
10. Understand our approach.

At our agency, we take an empowerment approach to helping nannies and families find the right match and maintain healthy working relationships. We believe in educating nannies and families about best practices, employer and employee responsibilities and local and national hiring trends. Whether it's alerting you to potential obstacles in your search or providing you with a complimentary consultation to a tax and payroll specialist, we do so with your best interests in mind.
← The Top 10 Nanny Screening Mistakes Parents Make | Bringing Back Board Games →
Comments are closed.