A New Year, A New Website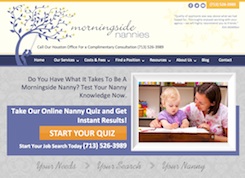 Welcome to the newly launched corporate website of Morningside Nannies, created with you in mind.
At MorningsideNannies.com we've aimed to create a website that will provide a user-friendly experience and a wealth of helpful information to parents seeking nannies, nannies seeking employment and others interested in the in-home childcare industry.
For parents seeking a childcare provider and nannies looking for employment, we believe you'll find our new website and online applications easy to navigate. While we always encourage site visitors to call our office and speak to a placement specialist directly anytime during business hours, with our newly integrated site, we're better able to carefully monitor electronic queries and provide faster responses to those who wish to reach a placement specialist by email or electronic form submission.
When it comes to learning about nanny and employer expectations, responsibilities and relationships, our on staff industry experts have written fresh web content, employer and nanny quizzes and blog posts designed to empower you to make educated and informed decisions that are in your best interest. And if you don't see information on a topic you're looking for, contact us.  We're here to answer your questions and to be inspired by you.
Whether you are considering relocating to the Houston area for a nanny position or are a young family already living here, we think you'll find our detailed information on Houston area communities valuable. With statistics on public schools, information on houses of worship, area businesses and colleges and fun local activities to do with the kids, we've created a Houston area resource guide to help you learn more about the community we serve.
At Morningside Nannies we've been matching the best nannies with the best families in the Houston area for over 20 years.  We can help you too.  We invite you to browse our website, learn about our services and explore our resources.  We hope you are as pleased with our new site as we are.
← A New Season for Morningside Nannies | Houston National Nanny Training Day →
Comments are closed.