10 Great Restaurants With Kid-Friendly<br/> Take-Out in Houston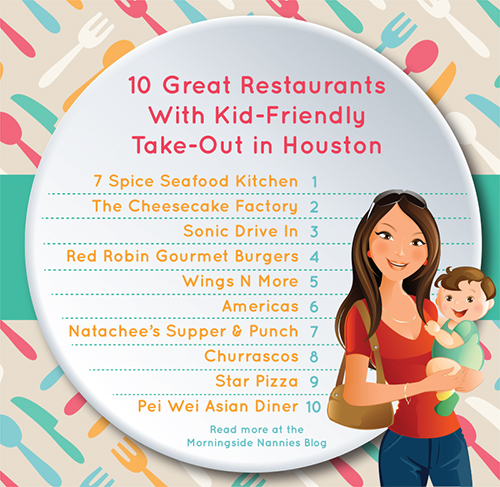 Houston is chock-full of taste-tempting restaurants, so choosing one that the entire family will enjoy is definitely doable. Whether you and the kids have a taste for Tex-Mex, Asian, pizza or burgers, you will find something to excite the taste buds. For families on the go that like good food but may not have the time or inclination to hang out in a restaurant, check out these kid-friendly take-out hotspots.
No matter what your kids are craving, there is a restaurant ready to meet the need. Houston has dozens of places to choose from. You might even try broadening your children's culinary horizons by trying something different and take out means you don't have to worry about embarrassing rejections at the restaurant. A "no thank you" helping at home could turn into a future favorite food so don't be afraid to experiment.
← Nanny, Housekeeper, Nanny/Housekeeper.
What's the Difference? | Introducing Brilliantly Baby, a Houston
New Parent and Nanny Resource →
Comments are closed.