Quick and Easy Placemat Craft

By Megan Gilbreath
Christmas may be over, but school vacation isn't. With New Year's around the corner, check out this easy to do craft to keep the kids busy and mealtimes less of a mess.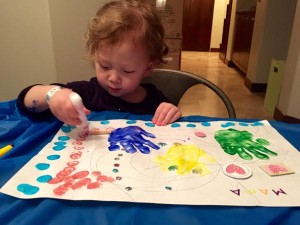 Supplies:
• Several colors of non-toxic paint and brushes
• Various markers
• Various stickers (minimal height, flat stickers work best)
• Colorful tape
• Laminating machine
• Large white construction paper (to fit the 11×17 black mat)
• 11×17 sturdy black plastic-type mat (Kinkos is best!)
This is the back-bone of the placemat, there to make it strong and durable. Try to find plastic-type paper that is designed for binding notebooks. If your local office supplies store doesn't have this, look for any strong plastic-type backing that will make the placemats solid. If you want the placemat bigger or smaller, here is where you would alter the size.
How-to:
1. Cut the large white construction paper smaller than the 11×17 black mat, about a half inch smaller than the mat on all sides.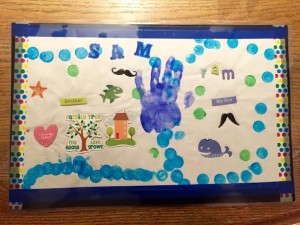 2. Decorate! It's best to be strategic when handing out the paint colors so you don't end up with a big brown mess. Have him use markers, paint and stickers to create his masterpiece, but be sure to keep the project one dimensional so the laminating machine won't get angry. Handprints turned reindeer or snowman are a fun winter-themed addition.
3. After the decorated paper is dry, center it on top of the sturdy black plastic-type mat. Use colorful tape to seal the decorated paper to the black mat (continuously flatten the two together to avoid air bubbles). The tape will also create an attractive border.
4. Laminate the final product. Stop by your local office supply store to laminate the final creation. This will ensure the placemats will be able to endure any foodie mess!
Megan Gilbreath is a California college student pursuing journalism and public relations. She is also a working nanny who spends her time caring for two toddlers who keep her busy and joyful as she navigates caretaking through their medical conditions of high functioning autism and developmental delay. Connect with Megan on Twitter @meganrgilbreath.
← Crafty DIY Kids Christmas Cards | Book Review: The Secrets of the Nanny Whisperer →
Comments are closed.