Office Updates
Since the start of the pandemic in 2020, we have continued to serve nannies and families while transitioning to a remote work environment.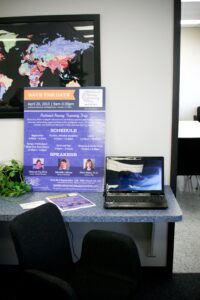 As we have continued to fine tune our processes, policies, and procedures to work in a virtual world and with no real timeline established for heading back into the office to meet with nannies face to face, we have decided to permanently operate in a virtual setting.
Prior to the pandemic, we never would have imagined a world where we would be screening nannies outside of our office, however in today's world, we all know too well that virtual operations have become the norm.
Since the start of the pandemic, so much of the way we do business has changed. In fact, a substantial number of nanny placements made over the last year included family's hiring directly from a virtual interview.
While we continue to miss seeing our nannies face to face, we enjoy how quickly and efficiently we can assist them in finding the right job with the right family.
As we close the doors to our longtime Kirby Street office, we are excited about the opportunity to leverage technology as we continue to help nannies and families find the right match.
Should you wish to reach us by postal mail, our new mailing address is 22136 Westheimer Pkwy #704 Katy, TX 77450. Our website, phone number, fax number, and email addresses will all remain the same. Our hours will be 8a-530p Monday-Friday.
Thank you for your continued support.
← Nanny Holiday Bonuses and Gifts | New Job Parameters →
Comments are closed.