National Nanny Recognition Week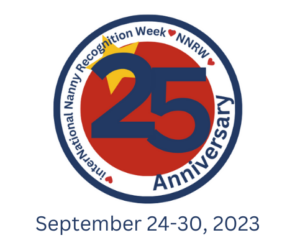 Since 1998, National Nanny Recognition Week has been observed the last week of September to recognize and celebrate nannies across the United States. National Nanny Recognition Week was started by individuals within the in-home childcare industry to recognize the valuable role nannies play in the lives of families.
National Nanny Recognition Week is a time to celebrate the wonderful work nannies do and the difference they make in the lives of the children in their care and the families whom they serve.
If you employ nanny, consider recognizing her during National Nanny Recognition Week this year.
Here are 10 ways that you can show your nanny that you appreciate the valuable care she provides your children and the work she does for your family.
1. Gift your nanny a Caregiver membership to the International Nanny Association
For $55 a year, your nanny will have the resources and support of a professional organization.  The International Nanny Association (www.nanny.org) is a non-profit educational association that serves as the umbrella association for the in-home child care industry.
2. Send her to the spa
Your nanny spends so much time taking care of others she could use a little time to take care of herself. A day of beauty can provide the pampering she needs to be rejuvenated and reenergized!
3. Have the children make her a special gift
A mug with their handprints that says "World's Best Nanny" or a framed drawing your child made or photo of them all together will touch your nanny's heart and provide a gift she'll treasure forever.
 4. Share a meal
Consider taking your nanny out to dinner to celebrate National Nanny Recognition Week. If you prefer to stay home,  prepare the nanny a homemade meal or order take-out from her favorite place.
5. Meet a need
Has your nanny expressed interest in going to the gym or attending a nanny event like Nannypalooza? Consider giving her some money to put towards something she's wanted to do but perhaps isn't in her current budget.
6. Give a gift card
A gift certificate to your nanny's favorite store, restaurant, or even a prepaid gift card is the perfect gift to give when you're not sure what to get.
7. Pay for professional development
Enroll your nanny in training that will benefit her and your family. GlobalNannyTraining.com offers CACHE | NCFE accredited training especially for nannies. The course was developed by Morningside Nannies own Michelle LaRowe who has educated nannies in over 30 countries.
8. A surprise paid day off
Let your nanny know you appreciate her by giving her a surprise paid day off. Many nannies work long hours and often don't get off work until the bank, the doctor's office and other important venues until after closing.  Consider giving your nanny the day to celebrate and to take care of herself and her personal business, on you!
9. Give her a gift subscription to Nanny Magazine
At NannyMag.com, you can purchase a gift subscription for $21 a year. This gets your nanny access to tips, articles and advice to help her be the best nanny she can be in four digital issues a year.
10.  Nanny Swag
Industry insiders have created tons of swag designed especially for nannies. NannyTees.com and TheNannyCards.com are just two websites that offer nanny specific merch.
As any parent who has one knows, having a great nanny makes life easier. If you are fortunate enough to have a quality nanny, be sure to recognize her during National Nanny Recognition Week. In the business of life, you may only see each other in passing, which can make it easy to forget to say thanks. During National Nanny Recognition Week take a time-out to say thanks. You'll be glad you did – and your nanny will be too!
← Discover Brighter Mornings with Morningside Nannies | Finding Your Fit →
Comments are closed.