About Our Staff
Ken Myers
President of Morningside Nannies
As president of Morningside Nannies, Ken's focus is helping Houston-based parents find the right childcare provider for their family. Ken holds a master's in business leadership from Upper Iowa University and multiple bachelor degrees from Grand View College. With a background in owning and operating companies dedicated to helping people find the right services for their families and a passion for seeing that children cared for by nannies receive the best possible care by the most qualified care providers, Ken is dedicated to helping parents make educated and informed childcare choices for their family.
When he's not in the Morningside Nannies office, Ken enjoys spending time with his three children and his wife, Jolene, and developing new software to better help parents find and manage their household employees.
Michelle LaRowe
Executive Director and Managing Partner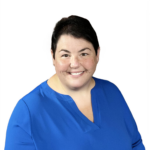 Michelle LaRowe brings to Morningside Nannies more than 30 years of nanny industry experience. An International Nanny Association credentialed nanny and Nanny of the Year award recipient, Michelle has authored several parenting books including Nanny to the Rescue! and Working Mom's 411. Michelle has served as a board member and as the executive director of the International Nanny Association and she serves as the lead educator at NannyTraining.com and GlobalNannyTraining.com, educating nannies in over 30 countries across the globe. Michelle also is the editor of Nanny Magazine, the industry's premiere trade publication.
Michelle is passionate about quality in-home childcare and ensuring that children cared for by nannies receive the best possible care. Michelle enjoys putting her best advice to practice raising her five young children, three of whom were adopted through foster care, along with her husband Jeff.
All of our staff proudly holds membership in the International Nanny Association