Houston Nanny Wage Trends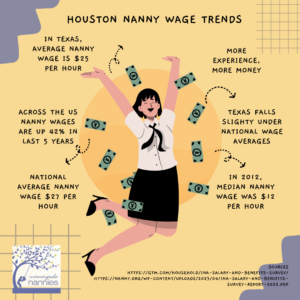 The results of the 2022 INA Nanny Salary and Benefits Survey are in.
The key takeaways for the Houston market include:
The national nanny median hourly rate continues to increase. In 2012, it was $16, in 2017 it was $19, and in 2022, it was $25 per hour.
The national average nanny rate is $27 per hour. This is a 42% increase over the past five years. In Texas it is $25 per hour.
Higher wages and more benefits indicate that the pandemic has brought to light the value of child care.
← 2023 Tax Responsibilities for Nanny Employers |
Comments are closed.