Flexibility or Open Availability?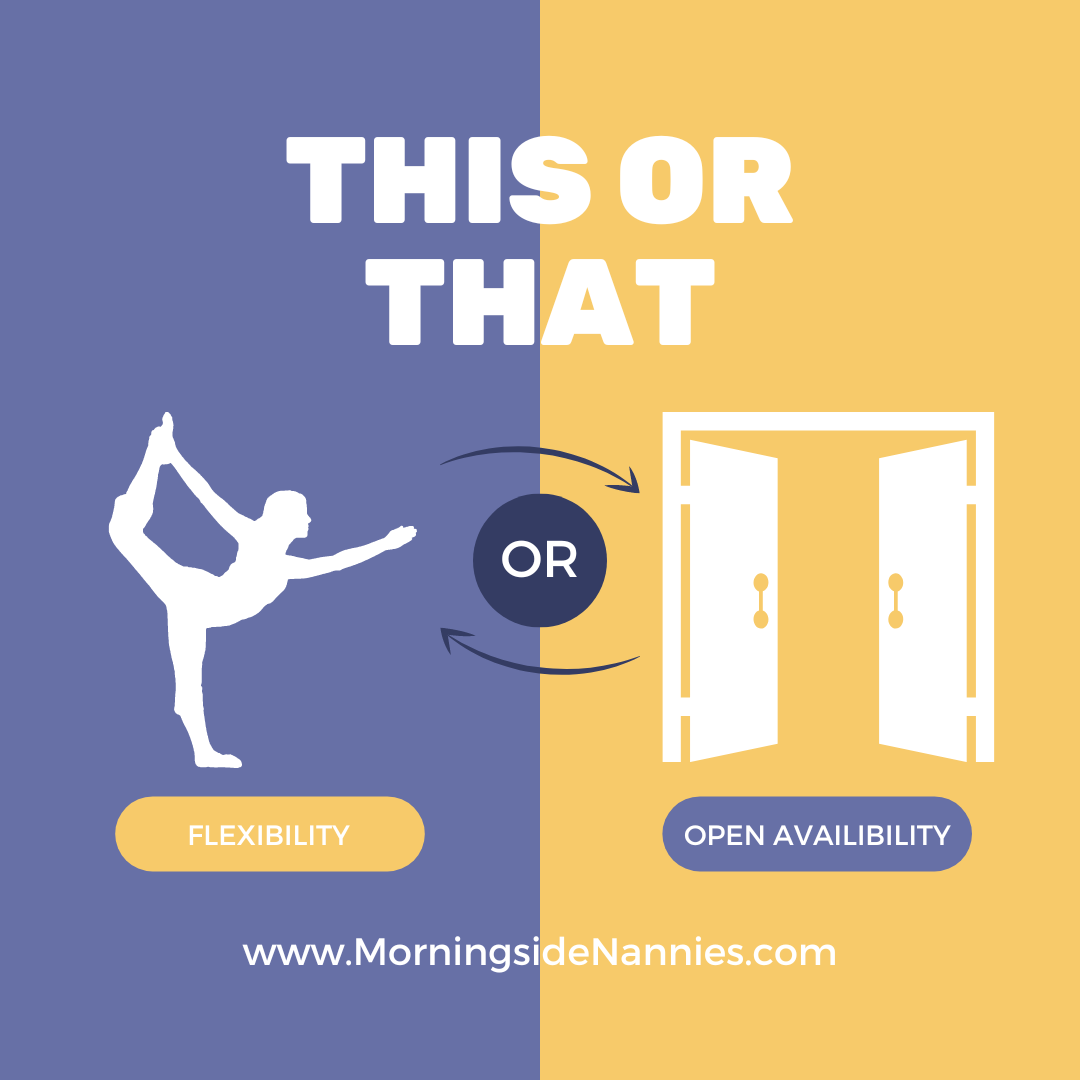 Everyone understands that one of the many benefits of employing a nanny is the flexibility that comes with it.
Running a few minutes late due to traffic? No problem.
Work emergency that requires you to stay late?  Not an issue.
Got a weekend wedding and need date night coverage? You've got it!
Overnight care needed due to a work trip and the grandparents got ill and cancel coming into town to provide coverage? Don't worry, the nanny will have your back.
When a family states that they need flexibility in their job description and during their nanny search, these are some of the exact scenarios that nannies are well-prepared for and have come to expect.
But what happens when that occasional need for additional coverage turns into a daily or at least predictable expectation?
You've crossed the line from needing flexibility into the need for open availability.
The nanny who is hired for afterschool care only is now needed to cover full days whenever school is not in session. The nanny can't have another job because she needs to be available for work.
The nanny is expected to work until the employer is finished his or her work for the day, with no indication of what time that will be. The nanny can't make afterwork plans because she may need to be available for work.
The nanny is required to work a split shift, but is not paid for hours in between, yet must be available if she is needed to provide care during the day. The nanny can't take another job, make appointments, or attend classes, because she may need to be available for work.
The nanny is needed to travel with the family, but she doesn't usually work full-time hours. The nanny can't keep her normal obligations outside of her work hours because she is needed for work.
The nanny is expected to be on call when the parents are on call, so she can't have another job because she may be needed to provide care. The nanny can't make any plans, because without notice, she may have to work.
The nanny is encouraged to float hours because of regular schedule changes. The nanny can't take any commitments during her workweek because she expected to be available when her employer needs her.
So how do nanny employers ensure they have childcare when they need it most?
Advertise accurately for your care need. Consider your care needs carefully. How many times do you run late per week? How often are schools closed and you need back-up coverage? How frequently are the children home from school sick? What are your summer childcare plans? If you find that you regularly need move coverage than the schedule you are advertising for, adjust your schedule or adjust your expectations regarding the nanny's need to provide the coverage.
Compensate for the availability needed. Structure your schedule and compensation for the maximum amount of coverage you'll need. Plan on paying your nanny for the hours she needs to be available to ensure you have the coverage when you need it most.
Have a backup plan. If you regularly need coverage outside of your typical schedule, consider hiring a second nanny or having an up-to-date call list of screened caregivers that you can use to fill the gaps. If you regularly need weekend coverage, consider hiring a weekend nanny.
Consider the benefits of full-time care. If your availability need is for full-time, but your core needs are part-time consider transitioning to a full-time nanny/assistant role. If running errands, home organization, grocery shopping and other non-deep cleaning type tasks would be beneficial to you, consider building out your role to build in the availability you need.
Remember the give and take. Nanny employers who offer their nanny flexibility will often get additional flexibility in return. Does your nanny need to attend a doctor's appointment? Is she running late because she's stuck behind an accident on the freeway? Consider how you respond to these requests if you are seeking additional flexibility in return.
Ensuring you have the coverage when you need it is one of the benefits of hiring a nanny care. As the employer, you set the schedule and you hire someone who can meet your scheduling needs. Honestly evaluating your care needs, transparently communicating them to potential hires, and appropriately compensating your nanny will ensure that you can attract and maintain a nanny who will be there for you when you need her most.
← 5 Facts About Nanny Holiday Bonuses | 10 Houston Nanny Trends for 2023 →
Comments are closed.