Combating the Pitfalls of Part-Time Hires

For many parents, hiring a part-time nanny seems to be the solution to their childcare needs. But like the old saying goes, all that glitters isn't gold. Before you begin your part-time nanny search, it's important to consider some of the most common issues that surround part-time hires and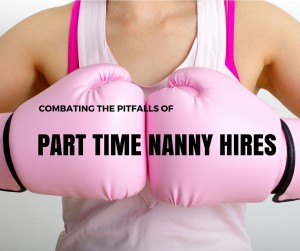 the ways you can combat them.
Part-time positions naturally have a higher turnover rate. In any industry, part-time workers tend to leave jobs more quickly than full-time workers. With nannies, part-time caregivers are often working around other commitments, like their current college schedule, another job schedule or their children's school schedule, all which can change throughout the year. For this reason part-time nannies are less inclined to stay in part-time positions long-term. Since most families are seeking at least a one year commitment, this results in less qualified candidates available for part-time positions.
Part-time providers also have less flexibility for scheduling changes. Since part-time nannies are typically working around other schedules and commitments, they usually don't have the availability to work outside of the set schedule they committed to. For parents this can mean that an afterschool provider won't be available to provide morning care if a child is sick or childcare when school is closed. For families who require full-time coverage during school closings, breaks and summer vacations, a part-time hire can prove problematic.
So what can you do to attract and retain the right part-time provider for your family?
Consider offering a higher wage rate. Qualified part-time nannies are in demand and as a result, nannies have their choice of part-time positions, making them super competitive. While you don't want to get into a bidding war, if you can bump up your rate above the area norms, you are likely to attract qualified candidates who are truly interested in the schedule and willing to make a long-term commitment. Most nannies are really reluctant to give up a high paying part-time job, so increasing the wages offered typically translates to increasing employee longevity.
You'll also want to remember that with part-time hires there doesn't come full-time availability. Carefully consider your needs and be realistic. If you know you need coverage 3 to 7 most days, but at least a few times per week you run late or you have evening work events fairly often, increase the hours from the get go so that you can secure the coverage that you need. The same rings true if you need sick care and coverage during school breaks and vacations. In the end, having the care you need squared way upfront can save you time and money. When you build in the care you need you aren't left trying to piecemeal arrangements and take time off from work, which can be costly.
Another and probably the most effective strategy for parents seeking a long-term commitment is to consider consolidating their outsourcing and hiring a full-time providers. Many nannies are willing to take on household related tasks like home management, errand running, grocery shopping, meal preparation and housekeeping, especially if the children are in school. When families are seeking a full-time arrangement they significantly increase their candidate pool, giving them more options, and they have the care they need secured when they need it most. When a full-time nanny you don't need to worry if she has the availability to provide care when the kids are sick or the school is closed; she's already scheduled and ready to work.
If you are seeking a part-time provider, contact Morningside Nannies for a complimentary consultation. Our part-time nannies are required to be available to make a one-year commitment and undergo the same intensive screening as our full-time applicants.
← Back to School Tips for Parents of Kids with Allergies | Realistic Wage Expectations →
Comments are closed.