10 Locations Houston is Famous For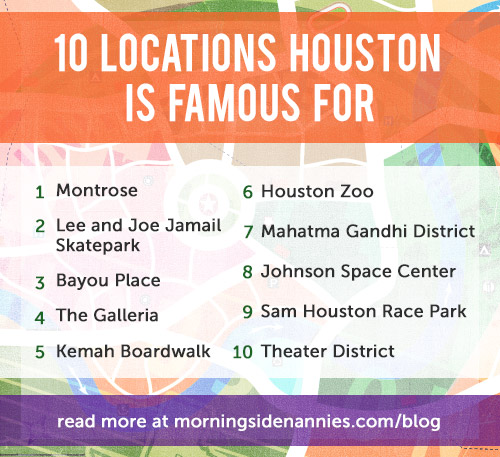 Houston is a unique and vibrant city, with plenty to see and do. Whether you are a long time resident or a visitor, you will never get bored in Houston if you know all the best places to visit. The next time you are in the Houston area, make sure to spend some time at these ten famous locations to get a feel for this world-class city.
← 10 Places to Find the Best Birthday Gifts in Houston | Youth Sports Leagues in Houston →
Comments are closed.
Testimonials
Thank you so much. I would recommend your company to absolutely everyone in need of help. You always asked questions to ensure proper performance.
Morningside Nannies only sent me nannies that fit my needs. I felt that I wasn't sent the resume of everyone on file.
As a new mom I was nervous about hiring a nanny, but now I couldn't be more pleased. I've sung your praises to everyone I know.
I am delighted with the outcome, and enjoyed the process.
I trust Morningside Nannies & their research into their nannies more than any of the other seven agencies we talked with. The checks are reliable and the quality of nannies was superb. The process of finding a nanny was handled quite professionally.
We used two other services and an online service. Morningside Nannies had the most highly qualified candidates, one of whom we selected.
Quality of applicants was way above what we had hoped for. Thoroughly enjoyed working with your agency – we will highly recommend you to friends.
Compared to other agencies Morningside presented a higher caliber of candidate.
Morningside Nannies was outstanding. The process was stress free and the caliber of applicants was far superior to that of other agencies. Morningside Nannies was thorough in their review and timely presentation of candidates.
Morningside Nannies blew the others away!