10 Water Play Activities for Houston Kids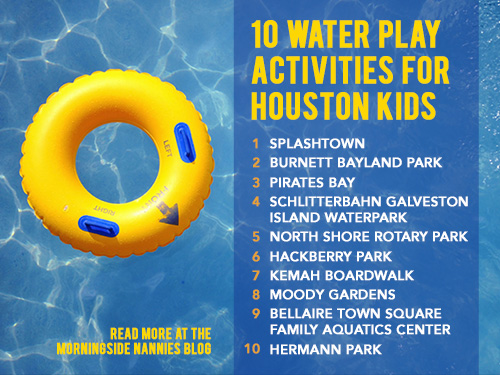 In the heat of Houston's sizzling summers, there is nothing better than taking the little ones out to play in the water. Not only can the kids cool off, but they'll get some much needed exercise as well. Parents and caregivers are also able to get some much-needed relief from the heat and fun times at these amazing water parks and playgrounds in the Houston area.
← 10 of the Best Places in Houston for Back to School Shopping | 10 Places to Buy Christening Gowns in Houston →
Comments are closed.
Testimonials
Morningside Nannies blew the others away!
I had an emergency situation and had a nanny sent over for the following day. I am so pleased with the service provided by Morningside Nannies. My son immediately fell in love with the nanny assigned to us. We couldn't be happier.
We've placed ads in newspapers on two occasions and have gone through an Au Pair program twice. This has been our best experience by far!
We used two other services and an online service. Morningside Nannies had the most highly qualified candidates, one of whom we selected.
I have used two other agencies, both were difficult to work with and did not live up to their promises and Morningside Nannies did.
Compared to other agencies Morningside presented a higher caliber of candidate.
The quality of candidates was very good. It was a difficult decision but Amy has proven to be a wonderful choice. We could not have found a better person. I would recommend your services to anyone looking for a nanny.
Thank you so much. I would recommend your company to absolutely everyone in need of help. You always asked questions to ensure proper performance.
In a time crunch you provided me with two excellent applicants within hours!
Morningside Nannies was outstanding. The process was stress free and the caliber of applicants was far superior to that of other agencies. Morningside Nannies was thorough in their review and timely presentation of candidates.