10 Water Play Activities for Houston Kids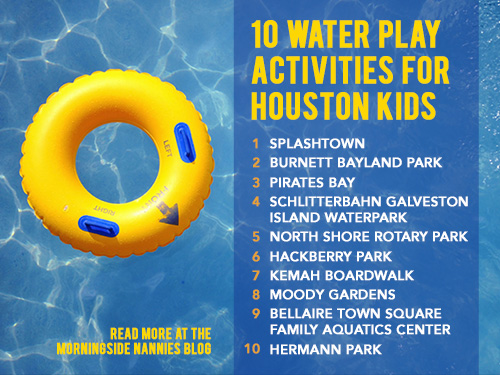 In the heat of Houston's sizzling summers, there is nothing better than taking the little ones out to play in the water. Not only can the kids cool off, but they'll get some much needed exercise as well. Parents and caregivers are also able to get some much-needed relief from the heat and fun times at these amazing water parks and playgrounds in the Houston area.
← 10 of the Best Places in Houston for Back to School Shopping | 10 Places to Buy Christening Gowns in Houston →
Comments are closed.
Testimonials
Morningside was by far the best as compared to the other services we used!
In a time crunch you provided me with two excellent applicants within hours!
During our search for our current nanny I used several well-known services in Houston. I found that Morningside Nannies had the highest- quality applicants in town.
I described the person I wanted and that's what you found for me. Thank you.
I am delighted with the outcome, and enjoyed the process.
Originally, I tried to find a nanny on my own and it took me much, much longer and only half of them spoke English. I had to do my own background checks. Morningside Nannies made it much easier, faster and more efficient.
Morningside Nannies only sent me nannies that fit my needs. I felt that I wasn't sent the resume of everyone on file.
I have used two other agencies, both were difficult to work with and did not live up to their promises and Morningside Nannies did.
Quality of applicants was way above what we had hoped for. Thoroughly enjoyed working with your agency – we will highly recommend you to friends.
Compared to other agencies Morningside presented a higher caliber of candidate.