10 Places to Buy Christening Gowns in Houston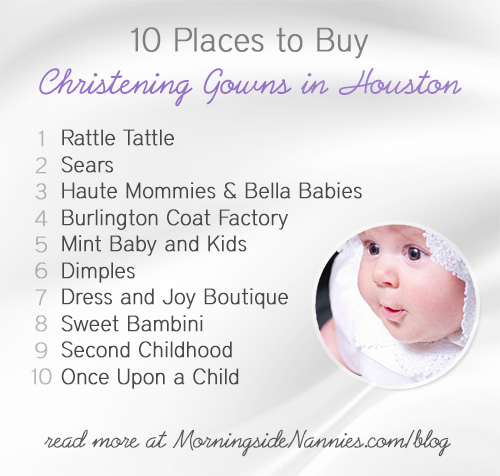 The day of baptism is a special day in many people's lives. Not only does it hold a sacred religious significance, but it also serves as a child's coming out party in many families. For some, planning a christening can be almost as taxing as planning a wedding. Many people opt for a large ceremony and reception and that means lots of preparation in choosing a venue, food, and decorations, among other things. Arguably, the most important element of your baby's special day will be the gown. It will be shown in numerous photographs for years, maybe even generations, to come and can even serve as something to pass down to your children's children. Deciding where to start shopping for this essential piece and all the lovely accessories such as the matching bibs, shoes, and bonnets is not always easy. However, the experience can be delightful as there are so many beautiful gowns to choose from once you know where to look. The last thing you want to do is waste valuable time traveling to a store only to find that they do not carry what you're looking for. To avoid this pitfall, listed here are some of the best places to shop for Christening gowns in Houston for many different budgets and personal tastes.
For any of these shops, calling ahead to ensure that they carry what you are looking for can save you time. It will also help you to intuit whether or not a shop is the sort of place you would like to shop based on how helpful the employees are over the phone. Knowing that you have choices will alleviate any feelings of being stuck shopping at one store or settling for a gown that is not exactly what you had in mind for your child. A christening is a once in a lifetime occasion that both the parents and child deserve to enjoy to the fullest and having this list should help make your gown shopping enjoyable and stress free!
← 10 Water Play Activities for Houston Kids | 12 Places to Get Party Planning Help in Houston →
Comments are closed.