12 Places to Get Party Planning Help in Houston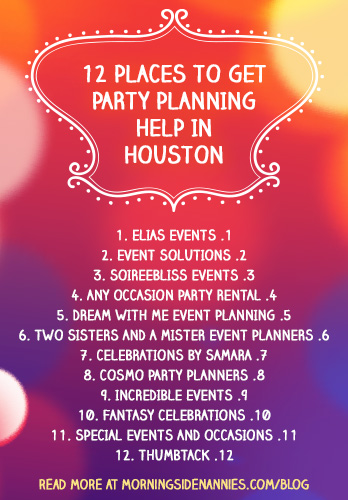 Whether you're putting together an intimate gathering for a quiet dinner, a lavish wedding or a child's birthday party, planning an event can be a stressful experience. There's so much to do and so many details to attend to that it's often easier and more enjoyable to simply hand the responsibilities over to an experienced and qualified professional, providing input where it's required and overseeing the process while others handle the particulars. For hosts and hostesses in the Houston area, there are a plethora of places to turn for help with event and party planning. These are ten of the best resources in the Greater Houston area, people and services who can turn the nightmare of party planning into the event of your dreams.
← 10 Places to Buy Christening Gowns in Houston | 10 Places for a Dad and Daughter Date Night in Houston →
Comments are closed.