Great Places to See a Concert With Kids in Houston
Houston is home to a plethora of entertainment venues and night life – perfect for moms, dads and nannies to enjoy some time out on the town. However, when you want to expose your children to concerts and performances, Houston does not disappoint.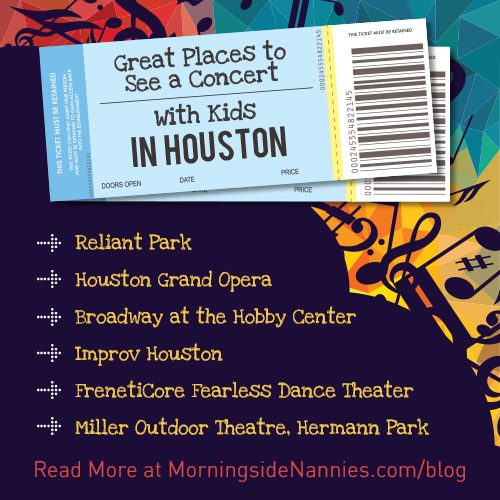 There are many kid and family-friendly concert halls and performing arts centers that feature musical amusement for all ages.
← 10 Summer Festivals Houston Families Won't Want to Miss | Summer Fun in Houston: University Programs and Camps for Kids →
Comments are closed.
Testimonials
Morningside Nannies blew the others away!
I am delighted with the outcome, and enjoyed the process.
We've placed ads in newspapers on two occasions and have gone through an Au Pair program twice. This has been our best experience by far!
Quality of applicants was way above what we had hoped for. Thoroughly enjoyed working with your agency – we will highly recommend you to friends.
Morningside was by far the best as compared to the other services we used!
We used two other services and an online service. Morningside Nannies had the most highly qualified candidates, one of whom we selected.
During our search for our current nanny I used several well-known services in Houston. I found that Morningside Nannies had the highest- quality applicants in town.
Originally, I tried to find a nanny on my own and it took me much, much longer and only half of them spoke English. I had to do my own background checks. Morningside Nannies made it much easier, faster and more efficient.
I liked the fact that you screened the candidates before sending them to us, rather than sending the candidate to me before I knew anything about them, like happened with (name withheld), your competition.
In a time crunch you provided me with two excellent applicants within hours!