Great Places to See a Concert With Kids in Houston
Houston is home to a plethora of entertainment venues and night life – perfect for moms, dads and nannies to enjoy some time out on the town. However, when you want to expose your children to concerts and performances, Houston does not disappoint.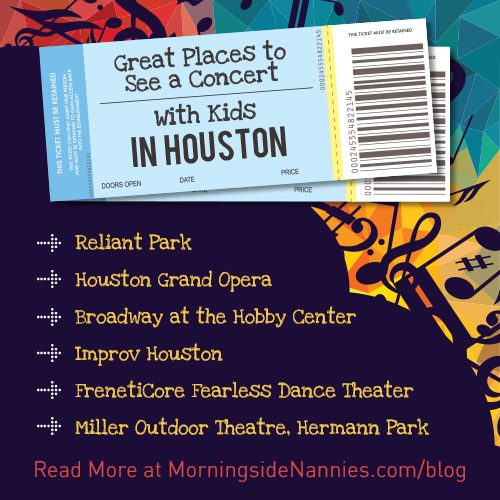 There are many kid and family-friendly concert halls and performing arts centers that feature musical amusement for all ages.
← 10 Summer Festivals Houston Families Won't Want to Miss | Summer Fun in Houston: University Programs and Camps for Kids →
Comments are closed.
Testimonials
I described the person I wanted and that's what you found for me. Thank you.
I had an emergency situation and had a nanny sent over for the following day. I am so pleased with the service provided by Morningside Nannies. My son immediately fell in love with the nanny assigned to us. We couldn't be happier.
Quality of applicants was way above what we had hoped for. Thoroughly enjoyed working with your agency – we will highly recommend you to friends.
Morningside Nannies blew the others away!
Morningside Nannies was outstanding. The process was stress free and the caliber of applicants was far superior to that of other agencies. Morningside Nannies was thorough in their review and timely presentation of candidates.
Compared to other agencies Morningside presented a higher caliber of candidate.
I trust Morningside Nannies & their research into their nannies more than any of the other seven agencies we talked with. The checks are reliable and the quality of nannies was superb. The process of finding a nanny was handled quite professionally.
I have used two other agencies, both were difficult to work with and did not live up to their promises and Morningside Nannies did.
In a time crunch you provided me with two excellent applicants within hours!
Objective and professional with an obvious personal touch, small but important comments about each person.