Paint Palaces: Houston's Best Pottery and Paint Bars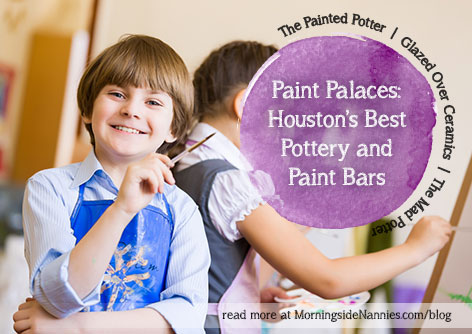 Often times, kids are natural artists. Their imagination runs wild and they create characters, crafts and works of art with ease. From finger painting a picture for mom or crafting a stick figure of their loved nanny, your little one has the world at her fingertips when immersed in art.
A child who wants to express herself through art, though, does not need boundaries. "Children have an amazing innate ability to be creative when they play freely on their own, and unfortunately, the act of overparenting dampens or even wipes out that innate ability," according to Mike Lanza of Playborhood.com and author of Playborhood: Turn Your Neighborhood into a Place for Play.
It's important to figure out how to facilitate your child's creativity without managing it, he says. Pottery is one outlet that can help your child cope with struggles or pain and help her to develop confidence and social skills.
Luckily, the Houston area has many pottery and paint bars designed to enrich the creativity of the entire family. Check out these local hot spots and allow your child's imagination to run wild.
The Painted Potter, located at 1259 West Bay Area Blvd. in Webster, Texas, offers a crafty studio for your child to create a masterpiece. The day begins with your child choosing her own pottery and then selecting paints and decorative tools. The studio is equipped with sponges, brushes and idea books to spark her imagination.
Once she is ready to begin, her only task is to paint. Once the masterpiece is finished, the studio will glaze and fire your child's work of art and you can pick it up within 10 days to two weeks. The fees are per person, not per piece and your child can paint an unlimited number of pottery pieces.
Pottery pieces range from $6 to $60 and children under 12 only pay a $6 fee to paint whereas adults 13 and up pay $8. The Painted Potter can also host birthdays and special occasions with parties of six or more. Reservations are required.
For more information, contact The Painted Potter at 281-338-1213  or visit the website at www.thepaintedpotterstudio.com.
Glazed Over Ceramics, located at 14627-B Memorial Drive in Houston, features paint our own pottery and ceramics and glass fusing for the entire family. The studio features a fun and welcoming environment for beginners with walk ins welcome at anytime.
Beyond painting your own raw piece of pottery, you and your children can also pick out a glass base and decorate it with cut, colored glass that will be melted into a functional piece.
The studio features soda and juice bar and lively music that entertains while your children while they paint, stencil and brush on colors of their choice. Bring a few friends or book a private party to explore your child's creativity. Price will vary with daily specials.
For more information, call 281-497-7272 or visit the website at www.glazedoverceramics.com.
If variety is what you are looking for, paint your way to one of the many pottery locations in Houston offered by The Mad Potter. Three studios offer paint and fun with pre-made ceramic pieces ranging from coffee mugs and plates to pet bowls and figurines.
With locations in River Oaks, Woodway and Voss and Bellaire in Houston, The Mad Potter offers creativity for both children and adults, hosting kiddie pottery camps, adult and corporate parties and specialty paint days for the entire family. Your child's school or a private organization can also host a fundraising event, complete with paints and pottery.
For more information, contact the corporate office at 713-664-6640 or visit the website at www.themadpotter.com.
The key to a successful day of pottery making is to keep it simple for your child, says Pam Allyn, executive director of Lit World and Lit Life and the author of many books, including Your Child's Writing Life: How to Inspire Confidence, Creativity, and Skill at Every Age. "It's important to give your child unstructured time, Allyn said.
← Changes to the IRS Mileage Reimbursement
Rate for 2014 | 10 Family Memberships to Have in Houston →
Comments are closed.