10 Reasons to Get a Library Card in Houston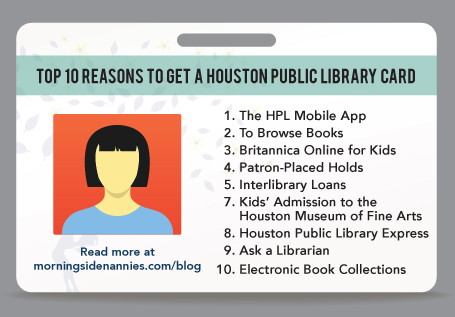 While it may seem like the Dewey Decimal System is a thing of the past, in libraries across the country, it's still alive and well. With the advent of eReaders and digitized children books, it's easy to come to the mistaken conclusion that a library card is an archaic membership that's going the way of the dinosaur.
For families of the Greater Houston area, however, there are still lots of reasons why getting a Houston Public Library card is essential.
1. The HPL Mobile App
With the Houston Public Library app for your iPhone, Android phone, Kindle Fire or a host of other mobile devices, you can access the HPL catalog, search for both physical copies and eBooks, place holds, renew checkouts and check your account. The HPL app also allows you to obtain information about Houston Public Library branch locations and special events hosted by HPL.
2. To Browse Books
Browsing books in person is an entirely different experience then browsing titles through a virtual platform. When you and your children can touch and feel paper books, you have the opportunity to stumble upon books that interest you that you might not have otherwise discovered.
3. Britannica Online for Kids
With a valid Houston Public Library card, your children can access the vast stores of knowledge that is Britannica Online for kids. Searching through encyclopedias, magazines and informative video content can help your children ace that big report or research an important assignment.
4. Patron-Placed Holds
If you or your children are anxiously awaiting a popular title, you no longer have to hope to catch the last copy before it's checked out again. Services available to Houston Public Library cardholders include a patron-placed holds system, which allows you to request a title and have it sent to the location of your choice for pickup.
5. Interlibrary Loans
Because there's no library large enough to hold copies of every book ever published, you may run into a bit of difficulty obtaining more obscure titles. HPL cardholders, however, do have the capability to obtain their books from other libraries through the interlibrary loan system.
6. Novelist K-8 Plus
It's never too early to instill a love of reading, which is why the Houston Public library offers the Novelist program for kids with HPL cards. Kids can find their next favorite book with this service, which keeps them coming back for more and helps to foster a genuine affection for reading.
7. Kids' Admission to the Houston Museum of Fine Arts
Houston Public Library cardholders under the age of eighteen are admitted to the Museum of Fine Arts, Houston for free on Saturdays and Sundays, encouraging a thirst for fine arts knowledge along with a passion for reading.
8. Houston Public Library Express
HPL Express is a facility installed within existing buildings around the community offering full access to the same information, data, services and collections of the full library system in more convenient locations. Cardholders are encouraged to request materials from any Houston Public Library branch to be delivered to the HPL Express nearest them for pickup or use if they're not already on-site.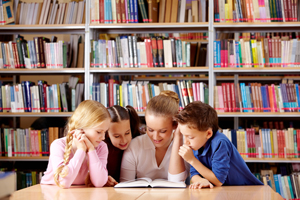 9. Ask a Librarian
There are times in everyone's life when a little bit of help can go a long way. One of the services extended by the Houston Public Library is the "Ask a Librarian" online service. Email, text, tweet, live chat or call for book suggestions and library assistance.
10. Electronic Book Collections
Owners of popular eReader devices can access an expansive collection of electronic books through the Houston Public Library with their existing library membership and library card numbers.
Whether you're a visitor or a native Houstonian, the Houston Public Library is an amazing resource worth taking advantage of. While resident library cards are free, if you're traveling in the Houston area  you can obtain a non-resident card for $20.00 that's valid for six months, or a $40.00 membership that is valid for one calendar year.
To find a branch of the Houston Public Library near you visit https://www.houstonlibrary.org/home.
← How to Talk to Your Nanny About Tough Topics | Calling All Houston Nannies →
Comments are closed.