How to Become a Nanny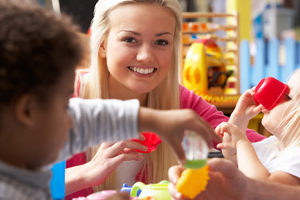 When individuals interested in becoming a nanny contact Morningside Nannies to inquire about securing a nanny position, they are often surprised to learn that we require previous nanny or formal childcare experience for consideration of representation.
For those who wish to become a nanny but do not have formal childcare experience, they often ask how an individual can become a nanny if reputable agencies won't work with anyone without previous, verifiable childcare experience provided to non-family members.
To those who want to become a nanny but aren't sure how to gain the necessary experience, we offer these 5 tips:
1. Volunteer to gain experience.
Church nurseries and community centers can be a great place to gain practical childcare experience under the supervision of others, especially if you are a member. Or perhaps there is a mother you know that needs an extra set of hands and would allow you to help out. Volunteer a few hours per week to gain experience. Keep a log of your volunteer activities and ask a supervisor to verify it and include a letter of reference.
2. Seek employment in a daycare, camp or preschool.
Many nannies gain their first childcare experience working in formal childcare settings. Working in a formal childcare setting will provide you with hands-on, credible experience and if you do your job well, you will walk away with an excellent reference. Hold onto your written reviews to include in your portfolio.
3. Begin babysitting.
Fill your evenings and weekend with babysitting positions. Build relationship with several families who you can provide regular care for. Keep a journal that tracks your childcare hours and ask the parents to provide a letter of recommendation.
4. Use other avenues to secure a nanny position.
There are lots of ways to secure a nanny position. Online nanny recruiting websites, word of mouth and social networking provide opportunities to advertise your services to parents seeking childcare. A solid reference from a past nanny employer is often key to opening the door to working with an agency.
5. Take continuing education courses.
As you begin to gain practical experience working with children, you'll also want to expand your childcare knowledge. Be sure your CPR and first aid certification is up to date and enroll in a child development class to expand your knowledge of best practices in early childhood education and care.
Full-time nannies work unsupervised and must have practical hands on experience and basic childcare knowledge to do their jobs well. At Morningside Nannies, we represent only the most qualified candidates to Houston area families for employment.
To be represented by Morningside Nannies, all caregivers must:
Have at least two years of recent childcare experience.
Have verifiable, professional childcare references.
Be able to legally accept employment in the United States.
Be able to read, write and speak English fluently.
Have a valid U.S. driver's license with a good driving record.
Have access to a vehicle.
Be a non-smoker.
Be a minimum of 19 years old.
Have a high school diploma, GED or formal education in child related studies.
Have current first aid and CPR certification.
If you meet these requirements we invite you to contact a Morningside Nannies placement specialist at (713) 526-3989 to begin your job search.
← What it Takes to Succeed as a Nanny | The 3R's to Getting Kids Back On Track →
Comments are closed.