10 Fun Spring Events for Houston Families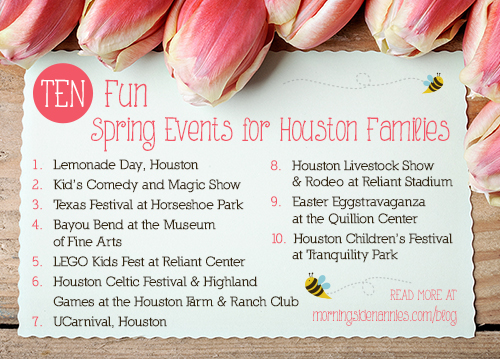 Houston has an abundance of events and activities for families throughout the year. One of the greatest times of year to get out of the house and do something fun is when spring is in the air. Shake off what's left of the winter doldrums with these ten awesome Houston events.
Lemonade Day, Houston

Who doesn't love lemonade? Lemonade Day is an annual event that began in 2007 and takes place in the spring. On this day, kids learn how to start and run a lemonade stand. It is more than a day of fun selling lemonade. The children learn the importance of strategy and how to effectively run a business. That way, during the hot days of summer, if your child wants to host a lemonade stand on your lawn, you know he will be able to run it with a new level of independence.

Kid's Comedy and Magic Show

This event at the Houston Improv has endless entertainment sure to wow your family. From comedians to magicians, your child will laugh and be amazed at this show made just for families looking for good, clean fun. The acts are geared toward children of all ages and can impress even the most stubborn child.

Texas Festival at Horseshoe Park

In true festival fashion, the Texas Festival has everything from delicious barbeque to live entertainment and games for all to enjoy. It also has a little something extra, with activities like bungee jumping, hot air balloon rides, archery and more. You and your family can easily spend the day at Horseshoe Park and not even come close to participating in everything that's available.

Bayou Bend at the Museum of Fine Arts

Not only will you and your family learn about American history here, but you will also see artifacts from the early days of this country. After looking at the displays, head outside for a walk along the grounds through the lush springtime gardens. Whether inside or outside, you will be impressed by the grandeur of the Bayou Bend.

LEGO Kids Fest at Reliant Center

LEGO Kids Fest is a three-day extravaganza. These days are filled with several chances for individuals to build for fun or for families to compete with each other. Turn those magical building blocks into endless creations at this kid-oriented event. It may even ignite fond memories from your childhood!

Houston Celtic Festival and Highland Games at the Houston Farm and Ranch Club

This family-friendly festival teaches curious minds about the Celtic culture. There are competitions to watch or participate in along with endless information about the Celts. You can dress up or admire others who do; either way, it's an enjoyable time for the whole family.

UCarnival, Houston

This is a new twist on an old idea. Instead of a traditional carnival, UCarnival is an Indian fashion show with a carnival theme. You can even purchase the exotic, bright-colored clothing and accessories featured at the event. So, bring your children and bring your money for an interesting day filled with excitement and culture.

Houston Livestock Show and Rodeo at Reliant Stadium

Get caught up in the excitement of the rodeo at the Houston Livestock Show and Rodeo. From bucking horses to shootouts, this rodeo has everything you need to keep your little ones entertained while having the time of your life, too.

Easter Eggstravaganza at the Quillion Center

Every Easter there is an egg hunt at the Quillion Center in Houston. The best part? It's free. There's more than just the egg hunt to keep your little ones happy. There are crafts, games, train rides, ponies and face painting. Also, have your little ones visit the animals featured at the petting zoo.

Houston Children's Festival at Tranquility Park

Don't be fooled by the name of the park, this day is anything but tranquil. A festival that is aimed toward kids is just what you need to keep your little ones happy this spring. With more than 300 activities, there's no way your kids can say, "I'm bored" at this event. They can meet Ronald McDonald, sing karaoke, watch amazing jugglers, get their faces painted, zip down a giant slide and a whole lot more. Performances, games and food: what more could you ask for?
There is always something to do in Houston, no matter what season it is. So, kick away the winter blues and start your spring off with a bang by trying out some of these family-oriented, kid-friendly events. Remember what they say: everything really is bigger in Texas!
← Our Open House Was a Success! | 16 Savvy Nanny Tricks of the Trade →
Comments are closed.