5 of the Best Places for Kids to Take Classes in Houston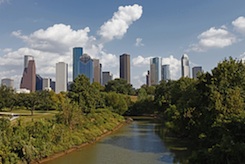 While your young child isn't ready for college classes yet, he's definitely ready for having fun and hanging out with friends. With a variety of classes geared towards young children in the Houston area, it can be hard to decide which classes are worth taking and which ones are not. If you're looking to enroll your child in a program that will truly benefit him intellectually, physically and socially, consider checking out one of these five places that offer top-notch programs for Houston area kids.
Central Houston Gymboree Play and Music offers play and learn, music, art, sports, family and school skills classes for children birth to age 5. Located at 1990 Post Oak Road in Houston, The Central Houston location offers a wide range of classes throughout the week, accommodating most any busy parent's schedule. Some classes are designed to be taken with a trusted adult, while others are meant for children to take independently or with their entire family. In Gymboree Play and Music classes, children are supported as they learn while they play.
Opening in February 2013 at 525 Sawdust Road in the Woodlands, My Gym offers fitness programs for kids. With a variety of classes offered for children ages six weeks to 13 years of age, My Gym supports children as they gain strength, coordination and flexibility and develop social skills, self-confidence and self-esteem. With a variety of classes offered each week, parents are sure to find a fitness class that fits in with their child's schedule.
With classes held at the Presbyterian Church on Memorial Drive in Houston and the Cinco Ranch Conservatory of Music, Memorial Music Together offers a research-based, developmentally appropriate early childhood music curriculum. Classes are available for children from birth to age five, and the Mixed Ages classes provide an opportunity for children to move while they make music together. Included with tuition are a songbook and two CDs, which are provided to encourage families to continue making music at home.
With several locations throughout the greater Houston area, The Greater Houston YMCA offers aquatics classes designed to help children improve their swimming skills and water confidence.  Classes are available for children ages six months and up; classes for younger children are designed to be taken with a parent or trusted caregiver, while classes for older children can be taken independently. With a variety of classes offered at many locations, there is sure to be a class that is convenient to you and will work with your child's schedule.
If you're looking for arts and crafts classes for your child, Art Mix located on West Alabama Street in Houston offers a variety of opportunities to create art for children ages two and up. With "Paint with Me" classes for the youngest of artists, Art Mix offers private lessons and classes for children of all ages. For parents of children who have special needs, Art Mix offers group and private art lessons especially designed for children who have a variety of special needs. Even if your schedule won't allow you to enroll in a class, Art Mix offers a pop-in studio where children and parents can drop in and paint, draw, sculpt or create a collage for a flat fee of $15 per hour.
While you certainly don't want to overschedule your children, enrolling in a few carefully selected and age-appropriate programs can provide your children with rich experiences that help support his growth and development.
← 10 Hot Spots for Tots in Houston | How to Set Your Backup Care Provider Up for Success →
Comments are closed.