5 Reasons Being a Nanny is the Best Job for College Students

By Megan Gilbreath
Every college student needs to earn a living, but with a class schedule that fluctuates from semester to semester and the blocks of time needed for homework and preparing for exams, how can a college student effectively earn decent wages without compromising their college career?
By putting past childcare experience to work, that's how.
If you're looking for a good paying job that fits your crazy busy college schedule, here's five reasons why working as a nanny may be the end of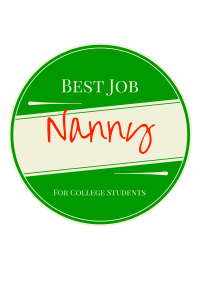 your financial blues.
1. Earn Great Pay
Whether you will nanny full-time or part-time, you're taking care of the parents' most loved beings — their children. The parents will reward you for your efforts if you perform well and the children are thriving in your care.
And for many parents, finding a college-educated childcare provider who can assist with homework is an answer to prayer. If you can double as a caregiver/tutor, an increase in your earning potential will be reflected. In the Houston market, Morningside Nannies regularly places nannies in positions where starting pay is $16 to $18 or more per hour. That sure beats tidying up fitting rooms or seating guests at your local restaurant!
2. Secure Flexible Hours
Each family has different needs, so regardless of if you have morning classes, night classes, or are only available specific days of the week, there's likely a family out there who needs care when you can provide it. While parents of babies and infants tend to need full-time care, many families are also seeking part-time assistance for preschool arrangements and after-school nannies.
Even if you have a jumbled schedule, you can work as a temporary or back-up care provider. Morningside Nannies regularly places qualified caregivers in positions that last as little as four hours to setting a full-time schedule for up to 90 days. Once you establish your availability, you can find a family who is looking for care when you're able to provide it.
3. Increase Your Skill Set
Nannies acquire better caretaking skills while on the job. Children go through different phases and have different needs throughout various stages. And since every child is unique and each nanny job is unique, you're provided with an ongoing opportunity to hone your skills. Try working with infants, preschoolers and school aged children. This way you're ready for any future nanny job, since your skill set will grow to accommodate bottle feeding, potty training and even offering social advice.
Some families also need a nanny who can take on household management type tasks. Supervising repair workers and organizing family schedules could become part of your daily routine. This hands-on approach would provide you basic management skills that can be applied to many other future careers.
4. Do Something that is Memorable and Enjoyable
There's more to being a nanny than changing diapers and driving children to and from activities. From taking a trip to the zoo to pushing a child on the swing at the park, nannies and children get to experience life and make memories together.
In many positions, nannies have the freedom to craft how they spend their time with the children, which means you can make your day as fun and memorable as you wish. As with any job, there will of course be ups and downs, but when it comes to caretaking, the good days almost always outnumber the bad.
5. Build Relationships
Once you began to get comfortable with the children, they will likely see you as a respected confidant or even as an extended member of the family. Giving and getting affection will become regular and the end of your work day may not even be something you look forward to.
When you work as a nanny, you become part of the children's life as you watching them grow and discover their personalities. The relationships you create with the family will likely become relationships you treasure forever. Visit www.morningsidenannies.com/jobs to view families seeking nannies in your area or call (713) 526-3989 to speak to a nanny coordinator today.
Megan Gilbreath is a California college student pursuing journalism and public relations. She is also a working nanny who spends her time caring for two toddlers who keep her busy and joyful as she navigates caretaking through their medical conditions of high functioning autism and developmental delay. Connect with Megan on Twitter @meganrgilbreath.
← 5 Tips for Teaching Gratefulness this Thanksgiving | Crafty DIY Kids Christmas Cards →
Comments are closed.