6 Places to Visit for Free Story Times in Houston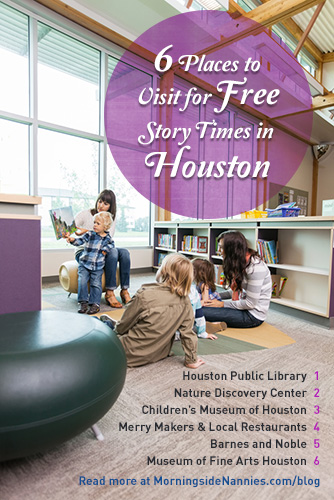 As a parent or nanny, one of the most important things you can do to enhance your child's development is to read to him or her. A bedtime story about princesses and fairies or an afternoon story session with adventures of spotted dinosaurs will help develop your child's imagination and create a bond between the two of you.
According to the Early Moments Book Club organization, reading to a child offers many benefits that span from academic excellence and improved speech skills to better communication skills and a mastery of language. Your child's concentration and discipline is also improved through story telling.
"Toddlers may initially squirm and become distracted during story time, but eventually they'll learn to stay put for the duration of the book," says the experts at Early Moments. "Along with reading comprehension comes a stronger self-discipline, longer attention span, and better memory retention, all of which will serve your child well when she enters school."
Take your story time and your child's development to a new level by involving him or her in one of the many free story times available in Houston. From art museums and public libraries to local bookstores and restaurants, many Houston organizations offer interactive book readings the entire family can enjoy.
← How to Prevent Little Things from Making
Your Nanny Relationship Go Bad | Houston Kid's Party Entertainers →
Comments are closed.