Houston Kid's Party Entertainers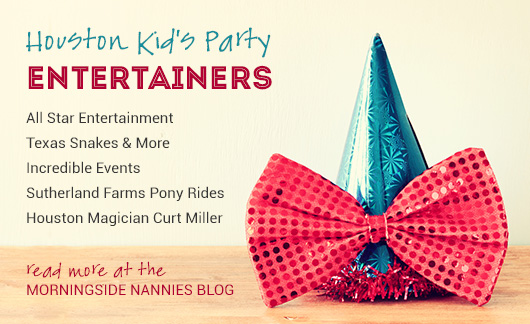 Planning a party for a child's birthday or special occasion can be a huge undertaking for a nanny or parent. Beyond preparing snacks, meals, goodie bags and games and activities, it's crucial to provide entertainment for the party goers.
Kids' party entertainers have gained popularity in recent years because they bring the fun with them and relieve parents and nannies from having to plan multiple activities that will keep little ones engaged and giggling.
The Houston area has a wide variety of kids' party entertainers who can offer entertainment ranging from magic and clowning around to puppet shows and plays. Check out our list of must-have entertainment perfect for a kids party in the Houston area.
← 6 Places to Visit for Free Story Times in Houston | Things to Talk About in an Annual Nanny Review →
Comments are closed.