NightLight Pediatric Urgent Care
When the kids get sick in the evening, going to the ER or waiting until the next morning used to be a parents only option. Now parents have another option – a night clinic specifically for after hours pediatric care. Recently I had a chance to connect with the folks at NightLight Pediatric Urgent Care. Here is what they had to say.
What is the NightLight Clinic?
At NightLight Pediatric Urgent Care, we focus solely on high-quality, convenient pediatric urgent care to help little ones when their pediatrician's office is closed. Our pediatricians and nurses work with your pediatrician to keep your family healthy. More than a clinic, we're a beacon of healing in the night and we're here for you exactly when you need us.
What are your hours and locations? Do you accept insurance?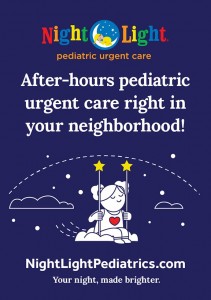 We accept in-network insurances.
Summer Hours: June–August
Weekdays: 3 p.m. – 11 p.m.
Weekends and Holidays: 12 p.m. – 7 p.m.
School Year Hours: September–May
Weekdays: 3 p.m. – 11 p.m.
Weekends: 11 a.m. – 9 p.m.
Holidays: 12 p.m. – 7 p.m.
Where are you located?
Cy-Fair
19708 Northwest Fwy,
Suite 500
Houston, TX 77065
713.957.2020
Humble
20440 US-59,
Suite 500
Humble, TX 77338
832.602.4040
Pearland
2803 Business Center Drive,
Suite 118
Pearland, TX 77584
281.990.3030
Sugar Land
15551 Southwest Fwy
Sugar Land, TX 77478
281.325.1010
Webster
19325 Gulf Freeway,
Suite 170
Webster, TX 77598
832.992.5050
Tanglewood
1814 Fountain View
Houston, TX 77057
346-867-1932
Garden Oaks
4208 Ella Blvd.
Houston, TX 77018
832-831-4660
When should parents bring their kids there?
We are here when a variety of minor non-emergent health issues arise, including:
Allergic Reactions
Asthma Attacks and Breathing Treatments
Pain Relief
Rashes and Hives
Wound Care and Stitches
Fever management and education
Wart removal
Broken Bones, Sprains, Burns and Wounds
Cold, Flu and Fevers
Vomiting and Stomach Pain
X-Ray Examinations
Management of mild to moderate dehydration
Prescription plus treatment education
ER, Clinic or wait till the next morning and call your doc?
Emergency room visits are often expensive (we accept in-network insurance plans) and often times do not have the expertise or equipment to work with children or newborns. We work with your primary care provider and see patients when your pediatrician's office is not open – during evening, weekend or holiday/vacation hours. We send a detailed summary to your pediatrician to make sure they know exactly what happened and how to follow up on your child's care.
If patients have questions on whether they should come in or not, it is best to call their primary care provider or insurance nurse line. That being said, here are some helpful hints:
– A fever is not an emergency unless the child is 6 weeks old. Parents are able to give their child Tylenol before coming in. Some parents hold off in order to ensure the doctor can "see the fever"; however, there is no need to keep the child uncomfortable. Our pediatricians define a fever as a temperature over 100.4 degrees Fahrenheit if they are less than 3 months old and over 102.2 degrees Fahrenheit if they are less than 3 years old.
Regarding fevers, parents should not have "fever phobia". A fever is our bodies natural response to help fight infections. The goal in treating fevers is not simply to make the fever go away, but to make the child more comfortable. If a child with a fever is acting well, eating and drinking, the fever does not necessarily require treatment.
– Diseases and infections can change or progress, sometime very quickly. Just because the primary care provider didn't see an ear infection two days ago doesn't mean they missed it. This is also the same for our pediatricians; sometimes it takes time for illnesses to declare themselves. Doctors can only make an assessment based on the symptoms and exam findings at the time the patients are seen. The doctors do explain the expected course of illness and reasons that children need to be re-evaluated.
– It is important to manage chronic illnesses or items that need a follow-up – such as coming to get refills on asthma medications, abdominal pains that have been evaluated by specialists, infant formula changes, etc. These are best addressed by the primary care provider as our doctors don't usually have the opportunity to follow-up on the child over time. For example, if a child is using up their albuterol inhaler faster than expected, a primary care provider would definitely need to know that information.
– Every parent knows that emergencies and kids go together, and kids are also really good at having accidents when the pediatrician's office is not open. NightLight provides a child-friendly environment with pediatric-trained staff for specialized after-hours care. That's important for ensuring that children get the highest quality care and expertise in performing tests and procedures.
To learn more visit nightlightpediatrics.com.
← 2017 INA Nanny Salary and Benefits Survey Results | Preparing for Your Nanny Job Interview →
Comments are closed.