Talking with The Traveling Tea Party
When it comes to planning a child's birthday celebration, parents and nannies hope that it will be be a magical day to remember. From gifts to food to paper products, even the simplest celebrations can cost a pretty penny. Recently, I had a chance to connect with Audrey McLean of The Traveling Tea Party who throws customized celebrations across the Katy and Greater Houston area. As she shared about her business and birthday celebrations, I learned how she personalizes children's parties to give them a day everyone will remember.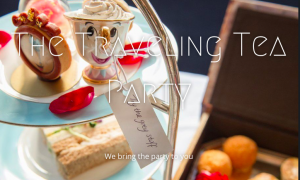 Here are 10 things I learned about the The Traveling Tea Party:
1. They have competitive pricing:
The Traveling Tea Party competes favorably against other party packages that offer basic, colored tableware, balloons and venue space with party packages starting at $250.
2. It's convenient:
With The Traveling Tea Party, you won't need to lug your little ones, along with their plethora of gifts and swag, to a business location where other members of the public are also making use of the facilities. They come to you! They will set up, run, and then fully clean and pack away the party supplies.
3. There's bespoke theming:
The Traveling Tea Party brings beautiful, bespoke theming to your party. Each table, ceiling or wall decoration is expertly handmade and unique for your chosen theme. Current themes include 'Princess', 'Fairy' and 'British afternoon' teas. There are no plastic, generic wall posters or signage at any of their events.
4. Take home arts and crafts activity are included:
In addition to creating a fun venue, their packages include an age appropriate 'take home' activity. Whether it be a 'self-decorated' Rapunzel tower cupcake or portion of slime, each package offers four different activity options for you to choose from. All activities are also expertly facilitated by a fully qualified art teacher.
5. They bring delicious food:
When you book with the Traveling Tea Party, handmade and beautifully presented food in a traditional, afternoon tea style is included. The food itself is themed to enhance the ambiance of your chosen party, like the popular Her Majesty's 'crown cupcakes'.
6. There are optional extras:
The Traveling Tea Party really lets you create as much magic as you'd like. If you want to splurge on a delightful, themed candy buffet you can add on to your chosen package. They'll take the stress out of favor shopping too and create a perfectly themed party bag for each of your guests at an additional cost. They do invitations too!
7. Fun for all ages:
The Traveling Tea Party caters to all ages. From young children to adults, they can offer a celebration geared towards your guests.
8. The provide the party you want:
Have a party theme in mind that they don't currently offer? No problem! The Traveling Tea Party is constantly growing and expanding their portfolio of theme options and bespoke décor. If they can make your vision come to life, they will.
9. Flexible arrangements available:
You may not want to host a party in your own home and that's okay! The Traveling Tea Party will happily travel to your alternative party venue. They even provide a list of suggested third party venues if you need some help choosing a preferred location.
10. Time saving and hassle free:
Not only will you receive everything you need for an amazingly decorated and catered, activity centered party – you will also have the entire event set-up and dismantled for you! Celebrating with The Traveling Tea Party saves you hours of planning, preparation, and clean-up time.
Check out The Traveling Tea Party at www.thetravelingteaparty.com or contact Audrey@thetravelingteaparty.com for more information. Need additional childcare help for your celebration? Contact Morningside Nannies to book an event nanny for your next celebration.
← Driving Records: Practically Perfect in Every Way? | Why Professional Childcare Work Experience Matters →
Comments are closed.