Think Fun with ThinkFun

If you're looking to do something interactive, educational and fun, it's time to get gaming.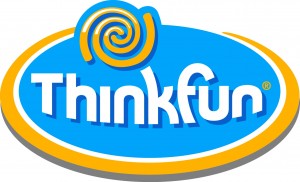 ThinkFun, the leader in making fun games that build reasoning and creative thinking skills through play, has some outstanding options that families with children of all ages can play together.
Looking for some new games to check out? Here are a few of my favorites.
Roll & Play
The first game designed specifically with the toddler in mind, Roll & Play is a simple, addictive and fun. Toss a plush cube, pick a matching color card to the landing side and do what the card says. Clap your hands? Moo like a Cow? There isn't a better first introduction to game play.
Zingo!
Zingo!- A kid-friendly and creative take on Bingo!, the goal is to be the first to cover your game card and yell Zingo! With an easy to master concept, kids love being able to play many versions of the same game that focus on word building, sight words, time-telling and even Spanish –English translation. This game reinforces age appropriate learning concepts and has an awesome "Zinger" that makes dispensing cards a cinch. The Zingo! Games are a huge hit with older toddlers, preschoolers and early elementary school aged children.
Robot Turtles
Robot Turtles – Preschoolers and up can learn to code with this easy to play game. Kids learn the fundamentals of programming as they make silly noises while directing their turtles where to go. There are different levels of play making it a game that can be customized to a child's play level.
Gravity Maze
With this gravity powered logic maze, build a path that will carry your marble to the target to win. With challenges ranging in level from beginner to expert, family members can take turns seeing who can beat a challenge and solve the maze or you can play alone. For ages 8 and up, this is a great single player game.
Visual Brainstorms
For ages 10 and up, these 100 brainteasers composed of visual puzzles, logic problems, mazes, math challenges, encoded messages, and more will test and amuse you. This is a great take anywhere game that you can play in five minutes or five hours, depending on how many teasers you tackle.
In addition to being fun and educational, ThinkFun makes high quality games. The pieces don't break, the cards don't tear and the packaging holds up nicely.
Michelle LaRowe is the executive director of Morningside Nannies, was the 2004 International Nanny Association Nanny of the Year and is the mom of two young children, Luke age 5 and Abigail age 6. ThinkFun has provided games review consideration at no cost to Michelle.
← 5 Ways to Better Manage Your Nanny | 3 Tips for Keeping Summer Break Fun →
Comments are closed.