10 Healthy Snack Ideas for On the Go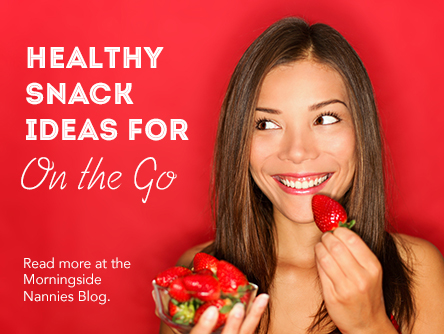 Don't let the "I'm hungries" ruin your day. Well-fed rested and well-fed kids are better behaved kids. Having a variety of healthy snacks available that can be eaten anytime, anywhere will help to ensure your little one has the energy she needs to make it through the day.
1. Keep it fresh
Sounds simple because it is! Having an assortment of fresh fruits and veggies on hand makes grabbing a snack to go easy. Hit the local farmer's market and encourage the kids to choose a rainbow of fruits and veggies to eat through.
2. It's a wrap
Spread some hummus on a tortilla, roll it up, wrap it up and voila! A one handed snack that can be eaten on the go.
3. Get nutty
Barring no allergies, an assortment of bagged nuts can be the perfect on the go snack for older kids whose eating them doesn't pose a choking hazard. Introduce the kids to a variety of nuts like almonds, pistachios, walnuts and peanuts and see which they like best.
4. Cheese, please
Individual portions of all sorts of cheeses are readily available at the grocer. You can find string cheese or cheese rounds that are perfect for on the go snacking. For younger children, consider bagging bite-sized pieces of cheese to reduce the choking hazard.
5. Hit the trail
Add a little of this and a little of that for a healthy and tasty snack bag. In snack sized bags or containers add a few of each of your child's favorite dried fruits, cereals, nuts, pretzels and even a few chocolate chips to create an option your kid will love.
6. Go green
Sprinkle some olive oil and sea salt on fresh kale leaves and bake for 10 to 15 minutes at 350 degrees. Line a baking sheet with parchment paper to make clean up a breeze. Once cooled, package in snack sized portions for easy to grab snacking.
7. Eggcellent idea
Cook up a batch of hard boiled eggs on Sunday night and you'll have a healthy grab and go snack option all week. Once boiled, store them in an air tight container in the refrigerator to maximize shelf life.
8. Get Corny
Bag up freshly popped corn for an easy to grab snack. Instead of adding salt, try adding grated parmesan cheese for a tasty alternative.
9. Carry on
The prepackaged tubes and pouches of yogurt are certainly easy to carry anywhere, but they are often loaded with sugar. Instead try adding plain or Greek yogurt and fresh fruit to a reusable pouch for a healthier option.
10. Smooth operator
Experiment by adding some berries or bananas, yogurt and orange juice to your blender and seeing which tastes your little ones love. Try adding some honey to sweeten it up.
← Bringing Back Board Games | Top 5 Nanny Job Search Mistakes →
Comments are closed.