Top 5 Nanny Job Search Mistakes

Are you currently seeking your next nanny position? If so, be sure to avoid these top 5 mistakes nannies make when job searching.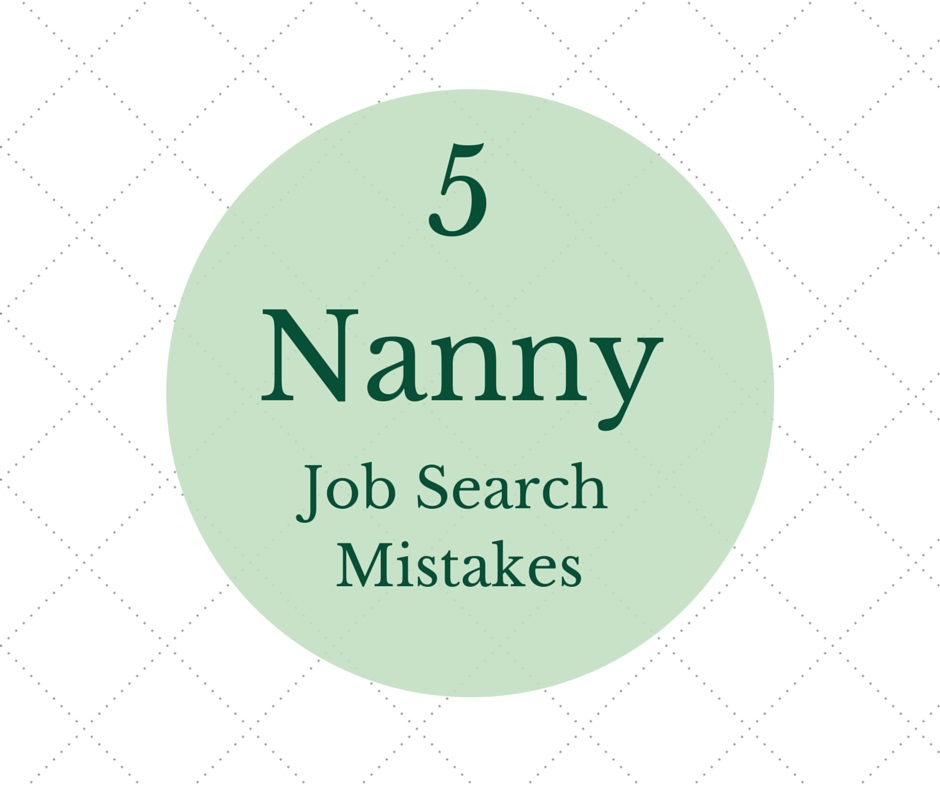 1. Not being able to back-up your desired wages.
As a placement specialist, I'm more than glad to present families an $18, $20 or $25 an hour (or more) nanny for hiring consideration if I think they're the right fit for the job and family, provided that they can articulate why the wages they are commanding are higher than Houston market averages. When a family asks "Why are her wage requirements outside of the norm?" I need to provide a convincing answer. In addition to having loads of extensive experience and outstanding references, nannies who earn outside of market averages typically have an area they specialize in, like caring for twins or newborns, a college degree in early childhood or a related field, or a specialized skill set. Like with any business, if you're asking for over and above what others being considered for the same position have, you need to be able to articulate why you're worth it.
2. Forgetting that all that glitters isn't gold.
I once heard a preacher say that "even poison ivy glitters in the morning sun." Every career nanny would tell you that you're better off making a dollar or two less per hour than being in a toxic position. Sure, anyone can work 24/7 for a short period of time or deal with a family who has difficult moments, but if those things are the norm, it's a problem. If a family is offering a huge salary and has gone through a string of nannies, there is typically a reason for it. Reputable agencies can piece together these reasons and present a fair assessment of the job to nannies who are considering applying. If you're considering a job where the salary seems too good to be true, be sure to ask to speak to previous nannies to help you better understand the pros and cons of the job.
3. Not waiting for the right match.
Job searching can be stressful, especially if you can't afford to go without work, but finding the right job with the right family is essential. Fortunately, many agencies have temporary and babysitting positions you can take on while searching for the right job with the right family. Jumping into a position that you know isn't the right fit can have serious and lasting implications. Besides causing you misery, since most agencies require you to honor your initial commitment with a family, taking the wrong job, with the wrong family can leave you without agency support, should you opt to leave the job simply because you've found something better or you've had a change of heart. And given that having stellar references is essential, having a bad reference or having to explain a gap in employment should you not wish to use that family as a reference, can hamper your next job search, leaving you back at square one or worse.
4. Leading families on.
Time and time again I've seen nannies have two or three job offers only to walk away jobless. Why? Because they'll keep putting the family off until they can get a better offer from the next family. Sure, take 24 hours to consider a job offer; that's the smart thing to do. But if that 24 turns into 48 turns into 72 because you're fishing for higher offers from other families, generally the family is going to get cold feet and feel slighted. And while being transparent is important, if there is a family you really want to work for, pushing them to match an offer that they really can't, from your second or third choice family, can cause them to think you won't be happy with what they can provide and they'll move on to another candidate. If a family that you really want to work for makes an offer that is within the range of what you've told them you're required, think twice before passing their offer up.
5. Not knowing your bottom line.
Just like no nanny is perfect, no nanny job is perfect. When you're job searching, you need to know what your negotiables and your non negotiables are. These will change from nanny to nanny and even can change over the course of your career. When job searching, you need to ask yourself right here, right now, what is essential and what is non essential when it comes to your next position. For some nannies, non negotiables may include being able to take the kids on outings or having an employer provided vehicle for work use. For others, it may include having contributions towards health insurance and eligibility for a year-end bonus. Ask yourself if you were offered the right job, with the right family, what would you need to feel good about accepting the position. That's your bottom line.
Recently I heard from a nanny we placed several months ago. She wanted me to know that last week her charge had told her she was the most awesome nanny ever and that this was the position that she had to wait for. In this industry, the right match is essential. If you're only chasing dollar signs, you will learn quickly that working in the right job with the right family is what's priceless.
← 10 Healthy Snack Ideas for On the Go | Average Nanny Wages in Houston →
Comments are closed.