4 Things That Can Predict a Good Match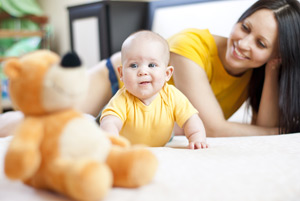 Even Mary Poppins wouldn't be the right nanny for every family. When it comes to hiring a nanny, the candidate must be more than qualified for the position. Not only must she be able to do the job well, she has to fit in well with the family for the placement to be a successful match and to have long-term potential.
When it comes to matching nannies with families, there are four overriding factors that can help determine if a nanny and family will make a good match.
These include:
Compatibility.
Nannies work in an intimate setting and become actively involved in the lives of those in the families for whom they work. For this reason, nannies must be compatible with a work family when it comes to personality, lifestyle, and communication style to seamlessly fit in. While minor differences in these areas may not affect the relationship, a nanny with a conservative worldview may not be feel comfortable working for a more liberal family and vice versa. Both nannies and families must be comfortable engaging each other for there to be a good match.
A Personal Connection.
Regardless of how good of a match a nanny and family appear to be on paper, unless there is a personal connection between the nanny and the family, the relationship isn't likely to succeed. When you have a personal connection with someone you're able to look them in the eye and communicate with ease. You're relaxed, comfortable and things feel familiar. Since feelings of familiarity breed feelings of safety and security, it's vital for parents to feel a personal connection to their nanny.
Complimentary parenting styles.
Parents and nannies must share similar or at least complimentary parenting styles for a match to be successful. While all the rules and consequences don't need to be consistent across the board, the spirits of parenting practices really do.  Matching parents who adhere to an authoritarian parenting style and a nanny who adheres to an authoritative style, for example, won't likely result in a good match.
A Willingness to Extend Respect.
For parents and nannies to be a strong match, each party must be willing to extend respect to the other. Nannies must support and validate the parents' role and the parents must support and validate the nanny's role for there to be a supportive environment. A supportive environment is required to support a strong parent / nanny relationship.
At Morningside Nannies we excel at matching the right nannies with the right families in the right jobs. Contact our placement specialists at (713) 526-3989 and let us help you find the right nanny for your family.
← How to Monitor Your Nanny | 8 Websites Nannies Should Bookmark →
Comments are closed.