How to Let Your Nanny Go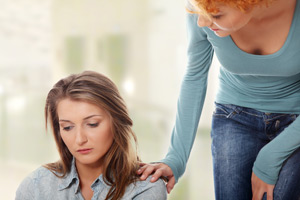 Nannies play an integral part in the lives of the families who employ them. Whether it's due to disappointing job performance, a personality conflict or a change in financial status or childcare needs, letting a nanny go is never easy.
If you're preparing to let your nanny go or are considering it, there are a few steps you can take to make doing so easier.
Step 1:
Consider your reasoning. Are you letting your nanny go because she did something wrong or because of no fault of her own? Terminating the employment of a nanny for cause will be handled much differently than terminating a nanny because the family's care needs or financial situation has changed. If you suspect your nanny of wrongdoing, depending on the infraction, the proper course of action may be immediate termination. If the nanny is being let go because there is a personality conflict or for circumstances outside of her control, developing a termination plan often makes more sense.
Step 2:
Develop your termination plan. If immediate termination is required, the nanny should be presented with her final paycheck and all household items such as keys and credit cards should be collected. If the nanny is being let go for other reasons, you'll want to decide on the workout plan. If you're moving, for example, helping with the transition may be part of the work out plan.  You'll also want to decide on her final work date and when and how you plan to tell her that she's being let go. The longer your nanny has been employed by your family, the longer her phase out typically will be.
Step 3:
Tell your nanny. Once you've solidified your termination plan, you'll want to set aside time to tell your nanny. If she's not being terminated immediately you'll want to set up a meeting to discuss her termination when the children are not present. You may wish to consider telling her on the last day of her workweek so that she has time to process the information before returning to work. When you tell your nanny the news, provide a brief and clear explanation for why she's being let go. During your conversation, you'll also want to discuss with your nanny what, if anything, you want her to tell the children when you're ready for them to know.
Step 4:
Tell your kids. After you tell your nanny you're letting her go, you'll need to break the news to the kids. If your nanny is being let go for no fault of her own, you may wish to tell the children together so you can frame the information in the same way and reinforce that her leaving is no one's fault. If you're nanny is being dismissed because she's done something wrong, you'll want to provide a simple, straightforward reason for letting her go.
Step 5:
Provide an opportunity for closure. If your nanny is leaving on good terms, provide closure to your family and your nanny by having a farewell celebration. Sharing a special meal together provides an opportunity to talk about the time you've spent together and what your future relationship will be like. If you're letting your nanny go for cause, you'll need to determine if it's appropriate for her to say goodbye.  When it's time to say goodbye, it is important to remember that the children have a separate and independent relationship with their nanny and they may feel different about her departure than you do. When talking to the children about when they'll see their nanny next, be careful not to make promises you can't keep. You won't want to tell your children your nanny will still babysit, for example, if you have no intentions of using her as your sitter.
Step 6:
Tie up loose ends. On your nanny's last day you'll want to present her with her final paycheck and severance pay, if applicable, a letter of reference and perhaps a goodbye gift. A framed photo of your nanny with your family will serve as a nice memento. Some parents prefer to conduct an exit interview and also give their longtime nanny's a cash bonus. On her last day you'll want to be sure you've collected any of your belongings and that any of hers are returned.
When letting your nanny go you'll always want to be mindful of the conditions of her work agreement and be sure that they are met. If your work agreement has a provision for two weeks' notice, in some cases it may be best to pay her in lieu of working out her notice.
At Morningside Nannies, we support our clients beyond the initial placement. If you're a Morningside Nannies client and are considering letting your nanny go, we're here to provide you with support. Give a placement specialist a call today at (713) 526-3989 to discuss your situation.
← When Nannies Administer Medication | What to Do When Your Nanny Gets Pregnant →
Comments are closed.