How to Pack a Healthy Lunch with a Healthy<br/> Punch for Your Children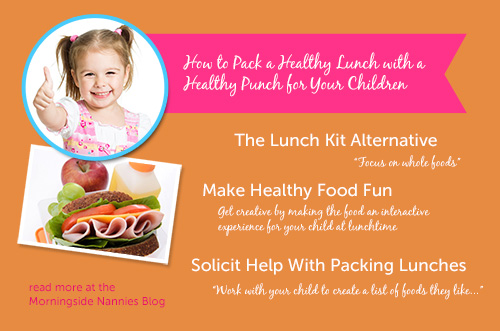 It may seem easier and more convenient to stock your kids' lunch boxes with bags of chips, fruit cups and packaged lunchmeat in a rush, but the reality is that your kids need a nutritious boost to get them through a full day of school. Preparing healthy lunches that will give your child that healthy punch of energy throughout the day can be just as convenient and the result will be a healthier, happier child who is ready to learn and fully participate in the school day.
The Lunch Kit Alternative
Lunch can comprise one-third of your child's nutrition for the day, so it's important to pack nutrient-rich foods that your child will enjoy, says Jessica Cox, registered dietitian and culinary nutritionist at eMeals, a meal planning service based in Birmingham, Ala.
"Focus on whole foods," suggests Cox. "Packaged foods and ready-made lunch kits may be convenient, but they are generally more expensive, less nutritious and higher in fat, sugar and salt than whole foods."
Cox suggests building a healthy lunch for your child by choosing one item from each of the following categories:
Lean Protein
Whole Grains
Fresh Fruits and Vegetables
Low-Fat Dairy
Make Healthy Food Fun
If your child scrunches up her nose at the sight of fruits and vegetables, show her just how fun food can be. "Consider variety in colors, shapes, sizes and textures when packing a healthy lunch," says Cox.
Get creative by making the food an interactive experience for your child at lunchtime:
Use cookie cutters to cut foods into interesting shapes and include a variety of fruits and vegetables, which naturally add a rainbow of colors.
Make lunches interactive by packing healthy dips such as hummus or low-fat yogurt with vegetables.
Pack a build-your-own style lunch like corn tortillas with beans, cheese and salsa for tacos.
Use toothpicks to make kabobs with cooked meat, low-fat cheese and vegetables like cherry tomatoes, broccoli florets or cucumber slices.
For a bite-sized snack before or after lunch, start chopping, recommends Dr. Jenna Bell, registered dietitian and co-author of "Energy to Burn: The Ultimate Food & Nutrition Guide to Fuel your Active Lifestyle."
"Cut up a pineapple or melon into bite-size pieces for snacks and lunches," she says. If your child prefers nibble-size veggies, combine a variety pack of chopped up carrots, celery, broccoli, bell peppers, cauliflower or any other vegetable that might be good for dipping and snacking.
It's also possible to make the same-old staples healthy and fun, too, says Dr. Keith Kantor, a leading nutritionist in Georgia.
A Twist on PB & J: Instead of standard PB & J, make a healthy sandwich with two slices gluten free bread, one-two tablespoons of all natural almond or cashew butter and all natural fruit spread. With one apple and a serving of carrot sticks, complete with two tablespoons hummus for dipping, your child will be begging for this lunch everyday.
Lettuce Wraps: Toss the bread and compile nitrate free deli chicken or turkey, tomatoes, spinach, one ounce cheese and mustard into a lettuce wrap for a delicious sandwich. Add some melon or nuts to the lunchbox or make a homemade trail mix.
Sweet Surprises: Instead of pudding and fruit cups, both high in sugar content, pack six to eight ounces of Greek yogurt and all natural granola and berries for a sweet surprise in your child's lunch pail. Allow your child to assemble an "ants on a log" treat with five celery sticks, all natural peanut, almond or cashew butter and raisins.
According to Kantor, always focus on color with both fruits and vegetables, high quality protein and heart healthy fats to keep your child motivated and energized during the school day.
Solicit Help With Packing Lunches
One sure fire way to get your child to eat a healthy lunch is to involve him in choosing, planning and preparing the lunch, says Cox.
"It doesn't matter how healthy the contents of your child's lunchbox is if they don't eat it," she says. "Work with your child to create a list of foods they like in each food group to plan lunches and assemble lunches together the night before."
If your child is enthused about helping you prepare these meals, it's likely he will be racing to devour his healthy lunch with a healthy punch each day at school.
← 10 Places to Play Youth Sports in Houston | 10 Must See Exhibits at the Houston Children's Museum →
Comments are closed.