10 Must See Exhibits at the Houston Children's Museum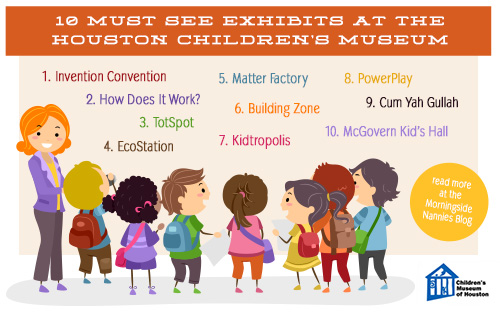 Houston is home to a great many attractions for kids and families, but the Houston Children's Museum is in a class of its own. Named "America's Number One Children's Museum" by Parents magazine and ranked as one of the best in the nation by Forbes, there's no doubt that Houston kids are lucky to live in close proximity to such an outstanding institution. If you're planning a trip with your brood, there are a few exhibits you just can't afford to miss. Make sure you take the time to check out these ten exhibits, along with all the other award-winning features of the Houston Children's Museum.
1. Invention Convention
Kids can invent their own motion machines, create jewelry, experiment with light and sound and learn the basic tenets of robotics in the Invention Convention exhibit. Spare parts, project tables and schematics abound, letting your little ones explore engineering and invention in a kid-scaled environment.
2. How Does It Work?
Kids are infinitely curious, especially when it comes to learning how things around them operate. The Houston Children's Museum exhibit How Does It Work? answers many of those questions through hands-on experimentation. The '66 Mustang in Auto Alley give little ones an up close and personal view of how vehicles work, while fiber optics and communications experiments help kids solve a few technological mysteries.
3. TotSpot
Older kids aren't the only guests welcomed at the Houston Children's Museum. Infants and toddlers through thirty-five months are encouraged to spend a bit of time in the TotSpot exhibit, which stimulates little minds. Little ones can turn knobs, roll around in the ball and pillow bit, and build motor skills by walking the Meandering Path.
4. EcoStation
Teaching kids about the natural world is one of the first steps to instilling the values of good environmental stewardship and ecologically-conscious behavior. This indoor/outdoor exhibit allows kids to get in touch with nature through a woodland area, research pavilion and a pond teeming with aquatic critters. In addition to static programs, there are also a selection of rotating workshops and experiments to keep the experience of visiting the EcoStation fresh, even with repeated visits.
5. Matter Factory
Understanding the basics of molecules and atoms sets the stage for future excellence in the sciences, which is one of the reasons why parents should make a point of visiting the Houston Children's Museum Matter Factory. Kids even have the opportunity to explore nano-technology in the Super Small Matter Lab, which is part of the exhibit.
6. Building Zone
Little builders are sure to love the physics and engineering lessons in the Building Zone, which helps kids understand the basics of construction and design. This hands-on exhibit gives kids a strong basis for future exploration, especially in the field of engineering and construction.
7. Kidtropolis
A city populated and run solely by children isn't just a kid's dream; it's a reality at Kidtropolis. Youngsters get to learn about government and occupational roles through this exhibit, which includes civic lessons in voting, commerce and city planning. There's even a simulated economy, helping little ones to grasp the concept of spending and earning money.
8. PowerPlay
There's no doubt about the importance of education, but physically active pursuits also play a major role in kids' healthy development. The PowerPlay Fitness Activity Center gives children ample space to run, jump and dance. From the Power Tower climbing structure to a health section sponsored by the Baylor College of Medicine, there's no end to the fitness and health lessons at the PowerPlay exhibit.
9. Cum Yah Gullah
Learning about other cultures widens kids' world view, and the Cum Yah Gullah exhibit helps them to do just that. The exploration of the West African Gullah culture includes storytelling, language and music to help kids understand the rich history of a contributing and important culture.
10. McGovern Kid's Hall
Kids are naturally appreciative of art, but its an interest that must be actively cultivated throughout their lives. The John P. McGovern Kids' Hall is home to an exhibition of traveling art, which allows kids to see famous works on a regular basis. Because the collections change periodically, this is one area that can easily become a regular stop for parents and caregivers.
Visit https://www.cmhouston.org/free-discounts/ for museum hours, discounts & free special offers!
← How to Pack a Healthy Lunch with a Healthy
Punch for Your Children | 10 of the Best Places to Meet Other
Moms in Houston →
Comments are closed.