Tips for Beating the Heat in Houston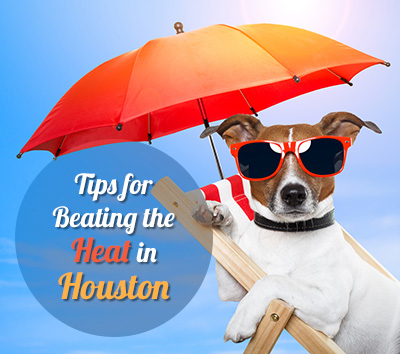 When the sun is shining and your children are eager to play outside, fun in the sun is inevitable. Whether your family is ready to splash around at a local waterpark, enjoy a jaunt to the park or launch a sporting event in the backyard, a sunny day is the perfect setup.
Safety, though, is a concern when the Houston heats up. Summer safety in the heat of the summer involves preparing yourself and your little ones so you can all enjoy those sunny days and maintain a healthy lifestyle.
Heat-Related Illnesses
Heat exhaustion is one of the most common heat-related illnesses that can affect both the young and old. According to the Houston Fire Department, heat exhaustion is the body's response to an excessive los of water and salt contained in sweat.
Signs of heat exhaustion include the following:
Profuse sweating
Paleness
Muscle Cramps
Weakness
Dizziness
Headache
Nausea or vomiting
Weak-but-rapid pulse
Fainting
If heat exhaustion is not treated, it can progress to a heat stroke, warns the Houston Fire Department. "Heat stroke occurs when the body's temperature rises rapidly, the sweating system fails, and the body is unable to cool down," according to the professionals at the Houston Fire Department.
It's also important to remember to NEVER leave a child in a car unattended. Children can overheat very quickly – even when the temperature outside isn't what you'd consider dangerous. The inside of the car heats up quickly, raising the child's body temperature, which can result in heatstroke or too often, even death.
Heat cramps are another cause for concern with the heat of Houston. Typically, heat cramps will cause muscle pains or spasms in the abdomen, arm or legs during strenuous activities.
With any heat-related illness, the Houston Fire Department recommends the following precautionary steps:
Stop all activity, and sit quietly in a cool place
Drink clear juice or a sport drink
Do not return to strenuous activity for a few hours until after the cramps subside because further exertion may lead to heat exhaustion or stroke.
Seek medical attention for heat cramps if they do not subside in one hour.
Learning how to safeguard your family from heat exhaustion, heat cramps and heat stroke is crucial when the temperature warms up.
Fuel Up and Cool Down
Before heading into the sun and engaging in outdoor activities, fuel up your family with plenty of water and electrolyte-replacement beverages, such as Gatorade, Powerade and Propel Fitness Water.
Avoid beverages with large amounts of sugar or caffeine, such as soda or coffee, as these can speed up the process of losing fluid, warns the Houston Fire Department.
It is also best to avoid strenuous activities during the hottest times of the day, typically between 12 and 4 p.m. If you have a day planned of outdoor work or exercise, take advantage of the early morning or evening cooler temps. "Individuals unaccustomed to working or exercising in a hot environment need to start slowly and gradually increase heat exposure over several weeks," suggests the Houston Fire Department.
Take breaks often and find a shaded area or air-conditioned area to cool off several times throughout the day.
Protect Your Skin
The risk of sun poisoning and burns is significant when Houston heats up during the summer months. Protect your skin and your overall health with some preparation.
Shield your little ones from too much sun exposure by covering them in loosely fitting, light-colored clothing and a wide-brimmed hat that allows for ventilation. Lather them up with sunscreen, too, and reapply every two hours throughout the day.
Water Safety
There is nothing more refreshing than jumping into a cool pool of water when the Houston heat is bearing down on your body. Knowing the basics of water safety, though, is crucial so the heat does not get the best of you.
Lather up with sunscreen before, during and after each swimming session and rehydrate everyone with plenty of water throughout the day. Your little one may not feel the need to drink water when he is surrounded by pools of it, but looks can be deceiving. The heat can zap the liquids from his body quickly during the heat of the day.
Pool Safety during hot days should also be a top priority. The Houston Fire Department recommends the following when accompanying your children to the pool:
Never leave a child alone near water and always watch your children around swimming pools
Use approved flotation devices
Bring a cell phone to the pool in case of emergency
Make sure there is no standing water on the pool deck. Standing water is the No. 1 cause of slips and falls around a pool.
Always have a first aid kit and emergency contacts handy
Watch for dangerous "TOOs"- Too Tired, Too Cold, Too Far from Safety, Too Much Sun, Too Much Strenuous Activity
Pay attention to local weather conditions and forecasts. If lightning and thunder are nearby, get out until the storm has passed.
While there is bound to be fun in the sun, safeguarding your family from the heat of Houston will ensure that the smiles and giggles continue into the hottest days of the year.
← 10 Best Places to Get Ice Cream in Houston | Minimizing Car Seat Misuse for Parents and Nannies →
Comments are closed.