Minimizing Car Seat Misuse for Parents and Nannies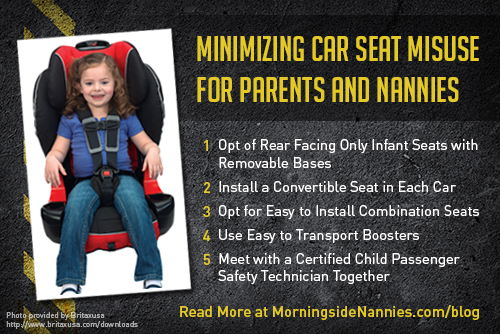 With statistics ranging from 70 to 90 percent, it's safe to say that a majority of car seats are incorrectly installed or misused.
For parents and nannies who often share the responsibility of transporting the children, it's essential that there is a clear mutual understanding of state laws governing car seat use as well as best practices for safely transporting the children in their care. It's important to note, however, that state laws and best practices aren't always equivalent. While the law may state that  children can be turned forward facing once they reach age 1 and 20 pounds, for example, The American Academy of Pediatrics recommends that children ride rear-facing until age 2 or until they reach the maximum height and weight for their car seat. With a number of rear-facing seats having higher height and weight limits, children can ride rear-facing even longer, with the gold standard being keeping kids rear-facing as long as possible.
To ensure that children are transported safely every time they ride, parents and nannies should work together to ensure that they are using the best car seat possible. The best car seat is the seat that fits the child best based on age, height, weight and developmental level, fits the vehicle properly, and is used correctly each and every time.
What are some ways parents and nannies can work together to minimize car seat misuse?
1. Opt of Rear Facing Only Infant Seats with Removable Bases.
When transporting newborns and infants, choose rear-facing only car seats with removable bases. Purchase an additional base for the nanny's vehicle. Ensure all bases are properly installed. This includes being installed in an acceptable location in the vehicle using an approved method of installation for that location as outlined in the vehicle manual.  Review the car seat manual together to ensure proper use and to determine  the weight and height limits of the seat.
2. Install a Convertible Seat in Each Car.
Once a child has outgrown his rear-facing only seat, a convertible seat can be used in the rear-facing position. When a child has outgrown the seat limits for rear-facing the seat can be used forward-facing. Properly installing a convertible seat in both the parent's and nanny's vehicles can prevent installation errors during the daily transition between caregivers. Having a convertible seat  in each vehicle can also ensure that the child always has an appropriate car seat available.
3. Opt for Easy to Install Combination Seats.
A combination seat is a forward-facing seat that transitions from a 5 point harness to a booster seat. When parents and nannies are sharing a car seat, or when the car seat will be uninstalled and reinstalled regularly and by several caregivers,  ensuring that the seat is easy to install properly  for all caregivers is critical. The Britax Frontier 90 is a combination seat for children who are at least 2 years old and 25 pounds that has the ClickTight installation system. This system takes the guess work out of car seat installation and makes getting a proper install easy for everyone. With Britax's ClickTight Installation System you simply squeeze your thumb and finger to expose the ClickTight Technology, thread the vehicle seatbelt over the armrest and under the seat opening, buckle the seat belt, then push close, eliminating the need to fight with the vehicle seat belt in an attempt to get a tight install. Another pro of this seat is that it allows for extended forward-facing with harness, accommodating children up to 90 pounds and 58 inches and booster riders from 40 to 120 pounds and 45 to 62 inches. And if you're worried about your seat getting ruined from accidents during potty training, spills or wet bathing suits, check out Britax's Seat Saver Insert. It's approved for use for Britax seats.
4. Use Easy to Transport Boosters.
For elementary school aged children, in addition to their primary caregivers, their friends parents' may  be responsible for occasionally transporting the children to and from school,  playdates and activities. While it's essential that parents and nannies ensure that their children are being transported safety in others' vehicles, it's also important that they transport the children of others safely. For children ages 4 to 11 and between 40 and 100 pounds and up to 57 inches, the Bubble Bum is a super solution. Inflatable (in less than 20 seconds) and weighing less than one pound, it's compact and easy to transport and store making it great for sending along with the kids, traveling and taxi riding too. Since the Bubble Bum is narrow, fitting an additional friend or two safely in your vehicle can help to ensure that there is an appropriate car seat for everyone, every time.
5. Meet with a Certified Child Passenger Safety Technician Together.
Safe Kids Worldwide is home to the National Child Passenger Safety Certification Program. Through this program individuals – including nannies and parents-  can take courses and become nationally certified child passenger safety technicians (CPST). Technicians are also required to participate in continuing education to keep their certification current. Parents and nannies can find a local certified CPST or car seat checkup event in their area.  When meeting with a CPST or attending an event parents and nannies can learn to properly select, install and use an appropriate car seat.
When it comes to safely transporting children, parents and nannies should communicate often and discuss their transportation practices in detail. Including information relating to transporting the children in a nanny and family work agreement can help to ensure that there is no miscommunication when it comes  to the expectations and safety standards surrounding transporting the children in their care.
Michelle LaRowe is the executive director of Morningside Nannies and a nationally certified child passenger safety technician.  The Britax Frontier 90 and Bubble Bum seat were provided at no cost for editorial consideration. Michelle is not affiliated with either company and no payment for this post or guarantee of inclusion was made. Michelle has personally used the Britax car seats since 1999 and believes Bubble Bum offers parents and nannies of booster appropriate children a simple solution to common transportation dilemmas. 
← Tips for Beating the Heat in Houston | Children's Authors from Houston →
Comments are closed.