10 Gift Ideas and The Holiday Nanny Bonus
While bonuses and holiday gift giving are always at the discretion of the employer and typically reflect the nanny's length of service, job performance, the family's appreciation for the care she provides the children, and recognition for a job well done, many families are unsure what amount is appropriate to give their nanny as a gift or holiday bonus. Here are some of our best tips.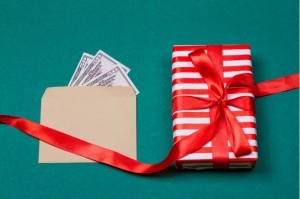 1. Enroll her in NannyTraining.com's professional nanny certificate program
2. Get her a subscription to her favorite magazine
3. Purchase her a gift card to a local spa or salon
4. Anything nanny themed – a t-shirt, sweatshirt or bag
5. Membership to the International Nanny Association
6. A framed photo of your nanny and your children
7. Anything special made by the children for their nanny
8. Car detailing – especially if she uses her car for work
9. A personalized coffee mug with assortments of coffee and tea
10. Anything techy- a Nook, Kindle or iPad
The Holiday and Year End Bonus
Traditionally speaking, nannies typically receive a holiday bonus equivalent to one to two week's wages.
This amount typically increases in amount depending on the number of years a nanny has been with a family, with long-term nannies receiving as much as equivalent to one month's wages.
For nannies who are new to the family, calculating one day's pay for each month of employment is a standard approach.
← 5 Tips for Photographing Children | 2018 Nanny Tax Responsibilities →
Comments are closed.