Creating a Nanny Log Book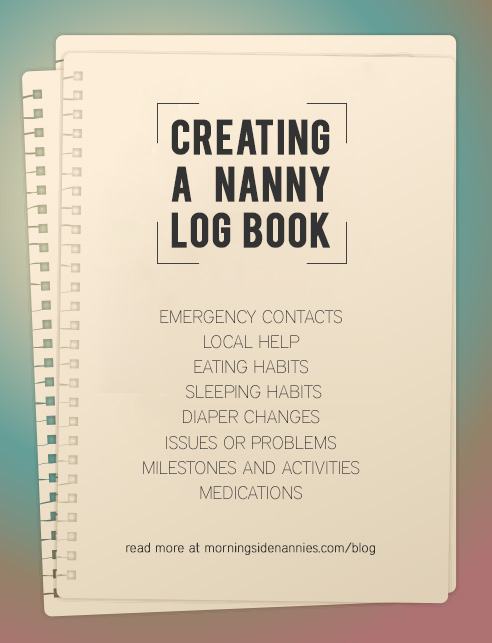 Having a nanny to care for your child when you can't is a great asset and one way to make your relationship even better is through a Nanny Log Book. A Nanny Log Books allows you and your nanny to communicate easily and effectively every day. It allows you to see what your child is eating and doing during the day and keep on top of any problems as they arise. Here are some tips to create a Nanny Log Book:
1. Emergency Contacts
One of the first sections of a Nanny Log Book should be a list of emergency contacts. If something should happen when your nanny is home alone with your child and can't reach you, they should be able to call many other numbers to get help. Phone numbers for friends, relatives or even neighbors should be easy to find in case of emergency.
2. Local Help
Along with personal contacts, your Nanny Log Books should also contain local help. The fire department, police department and other local numbers should be listed. A neighbor that can help is great, but professional help is sometimes needed. The number and address for the local hospital and your child's pediatrician should also be included.
3. Eating Habits
– Now we can move on to things the nanny needs to include in the Log Book. One suggestion is to include eating habits. With infants, she should log times fed and burped. With older kids, she should note what they ate, how much, and at what times. Not only will this help you to make sure your kids have a balanced and healthy diet, but you can also note any allergic reactions they might have and keep their eating on schedule on the days you have them to yourself.
4. Sleeping Habits
Nap time, bed time and getting up in the morning should always be noted for your child. This can help set up a routine to make sleeping easier and ensure your child stays well rested.
5. Diaper Changes
Another important thing to include in the Nanny Log Book is diaper changes or potty times. Potty training is an important part of a child's life and having a consistent schedule between you and the nanny is vital. Notations of color or consistency can also help to make sure that the child is digesting food properly.
6. Issues or Problems
As the day goes on, problems from the morning may slip a nanny's mind. Or you might come in tired and too exhausted to have a long conversation. Having a Log Book where the nanny can note problems or issues with your child throughout the day can be a simple way to see patterns of behavior and work with your nanny to correct them.
7. Milestones and Activities
Another great thing to log is milestones. The baby rolling over, the young child reciting his ABC's, an older child doing the dishes, and so on can be shared with you through a Nanny Log Book. Even photos or recordings of the event can be shared if your Nanny Log Book is on a computer.
8. Medications
If your child is ill or takes medications regularly, it is important to keep track of doses and times. Having a Log Book can help keep your child well and on schedule and help to ensure that your child isn't over or under medicated.
Creating a Nanny Log Book can give insight into your child's day. From meal time to nap time, sharing information is vital to making sure your child gets the care he deserves and that you stay in the loop.
← 8 NAEYC Accredited Preschools in Houston | Ways to Stay Fit When Working in Houston →
Comments are closed.