Top 10 Reasons Nannies Quit
When it comes to leaving a nanny position, it's very rare that a nanny does so because of the children in her care. Most issues that result in a nanny leaving her position stem from the business side of nannying; with issues surrounding pay, communication and management styles topping the list. To keep your nanny from quitting, avoid doing these ten things.
1. Lack of Respect
Mutual respect is essential to the success of the nanny/family relationship. Speaking unkindly to your nanny, constantly coming home late,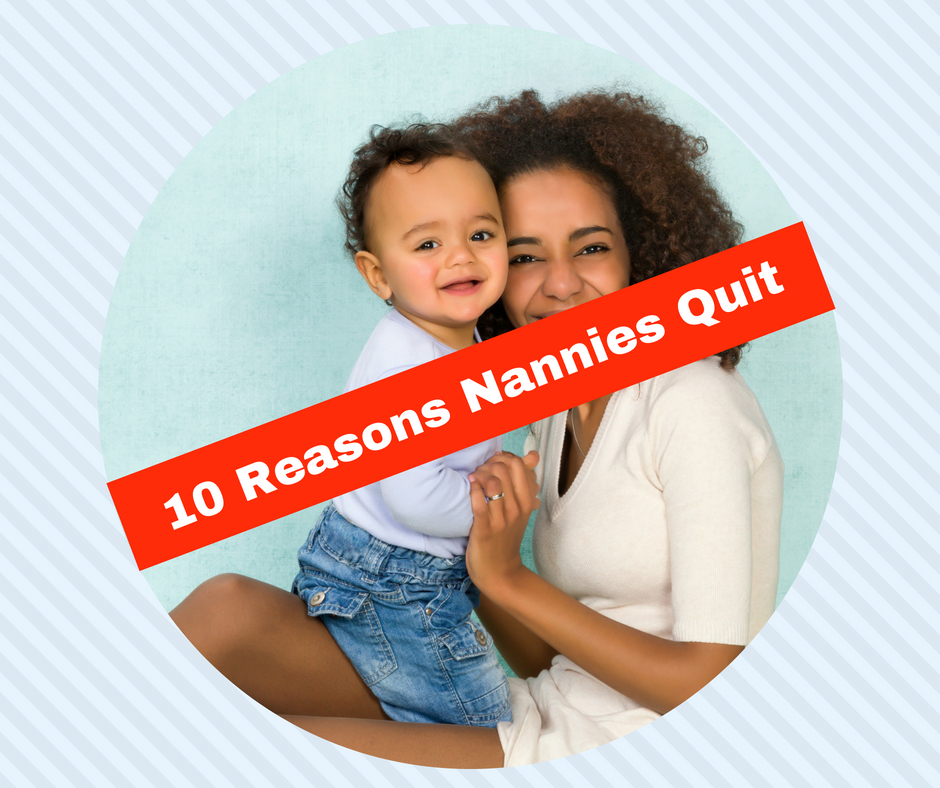 coming home late without calling and not respecting your nanny's off time damage the relationship and lead to resentment and workplace dissatisfaction.
2. Issues with Pay
Nannies expect and require their pay on time and without issue. Having to ask for her paycheck, ongoing mistakes with payroll or reimbursements, not compensating her appropriately for overtime hours and asking her to bank hours in lieu of pay are common compensation issues that result in a nanny leaving her post.
3. Job Creep
Most nannies will always go the extra mile to assist their nanny family, however when additional duties are tacked onto the job without discussion and without additional compensation, problems occur. Always discuss changes in your ongoing needs with your nanny so that a mutual understanding is met.
4. Major Scheduling Changes
Reducing hours, significantly shifting hours and demanding coverage outside of agreed upon hours can be problematic. Nannies agree to a set schedule and understand that some flexibility is required, however when the job schedule completely changes, it may not work for your nanny.
5. Lack of an Annual Raise
It is industry standard for nannies to receive a raise at the completion of each year worked, provided they have a satisfactory review. A raise of 5-7% is typical and is inclusive of a merit and cost of living increase. Overlooking an annual review and raise can leave your nanny wondering if you truly appreciate the work she does, which can lead to resentment and dissatisfaction.
6. Family Relocation
Depending on where you live, even a relocation across town may be problematic for your nanny. Commuting in major cities can be problematic and relocating just a few miles away could add enough time onto a nanny's commute that she is no longer willing to make it.
7. Management Style
Nannies typically either like to be in complete charge, work as a team with the parents or like to be micromanaged. If you prefer to micromanage and your nanny prefers to be in full charge, chances are, there will be a problem. When hiring a nanny, consider your management style and opt for a nanny who prefers that style of management.
8. Communication
For the nanny and family relationship to be successful, good communication is essential. Nannies and families should agree on how often and how they will communicate each day. If you can't answer calls during the day, texting may be the best option, but be sure to let your nanny know, or else she may not answer.
9. Changes in the Family
Divorce, marriage, and the addition of children to the family can significantly change the dynamics of a nanny's work environment. Depending on the situation, your nanny may feel the job is no longer the right fit.
10. Unclear Expectations
No employee likes wondering if she is doing what is expected. The lack of having a written work agreement eliminates any confusion over what is expected and can help to ensure that both you and your nanny are on the same page when it comes to job duties and responsibilities.
Finding the right nanny for your family is essential but keeping her is more so. Avoid these pitfalls when managing your nanny and chances are, you'll have a loyal employee while you need one and a family friend for life.
Michelle LaRowe is the executive director of Morningside Nannies, Houston's award-winning nanny agency, 2004 International Nanny Association Nanny of the Year and the lead educator at NannyTraining.com.
← Drowning Leading Cause of Unintentional Death in Children | 4 Tips for Managing Your Nanny's Tech Time →
Comments are closed.