Protect Your Kids from the Sun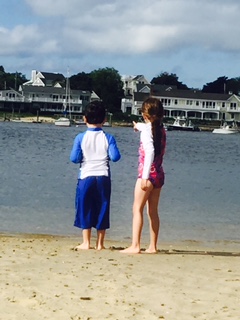 When you spend a lot of time outdoors, protecting your skin is essential. For most people, their skin protection routine includes lathering on the sunscreen before heading out to play. But for young babies, children with sensitive skin and those who are in the sun more than they are out, applying sunscreen repeatedly throughout the day just isn't always practical and isn't always enough.
For those wanting additional sun protection, UPF rated clothing is a great option. BabyBanz is a leader in sun protection offering fashionable swimsuits, hats, sunglasses and more for infants and up. Their swimwear is rated UPF 50+ and exceeds Australian testing standards. Since the swimwear has tagless necks and flat seams, they provide the ultimate in comfort, even for those children who are typically sensitive to swimwear.
But the protection doesn't stop after you're done swimming. UPF swimwear offers protection for:
Water Play
Are the kids outside playing with the sprinkler or water table? UPF rash tops, hats and shorts offer sun protection during any kind of outdoor play when getting wet is a possibility. Slip-n-Slide? Water balloon fights? Keep the kids sun safe while they have fun.
Warm Weather Rainy Days
Don't let the rain deter your plans. Heading to the zoo? Don't worry about the kids getting wet. Rash tops and swim shorts are cute enough to sport on your next rainy day adventure and unlike traditional swimsuits, you don't have to worry about not being covered up enough when heading into stores or restaurants.
Amusement Parks
No one likes to get off a water ride only to have their clothing soaked. That's not a problem if you're wearing water friendly clothing. Because swim wear offers sun protection and dries super-fast, it's the perfect attire to ride on amusement park attractions.
BabyBanz provided review products to Michelle LaRowe at no cost. No guarantee of media coverage was made. These opinions are entirely Michelle LaRowe's.
← Music Matters | Back to School Tips for Parents of Kids with Allergies →
Comments are closed.