Top 10 OB's in Houston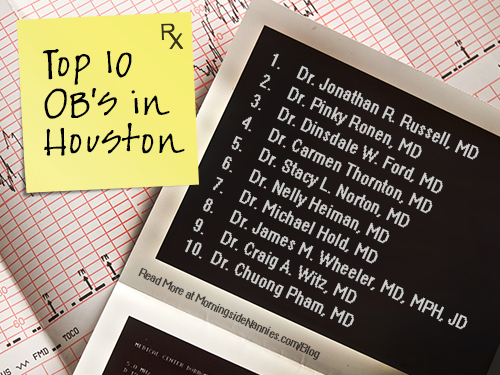 As a woman, one of the most important doctors you will ever have in your life is your obstetrician. You want to make sure to find a doctor who makes you feel comfortable, and is the best in the business. Most importantly, you want a doctor who will do whatever it takes for you and your unborn child. There are several competent doctors in the Houston area, but these ten are among the very best in terms of years of experience and ratings from their patients.
1.Dr. Jonathan R. Russell, MD
Dr. Russell has been in the field for 13 years. He graduated from Creighton University School of Medicine in 1996. His office is at Champion Women's Center in Houston. According to vitals.com, he was awarded the Patients' Choice Award from 2008 to 2011.
2. Dr. Pinky Ronen, MD
Dr. Rosen began his medical career as a Navy SEALS paramedic. He is currently the Chief of the Department of Obstetrics and Gynecology at Memorial City Hospital. Dr. Ronen graduated from Baylor College of Medicine. On vitals.com, a total of 35 reviewers gave him an average 3.5 out of 4 star rating. One patient on that site said, "Dr. Ronen is the kindest and has the best bedside manner! I will never go to another obgyn if I can help it."
3. Dr. Dinsdale W. Ford, MD
Dr. Ford practices obstetrics and gynecology in Houston after studying at Howard University College of Medicine. He graduated in 1976 and now works at West Oaks Hospital.
4. Dr. Carmen Thornton, MD
Dr. Thornton has worked at Kelsey-Seybold Clinic since 2002. She completed her degree at the University of Texas Medical Branch in 1988. The Kelsey-Seybold website quotes Dr. Thornton as saying, "I believe in educating my patients. This will enable them to make good decisions about their health." She is board certified.
5. Dr. Stacy L. Norton, MD
Dr. Norton graduated from the Texas Tech University Health Sciences Center in 1993 and completed her residency in 1997. She has been practicing medicine since 1998. She currently works at the Northwest Women's Center. On vitals.com, her patients gave her an overall rating of 3.5 stars out of 4. A patient's review from that site stated, "She is smart, strong, astute, kind, and listens. She doesn't rush out of the room. She goes above and beyond and is always available even to talk on the phone if needed."
6. Dr. Nelly Heiman, MD
Dr. Heiman has been practicing obstetrics and gynecology in the Houston area since 2007. She is currently working at Methodist Willowbrook Hospital. On top of being board certified, she is fluent in Spanish and Russian.
7. Dr. Michael Hold, MD –
Dr. Hold currently works at Women's Health Care Center in Houston and has been practicing for six years. One patient on vital.com gave him this review: "Dr. Hold is one of a kind. He is extremely gentle during exams and takes the time to answer all your questions. He is highly intelligent and truly compassionate. I would and have recommended him to family and friends." He graduated from the University of Texas at Galveston in 2003.
8. Dr. James M. Wheeler, MD, MPH, JD
Dr. Wheeler has been practicing medicine since 1988. He is currently a doctor at The Center for Women's Healthcare in Houston. He graduated from Harvard College, Baylor College of Medicine and residency program, as well as Yale's REI fellowship. Dr. Wheeler has additional training as an epidemiologist, statistician and attorney. Healthgrades.com shows a patient satisfaction rate of 93%, meaning 93% of his patients would recommend him to family or friends.
9. Dr. Craig A. Witz, MD
Dr. Witz has 21 years of experience and is currently an OB/GYN, specializing in fertility, at Houston Fertility Institute. On vitals.com, his patients give him a glowing 4 out of 4 star rating. One is quoted as saying, "Dr. Witz and his staff set a standard which all doctor's offices should strive to be. He is so compassionate and down to earth, his bedside manner is by far the best I have received from any doctor in my life."
10. Dr. Chuong Pham, MD
Dr. Pham graduated from the University of Texas Medical Branch at Galveston in 1993. He specializes in obstetrics and gynecology and is board certified. He currently works at Willowbrook Women's Health in Houston. Healthgrades.com lists his care philosophy as: "Listening to a patient is the first step in caring for the patient."
It can be difficult to find the right doctor to care for you during such an exciting and scary period of your life, especially if you're not sure where to start. This list should give you some direction and at least help you narrow down the scope of your choices from the hundreds and possibly thousands of obstetricians in Houston alone.
← Break Into Nannying as a Summer Nanny | Having a Successful Nanny Relationship When You Work From Home →
Comments are closed.