10 of the Most Romantic Restaurants in Houston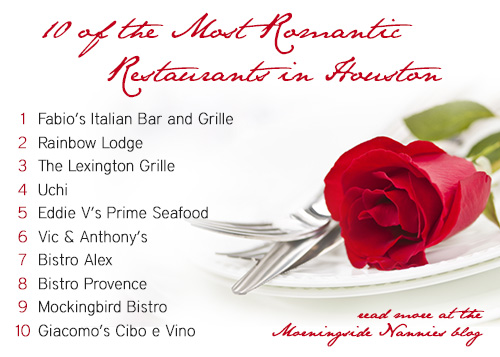 Whether you are heading out on a first date, planning a proposal, or attempting to have a long overdue night out with your partner, choosing the right restaurant can be a daunting task. However, if you are preparing for your date night in Houston, you should consider yourself lucky. Houston is home to some of the most romantic restaurants in the country. Within Houston, there is no shortage of enchanting establishments to satisfy any appetite and palate. These are ten of the most romantic and charming meal destinations in the city, each of which is sure to make your night that much more special.
Now that your appetite is awakened and your heart is inspired, invite your sweetie out for a night on the town in Houston. Be sure to call ahead and make reservations to ensure great seating, though. If you want your night to continue after your meal, consider heading over to Hermann Park for a stroll through the Japanese Gardens or spending the night at the Hotel Zaza, where you can spend the evening having drinks by the luxurious pool or dessert at its eatery, The Monarch.
← 10 Family Friendly Churches in Houston | 10 Houston Area Farms to Visit This Fall →
Comments are closed.