5 Christmas Gift Ideas for Nanny Families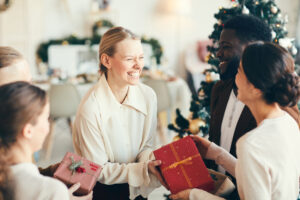 When it comes to holiday gift giving, finding just the right gift for your charges' parents can be a real challenge. Trying to find something that isn't too personal, yet personal enough can make Christmas shopping more stressful than fun. As you consider a holiday gift for your nanny family, these gift ideas strike the right balance between personal and professional and will help you feel like you've found the gift that's practically perfect in every way.
Handprint ornament. For families who celebrate Christmas, having a handprint ornament to cherish for years to come will likely be a favorite. While there are many do it yourself versions, taking a trip to your local pottery store to have your charges' handprint stamped on a ceramic globe and kiln fired will take it up a notch and leave you with a one-of-a-kind piece of irreplaceable art.
Framed photos. Capture that perfect photo? Have it printed on high quality photo paper and choose a frame that compliments the photo just right. Place the frame in tissue paper, box it up, and wrap the box in Christmas themed paper, adding twine, bows or ribbon to make the packaging as elaborate as you wish.
Framed art. Like the photo idea but come up short on the perfect shot? Frame a piece of the child's artwork. Create a Christmas themed painting or drawing and wrap it up! Choose a gift box, themed paper, and deck the package out as much as you wish!
Homemade dessert. From peppermint bark to chocolate fudge, most nannies have a special dessert that people can't wait to experience during the holidays. Prepare your most famous recipe and then wow them with presentation.
Something personalized. From charcuterie boards with the family's last name engraved to popcorn bowls- one with each family member's name, personalized gifts that are customized to your nanny family's tastes and are a creative and memorable gift idea.
Choosing the right gift for your nanny family just got a little easier. Personalized gifts that demonstrate that you know the family are the perfect choice when you want to maintain professional boundaries while adding a personal touch.
← Avoid These 5 Nanny Job Mistakes | 2022 Nanny Conference Calendar →
Comments are closed.