8 Ways to Prevent Common Childhood Injuries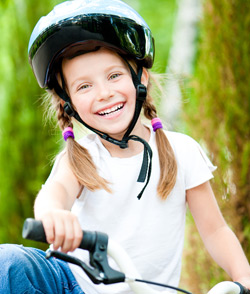 While some childhood injuries are not preventable, many common injuries that occur during early childhood are. By taking a few simple and practical precautions, parents and nannies can work together to minimize the risks of preventable childhood injuries and help to create a safe environment for children to confidently explore.
Properly store medication.

To prevent accidental ingestion medication should be stored out of the reach and sight of children. Store medication in a locked safety box placed on a closet shelf to prevent the kids from accessing it. Even topical medications should be under lock and key.

Use the right car seats the right way.

By some estimates 90% of car seats are used or installed incorrectly. Don't have a relaxed attitude about car seat safety. Be sure that all children are in the right seat, facing the right direction every time they go for a ride. Contact a child passenger safety technician to inspect your car seat installation. You can find a local tech by visiting www.cert.safekids.org.

Keep sleep spaces safe.

A baby's crib should have nothing but the baby inside. Instead of using a blanket, opt for a sleep sack that will keep him safe and warm. Keep the air in his room circulating using a fan and keep the room temperature between 68 to 70 degrees Fahrenheit. Be sure the crib or bed is away from all windows and that all window covering cords in the room are tied up and out of reach. If you're using a bassinet or crib be sure that it meets current safety standards and that the crib mattress is moves to the lowest position once your baby begins to roll over.

Always practice touch supervision near or in water.

Whether you are putting the kids in the bath or letting them play in the kiddie pool in the backyard, always be within an arm's reach of the children. When giving a bath, gather all of your supplies ahead of time so you're not tempted to leave the kids unsupervised to get something. If there is a pool in the backyard, be sure it is fenced in and the gate lock is fully functioning.

Keep chemicals away from the kids.

While it can be convenient to store cleaners and detergents under the sink, doing so can be a real hazard. Keep all cleaners and chemicals in locked cabinets to prevent accidental burns, ingestion and poisonings. Children should not have access to any toxic supplies.

Enforce bike safety rules.

Insist that the children ride the appropriate sized bicycles and that they do so with a well-fitting helmet. Be sure that children are familiar with bicycle safety rules and that they only ride on safe, bicycle friendly paths and areas.

Sore firearms under lock and key.

In addition to teaching children that guns should not be handled, firearms and ammunition should be stored in locked cabinets so that children do not have access to them.

Serve age-appropriate food.

Prevent choking risks by not serving popcorn, whole grapes and hot dogs, hard candy, globs of peanut butter and large chunks of food to young children. Be sure vegetables and meats are tender and cut into small pieces before serving. Grapes should be quartered and hot dogs sliced lengthwise prior to cutting across. Children should remain seated and be closely supervised when eating.
While nannies and parents may have different safety standards when it comes to childproofing the home and participating in activities, most will agree that doing what you can to minimize unnecessary risks to the children is essential.
← Can I Give My Nanny Time Off in Lieu of Pay? | How to Monitor Your Nanny →
Comments are closed.