Finding a Caregiver Who Follows Your Moral Code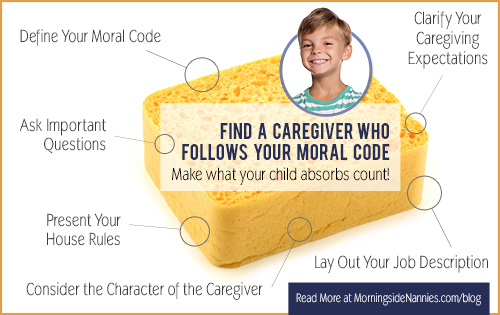 It's no secret that children are like sponges. From the television they watch to the people they spend time with, children absorb everything from anything and anyone they're around.
When it comes to finding childcare, parents who choose a qualified caregiver who follows the same moral code as their family will be more at peace with their childcare arrangement. Leaving your child in the care of a provider who wholly supports your lifestyle, child-rearing practices, parenting philosophy and house rules can give you confidence that your children are being well-cared not only physically, but in accordance with your family's moral code while you're away.
But how do you find a caregiver who follows your moral code?
Define Your Moral Code
Whether spoken or not, every family has a moral code. Your family's moral code defines the standards you expect members of your family to live by. It may include standards for how you treat others, how you treat yourself, what types of media is allowed in your home, how your children dress, and when children can date. Your moral code is likely influenced by your religious beliefs. Putting your family's moral code on paper can help you articulate what you believe is acceptable and is not acceptable for those within your family.
Clarify Your Caregiving Expectations
Before you begin looking for a caregiver, you'll want to be able to express your caregiving expectations. Your caregiving expectations may be different if you're hiring a date night sitter to provide occasional childcare a few hours a month than if you're hiring a full-time nanny. While you may expect your full-time nanny to provide moral support and guidance in accordance with your family's code, your babysitter may simply need to support your code by following the instructions you leave with regards to what's okay and what's not while you're away.
Lay out Your Job Description
If you want to find a caregiver who follows your moral code, you'll want layout what following that code will mean in practical terms. If you expect your caregiver to limit television viewing to no more than one hour a day from a preapproved list of television shows or to ensure that she teaches your children a new blessing each week to say before their snacks and meals, you'll want to include that in the job description. If you require your caregiver to create an environment that supports modesty, honesty and volunteerism, you'll want to include that too. When you're up front about what the caregiver's duties and responsibilities will be you will attract caregivers who are eager and willing to fulfill them.
Present Your House Rules
Every family has a list of house rules they expect family members to live by. These rules may include things like no swearing, no hitting, no lying, no cheating, no gossiping and no R-rated movies. They may also include things like help others when you see a need, honor your parents and love God. Presenting your house rules to a potential caregiver provides you an opportunity to gauge how the caregiver responds to them and an opportunity for the caregiver to determine if they are rules she can fully and wholly support and enforce.
Ask Important Questions
There's no better way to determine if a caregiver follows your moral code than by asking questions about her own. Asking open-ended questions like "What type of television do you typically let children watch?" and "What types of community service projects have you done with the children you've cared for?"  can provide insight into the ideas and principles she's comfortable passing onto the children in her care. Asking questions like "What do you think is the most important thing you pass on onto children is?" and "Tell me about your discipline philosophy" can help you better understand her worldview.
Consider the Character of the Caregiver
Every caregiver you leave your child with should be qualified to keep your child safe and provide attentive care. Running a background check, reviewing her driving record, checking personal and professional references, and contacting previous employers will give you an opportunity to learn more about any caregiver you are considering hiring so that you can make an educated and informed hiring decision. When you request personal references ask the caregiver to provide the name of a clergy member, volunteer team leader or other respected community leader who knows and has worked with the caregiver firsthand.
Whether it's for a few hours or five days per week, your caregiver has the opportunity to influence your child. Be sure to choose a caregiver who will be a positive influence and a huge follower and supporter of your family's moral code.
← 10 of the Best Publications for Houston Parents and Caregivers | 10 of the Best Places to Go for Your Child's First Haircut in Houston →
Comments are closed.