The Official Blog of Morningside Nannies
Nannies have many options when it comes to finding their next nanny job. From word of mouth referrals to online recruiting platforms to social media shares, the options seem endless for connecting with the right nanny. However, all options aren't created equally. For nannies who want to take the guess work out of the application process and only apply for legally paying nanny jobs in their area that truly exist, using a reputable nanny referral agency like Morningside Nannies makes sense.
At Morningside Nannies:
We learn about you, your experiences and your caregiving style.
We present you to families seeking a caregiver with your background, experience and temperament.
We help prepare you for interviewing successfully.
We facilitate interviews with families who would like to meet you.
We educate parents on realistic responsibilities and competitive and compliant wages.
We educate families on the importance of having a written work agreement.
We provide parents information and resources to help them succeed as a household employer.
We provide nannies with professional nanny training opportunities at no cost.
We offer our services at no financial cost to nannies.
Morningside Nannies is pleased to present our current job opportunities. If any of these nanny positions interest you, please apply online now or contact a placement specialist today by calling (713) 526-3989.
Posted in
Advice for Nannies
|
Comments Off

on Why Nannies Should Use Morningside Nannies
Love your job? Don't fall victim to these 4 things that could result in you losing it, quicker than you thought.
1. Show up consistently late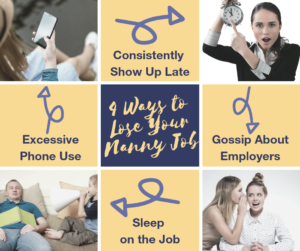 Working parents schedule their nanny's hours around their work schedule. If nanny is late, that means they are late; and for some employers this can be a real problem. While showing up a few minutes late may not seem like a big deal, when it's a regular occurrence, those minutes add up. Nannies should arrive with enough time to settle in and be ready to start work at their scheduled start time. Planning to arrive at the time you are scheduled to start work will always keep you running a little late and for some families, a little late is too much. Always build a buffer into your commute to ensure you arrive on time and in the rare instance when something does prevent you from doing so, let your boss know as soon as possible.
2. Use your phone excessively (or at all)
Each family will have their own expectations regarding device usage and what is or is not acceptable. Some families are fine if their nanny uses their devices while the children are sleeping, while others prefer them not to use them at all. Including a written device usage policy in the nanny/family agreement can ensure that everyone is on the same page with expectations. As a general rule of thumb, when nanny is responsible for the children her focus should be on the children. Pro tip: Develop your own personal policy on device use during working hours and share it with your employers. Most will be impressed you are considering the value of your time and the importance of spending it with the kids.
3. Fall asleep on the job
Kids are sleeping, time for a nap right? Wrong. While in some rare instances sleeping on the job may be appropriate, such as when the parents are traveling and the nanny is spending the night, the general practice of nannies sleeping when the kids do, isn't an acceptable one. Parents who have caught their caregiver napping have been quick to terminate employment, especially when the expectation is that the nanny is alert and ready to render aid if needed.
4. Gossip about your bosses
Sharing your frustration that your boss just bought the newest high tech gadget but hasn't offered you a raise is okay, right? Especially when among friends. Negative employer talk has a way of finding its way back to employers, either through a nanny telling another nanny who tells her boss who happens to be friends with the employer who is being spoken poorly of or through someone overhearing the conversation and reporting back to the boss. And while venting in "private" online nanny groups may seem safe, never underestimate the damage a shared screen shot can do.
Michelle LaRowe is the executive director of Morningside Nannies, Houston's award-winning nanny agency, 2004 International Nanny Association Nanny of the Year and the lead educator at NannyTraining.com.
Posted in
Advice for Nannies
|
Comments Off

on 4 Ways to Lose Your Nanny Job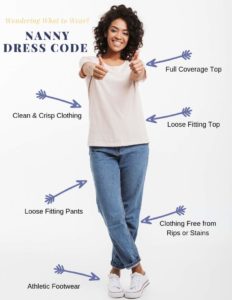 Do you show up at work looking like you've just rolled out of bed? If you do, your employer may be thinking about implementing a dress code.
Dress, grooming and personal hygiene standards may be more important to your nanny employer than you think. Arriving for work looking ready to work sends the message that you take your job seriously and are prepared to face the day. If you're wondering if your nanny wardrobe is up to snuff, consider these few tips.
Tops
Who doesn't love the coolness a sleeveless top, racer back tank or deep v-neck shirt brings on a hot, summer day? But when you're at the job, those cuts can pose a challenge. If you've ever held a baby while wearing a top that provides less than full coverage, you know that there comes a point where you're holding the baby, while trying to keep the girls in their place. Babies pull at necklines, bra straps and whatever else their cute little hands can grasp, so by choosing a top with appropriate coverage, you can prevent a wardrobe malfunction that could pose an embarrassment to you and your boss. And if you're thinking of showing support for your favorite band, cause or politician on your clothing, you may want to reconsider that as many families prefer message neutral clothing.
Bottoms
While leggings and tee-shirts may seem like a great idea, this isn't always the case. Leggings that are too tight or too thin may not provide the coverage required when actively engaging children. With all of the bending over and getting up and down that is required on the nanny job, proper fitting bottoms are essential to ensure what is covered stays covered during active play. If your employer allows leggings to be worn, always be sure to put them to the test in the mirror before wearing them on the job- and opt to pair them with a tunic to ensure appropriate coverage. As an alternative, consider loose fitting jeans, khakis or shorts that provide adequate coverage and will allow for free movement. Ensuring that the length of the shorts are longer than the tips of your fingers when your arms are at your side will help to ensure an appropriate fit.
Footwear
While flip flops or heels may be your shoe of choice, rarely do these belong on the nanny job. Of course if you're at the pool or at a special event, there may be cause to sport your favorite slides or stilettos, but for everyday wear, opt for an athletic shoe or sandal that offers stability for when you're chasing around active little ones.
While every nanny has their own personal style, when it comes to the workplace, that style should be specifically tailored for the job at hand. In addition to wearing appropriate clothing, jewelry that can pose a safety hazard for children, like long necklaces or earrings with small beads, should not be worn during working hours.
Posted in
Advice for Nannies
|
Comments Off

on What to Wear
Nannies are, by definition, caregivers. But too often, because of that nature and commitment to caring for others she can find herself in the position of giving too much or being taken advantage of. If you're finding yourself in a position where you feel you may be giving more than you are getting, consider this action plan.
Update your written work agreement.
Having a written work agreement outlines the terms of the employment relationship and ensures that both nanny and parents have a mutual understanding of job-related duties, responsibilities and expectations. Putting the effort in upfront to clarify what the nanny's role is can help to establish a parameter that can be enforced and gives the nanny something tangible to refer to if the boundaries start getting blurred.
Address job creep when it happens.
While most nannies are happy to pitch in and lend a hand with whatever a family needs, the adage that today's favor is tomorrow's chore tends to be true. As soon as a favor turns into a regular expectation, it's time to speak up. Something like "I am happy to assist with the family dishes first thing in the morning, but if you' like to add that to my job duties we'll need to adjust my start day to 15 minutes earlier, and my pay to reflect that so that I can be ready to engage the children once they come down stairs," can communicate to the family that you're happy to go above and beyond, but you'll need to be compensated appropriately for doing so.
Set boundaries.
As a nanny, establishing and maintaining healthy boundaries can be a challenge. Setting boundaries is an important step in fostering a healthy nanny/family relationship. If the parents consistently come home late, if it's a win for you, agree to offer that flexibility – but on your terms and with proper accommodation. If you can't offer that flexibility be clear about that, too. If your work family regularly asks you to babysit on the weekend, but you really don't want to, don't be afraid to say so — and perhaps offer to refer them to another nanny you know who would love to pick up some extra hours on the weekend.
Practice self-care.
It's easy to feel taken advantage of if you aren't caring for yourself. Caring for children can be draining; working with the parents sometimes even more so. Ensuring that you are at your best physically and emotionally will ensure you have the reserves needed to set and maintain boundaries, and to recognize when you are being taking advantage of – and ready to implement the corrective measures necessary.
Michelle LaRowe is the executive director of Morningside Nannies, Houston's award-winning nanny agency, 2004 International Nanny Association Nanny of the Year and the lead educator at NannyTraining.com.
Posted in
Advice for Nannies
|
Comments Off

on How to NOT Get Taken Advantage of
Nannies and families end their relationships for a variety of reasons. These may include relocation, a change in childcare needs, a change in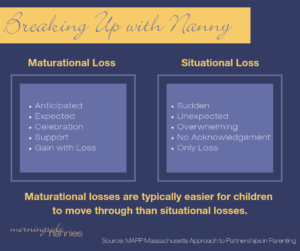 job needs or because the relationship just isn't working out. While rarely the relationship may end because a nanny has committed an egregious act or lost the family's trust, most often, relationships end because there is a natural point of transition or because of issues unrelated to the quality of care.
In cases where the relationship is ending due to due to fault of the nanny and/or there are no safety concerns with the nanny's relationship with the children, parents and nannies typically have a sense that the job is coming to and end. When there is no need to terminate the nanny on the spot, families should consider how the loss of the nanny will impact the children.
The Massachusetts Approach to Partnerships in Parenting identifies two types of losses; maturational losses and situational losses. The characteristics of maturational losses include that they are anticipated, they are expected, there is typically some sort of celebration or ritual associated with them, the person experiencing the loss has support and there is a gain that comes along with the loss. An example of a maturational loss may include a child graduating from preschool. With the loss of daily relationships with teachers and friends – and the daily routine that goes along with attending preschool – comes a graduation ceremony, lots of pictures, sometimes a family celebration and talk about looking forward to taking the big yellow bus to kindergarten next year and making new friends at a new school.
But there is also another type of loss that we all experience throughout our lifetime. These are situational losses. Characteristics of situational losses include that they are often unplanned and unanticipated, they are sudden and can be overwhelming, there often isn't a supportive environment surrounding the experience and with the loss there is really no gain. An example of a situational loss may include the sudden loss of a family pet or the untimely death of a family member. In situational losses the loss happens, it's often a shock and the recuperation from that loss can be challenge. In general, situational losses can be harder to manage, especially for children.
If you're considering breaking up with your nanny, or perhaps she's breaking up with you, consider the effect that the loss of that relationship may have on your child. If you have control over the situation and it's safe for your child to continue a relationship with your nanny, strive to make the loss a maturaltional loss. When you do, instead of sad goodbye, you'll be able to honor the relationship you've shared and look forward to the new relationships to come.
Michelle LaRowe is an award-winning nanny and executive director of Houston's award-winning nanny agency, Morningside Nannies and lead educator at NannyTraining.com.
Posted in
Advice for Parents
|
Comments Off

on Breaking Up with Nanny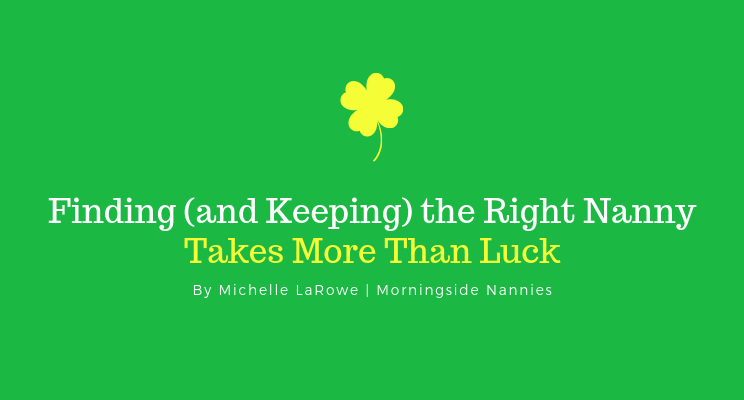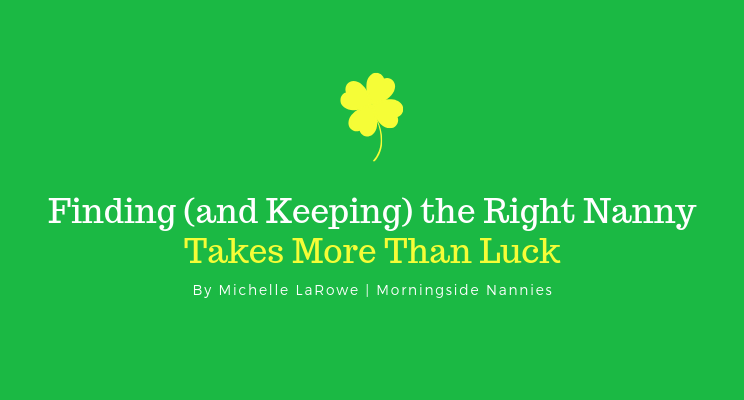 With St Patrick's Day right around the corner, consider these  reasons why finding and keeping the right nanny takes more than luck.
1. Finding the right nanny takes more than a positive referral from a friend. The right nanny for your best friend's family may not be the right nanny for your family. Just because someone is a great nanny does not mean they are a great nanny for you. When considering personal referrals, consider the nanny's style, past experiences and personality when determining if she may be the right fit for you.
2. Finding the right nanny means you're making an informed and educated hiring decision. While going with your gut is essential when determining if a caregiver is a match, you want your gut reaction to be balanced with an honest evaluation of all the information and data you can legally gather and consider about an applicant. Always do your research so you can know who may be caring for your kids.
3. Finding the right nanny means you are committed to investing in the ongoing relationship. Investing in a solid written nanny/family agreement can eliminate 99% of the issues that come up in a nanny/family relationship. Making time for daily check ins and regular reviews, keeping communication open and committing to investing in the relationship can ensure once you find the right nanny, you keep her too.
When searching for the right nanny for your family, Morningside Nannies can help you hire right the first time. Call us at (713) 526-3989 for a complimentary consultation. 
Posted in
Advice for Parents
|
Comments Off

on 3 Reasons Finding the Right Nanny Takes More Than Luck
Morningside Nannies is proud to partner with GTM Payroll to educate parents and nannies on wage and tax compliance and to offer an easy, affordable solution that takes the hassle out of paying a nanny legally.
Contact Matt Owen by email at m.owen@gtm.com or by calling (800) 929-9213 ext. 7243 and mention Morningside Nannies for your complimentary consultation. The GTM website is also full of helpful information, including a tax calculator.
GTM offers clients of Morningside Nannies FREE account set up – a $95 value – should you choose to engage them for payroll and tax services.
Mention Morningside Nannies when you call or use code MSN95 when setting up an account online.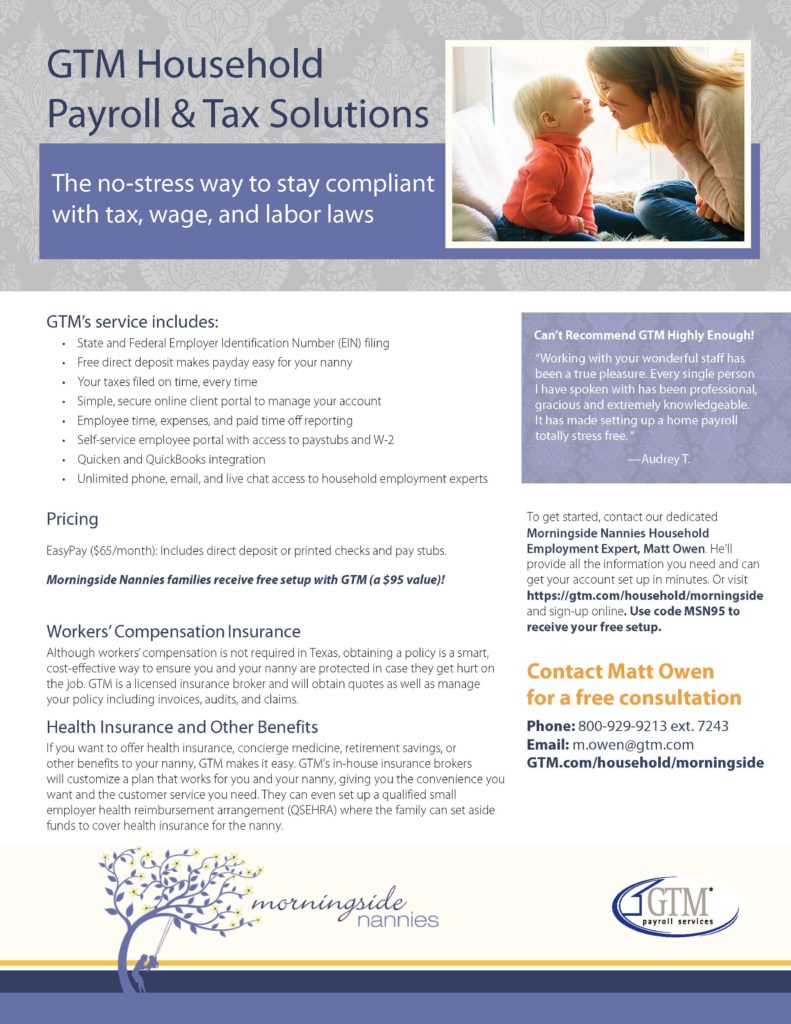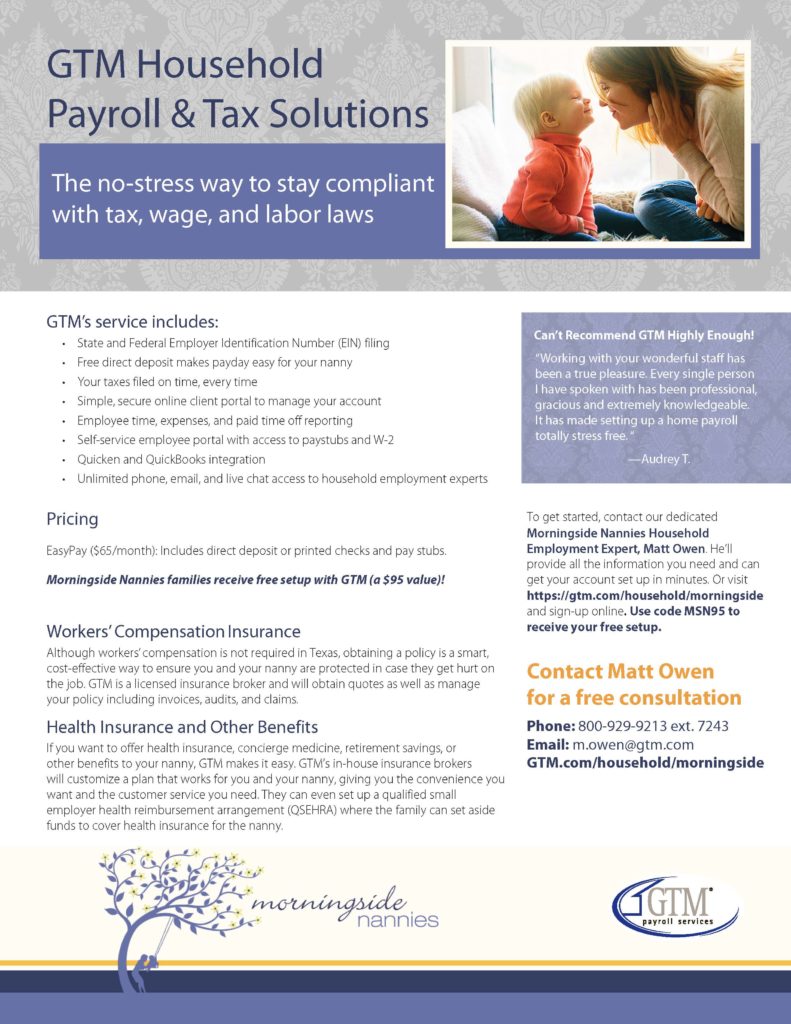 Posted in
Advice for Parents
|
Comments Off

on The No Stress Way to Stay Compliant
Morningside Nannies implements Knowing Nanny personality profiles into their nanny screening process.
Beginning in 2019, Morningside Nannies will implement Knowing Nanny personality assessments into their nanny application process, adding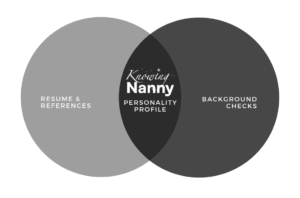 to their comprehensive nanny screening tools which include background checks, reference checks, employment verifications and childcare health and safety assessments. Morningside Nannies has been granted exclusivity to the Houston market and will be offering this as a unique point of difference.
Since 1992, Morningside Nannies has been helping Houston based families find the right solution to their childcare needs. They partner each family with an experienced placement specialist, saving time and energy in their nanny search. Parents are only presented candidates who meet their specific hiring criteria and who are hand-picked and especially qualified for their position. Morningside Nannies represents only the most qualified, experienced and well-referenced Houston based nannies and excels at matching the right nannies with the right families. Utilizing in-depth applications, childcare assessments, in office interviews, background checks, reference checks and now the Knowing Nanny personality assessment, Morningside Nannies makes the best educated and informed decisions when considering which applicants to represent.
"We believe it is essential to gather as much information as available on potential applicants so that we can make educated and informed decisions," said Michelle LaRowe, Executive Director of Morningside Nannies. "We view this partnership as an expansion of our commitment to equipping parents with the tools they need to make the best hiring decisions for their family and for successfully managing their new hire."
Delilah Atkinson, Principal of Knowing Nanny said, "We are thrilled to have Morningside Nannies using our personality assessments in their pre-screening process. The reports will assist them with placements, providing a deeper understanding into the nanny's personality, and if the nanny would be a good fit for a family. There are no right or wrong personalities, people are just different, and some nannies suit certain families better. Morningside Nannies will have this insight and continue to create a happy nanny + happy family = thriving child environment in 2019. We look forward to supporting Morningside Nannies and know their best in class approach will be hard to beat."
Posted in
News
|
Comments Off

on Morningside Nannies to Offer Personality Profiles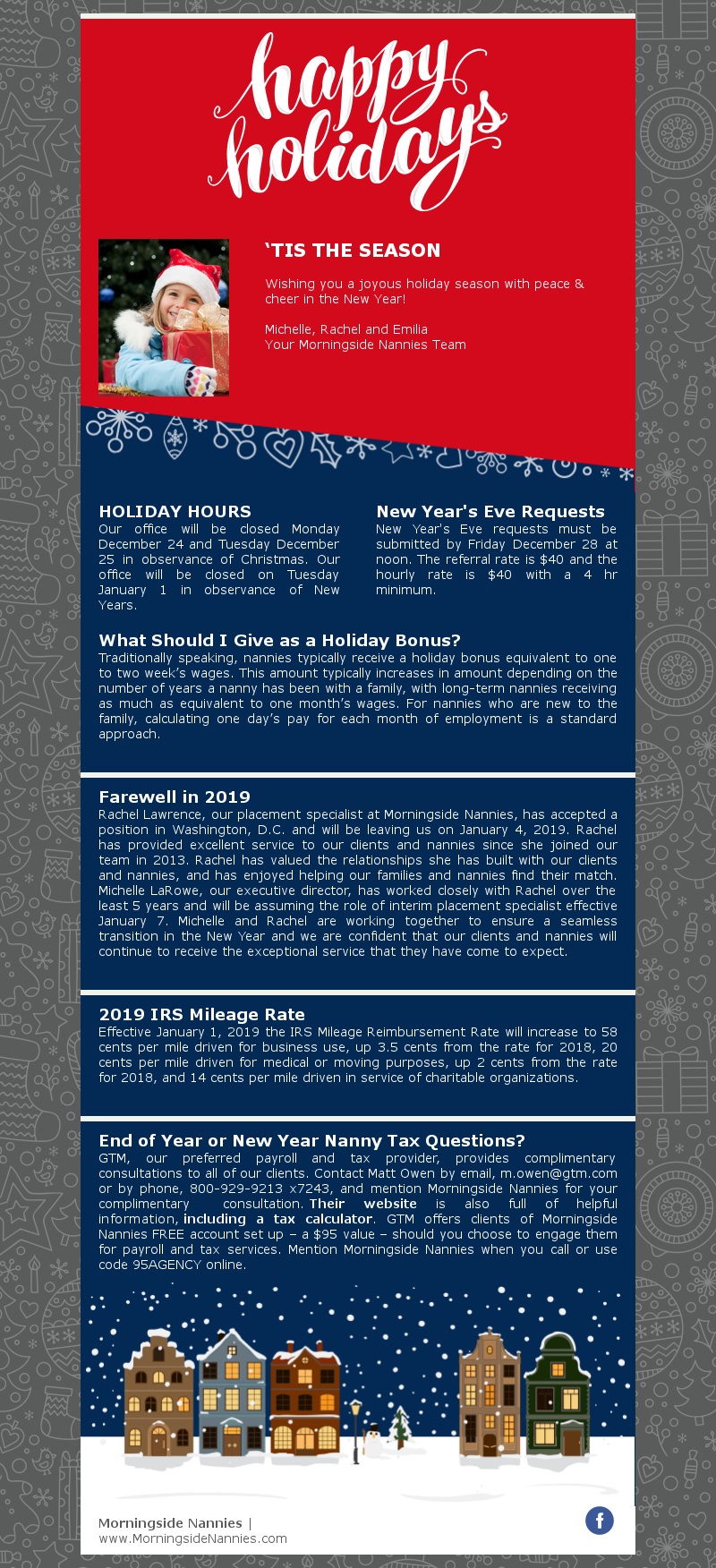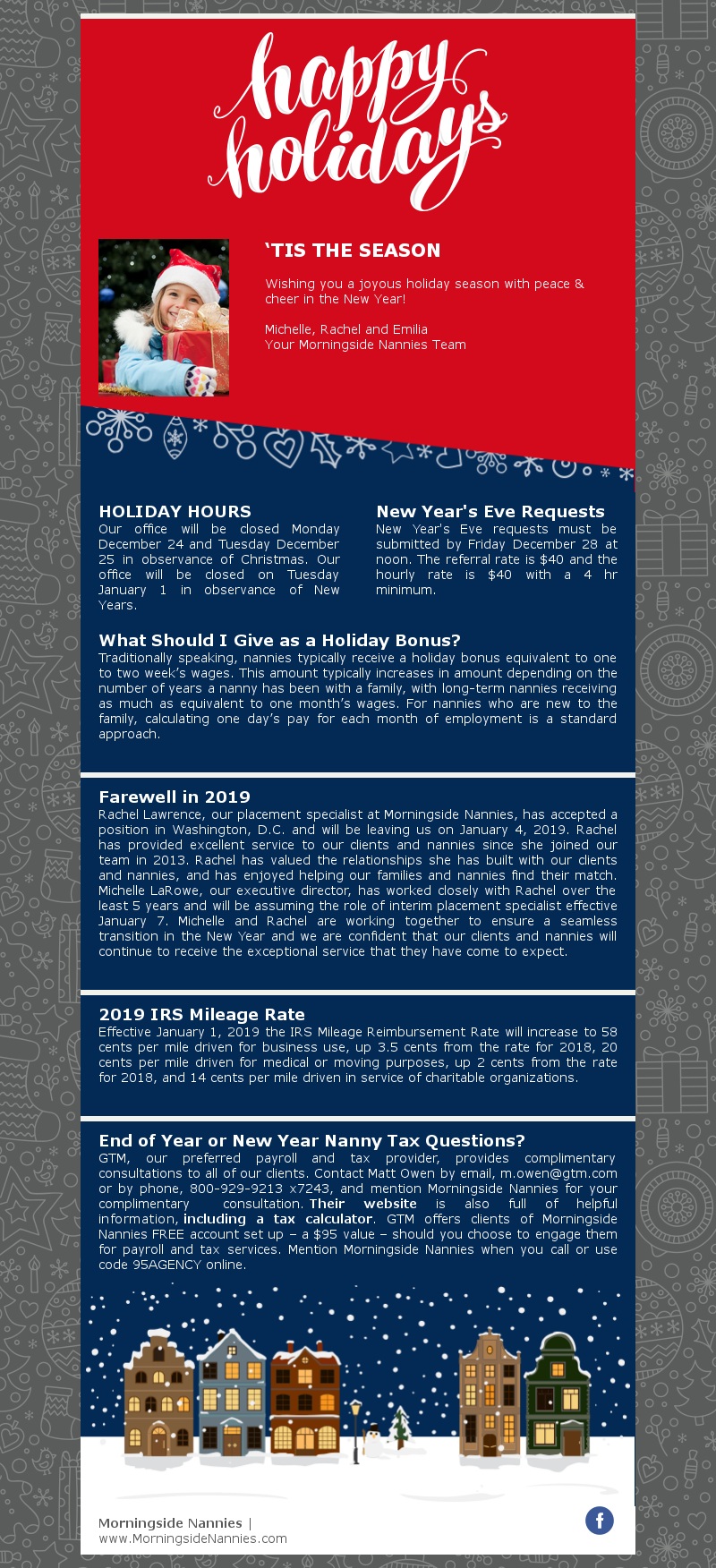 Posted in
News
|
Comments Off

on Holiday News and Updates
Beginning on Jan. 1, 2019, the standard mileage rates for the use of a car (also vans, pickups or panel trucks) will be:
58 cents per mile driven for business use, up 3.5 cents from the rate for 2018,
20 cents per mile driven for medical or moving purposes, up 2 cents from the rate for 2018, and
14 cents per mile driven in service of charitable organizations.
Posted in
News
|
Comments Off

on Mileage Reimbursement Updates for 2019
← Older posts