In fact, many nanny employers factor the holiday bonus into their childcare budget and include reference to it in their written work agreement with their nanny.
For nannies, bonuses do matter, as they indicate the nanny has successfully met or exceeded your expectations and they show appreciation for the commitment and investment the nanny has made to the family throughout the year and builds positive feelings towards the relationship.
While nannies fall under the umbrella of childcare providers, their role, workplace, and responsibilities are certainly unique.
Childcare trainings designed for daycare workers, center-based providers, and early childhood educators certainly cover content that nannies can apply to their work but does not always take into consideration the special challenges, circumstances, and situations that nannies regularly face in their role or their workplace.
For that reason, when considering training, nannies will benefit from programs that are developed specifically for them by those who know the nanny industry best.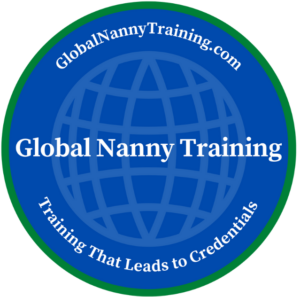 As you consider your career path in the childcare world, there are more educational opportunities than ever for nannies. Choosing training developed specifically for nannies by recognized leaders in the nanny industry will help to ensure that you are gaining knowledge from those who truly understand the important work nannies do and those who can teach you how to do it best.
Posted in Advice for Nannies | Comments Off

on Happy National Nanny Recognition Week

GlobalNannyTraining.com provides specialized training for nannies that offers third-party accreditation through the Northern Council for Further Education (NCFE), the global leader in vocational and technical learning, and the Council for Awards in Care, Health and Education, (CACHE) which specializes in the early years and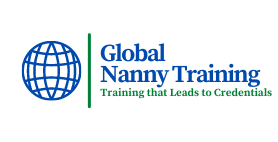 childcare sector.

According to the US Department of Labor, it is estimated that there are nearly one million childcare workers in the United States, a group which includes nannies who provide unsupervised care for the country's youngest citizens in their private homes. There has been no accredited career pathway for these workers. Until now.

Stella Reid, a trained British nanny who is also known as Nanny Stella from the hit reality TV show Nanny 911, and award-winning nanny, parenting author, and educator Michelle LaRowe, have joined forces to bring nannies specialized training that offers third-party accreditation through the Northern Council for Further Education (NCFE), the global leader in vocational and technical learning, and the Council for Awards in Care, Health and Education, (CACHE) which specializes in the early years and childcare sector.

"Each of our customized qualifications offered on GlobalNannyTraining.com has been developed to meet the specific needs of nannies and has been accredited by NCFE/CACHE, demonstrating the quality and rigor of our course work. Upon completion of each Customized Qualification, learners will receive a certificate of achievement issued by NCFE/CACHE which serves as evidence of the knowledge and skills gained by successfully earning the qualification," said Michelle LaRowe, the organization's lead educator.

"As a British trained nanny, it was always concerning to me that in the US, there were no opportunities for nannies to gain knowledge and skills through competency-based training that leads to recognized accreditation or credentials," cautioned Stella Reid. In 2016, Reid decided to change that by establishing the first and only US-based CACHE Endorsed Training Center, where she now offers accredited training for both nannies and newborn care specialists, alongside LaRowe and other leading industry experts. According to the NCFE website, her center is one of only 16 endorsed centers from around the world.

"Working in a private home as a nanny is much different than working in center-based childcare," said LaRowe. "Our courses are designed especially for nannies, by nanny industry experts. They are not adapted for nannies, but instead are developed specifically for those caregivers who work in private homes. That makes a real difference," LaRowe explained.

In addition to aligning with NCFE and CACHE standards, courses offered through GlobalNannyTraining.com align with the US Nanny Association's National Standards and cover the competency goals, subject areas and functional areas outlined by the frameworks required to earn the Council for Professional Recognition's Child Development Associate Credential. GlobalNannyTraining.com is also an educational member of the International Nanny Association.

GlobalNannyTraining.com offers affordable, easily accessible, and online training to nannies across the globe. Thus far, LaRowe and Reid have educated nannies in over 30 countries, according to enrollment data from NannyTraining.com.

Posted in Nanny Training | Comments Off

on New! Accredited Career Pathway for Nannies Now Available

Due to the increase in demand for nannies, Morningside Nannies is currently only accepting positions that meet the following criteria, effective 1/28/2022.

We will only accept split shift positions that guarantee 40 hours per week. To ensure families have the flexibility they need and to ensure nannies are not being asked for full-time availability for part-time pay, we have found this parameter to be essential for a successful long-term placement.

We will only accept part-time positions with consistent schedules. Because we only represent experienced caregivers and do not have entry level providers, those who are seeking part-time positions are most often seeking positions to complement their other commitments. For this reason, we will only accept part-time jobs that are set days and hours and jobs that offer only morning hours or only afternoon hours.

We will only accept part-time positions that have a four-hour minimum shift per day. While after school nannies are in demand, the jobs that successfully place offer 4 hours per day, 5 days per week for a 20 hour per week minimum guarantee.

We will only accept full-time positions that offer industry standard benefits. While you are not legally required to offer benefits, to attract and retain quality nannies and to remain competitive, standard benefits must be offered. Full-time nannies that we successfully place typically expect their offer package to include two weeks of paid vacation, guaranteed hours, paid vacation days, paid holidays, paid sick days and mileage reimbursement for on the job driving when the nanny is using her own vehicle. We are unable to accept positions that do not offer these minimums.

We will only accept positions that do not include deep cleaning or pet care. Our candidates are childcare providers. They take on all tasks related to the children including cleaning and organizing the children's rooms, preparing the children's meals and cleaning up afterwards, and doing the children's laundry. The general rule of thumb for general areas of the home is the nanny will leave the home in the same or better condition as when she arrived. Our clients and nannies are most satisfied when a housekeeper comes into the home once a week or once every two weeks to deep clean, and a dog walker to provide services for families whose pets require more than being let in and out of the home daily.

We will only accept legally paying jobs that offer a minimum of $17 gross per hour. We educate both our nannies and families on the importance of fair and legal pay. Our jobs typically place between $18-22 per hour. Part-time jobs tend to have a higher hourly wage expectation than full-time jobs.

We will only accept jobs in our immediate service area. This extends from Conroe to Sienna Plantation and from Katy to the 610.

Posted in News | Comments Off

on New Job Parameters

Since the start of the pandemic in 2020, we have continued to serve nannies and families while transitioning to a remote work environment.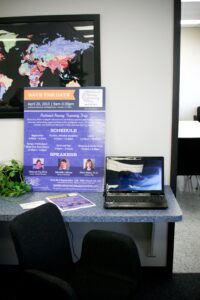 As we have continued to fine tune our processes, policies, and procedures to work in a virtual world and with no real timeline established for heading back into the office to meet with nannies face to face, we have decided to permanently operate in a virtual setting.

Prior to the pandemic, we never would have imagined a world where we would be screening nannies outside of our office, however in today's world, we all know too well that virtual operations have become the norm.

Since the start of the pandemic, so much of the way we do business has changed. In fact, a substantial number of nanny placements made over the last year included family's hiring directly from a virtual interview.

While we continue to miss seeing our nannies face to face, we enjoy how quickly and efficiently we can assist them in finding the right job with the right family.

As we close the doors to our longtime Kirby Street office, we are excited about the opportunity to leverage technology as we continue to help nannies and families find the right match.

Should you wish to reach us by postal mail, our new mailing address is 22136 Westheimer Pkwy #704 Katy, TX 77450. Our website, phone number, fax number, and email addresses will all remain the same. Our hours will be 8a-530p Monday-Friday.

Thank you for your continued support.

Posted in News | Comments Off

on Office Updates

Each year, we get numerous requests from clients and the media asking about Christmas and year end bonuses. We've put together this information that answers the most common questions.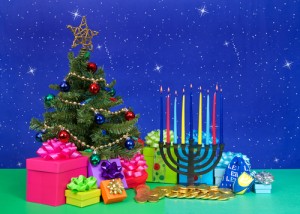 It is industry standard for parents to provide their nanny with a year end or holiday bonus.

In fact, many nanny employers factor this into their childcare budget and include reference to an annual bonus in their written work agreement with their nanny.

Traditionally speaking, nannies receive a holiday bonus equivalent to one to two week's wages.

Things like experience, how long a nanny has been with the family, geographical location and what a family can truly afford can influence how much a bonus is.

This amount typically increases the longer a nanny has been with a family, with long-term nannies receiving as much as what is equivalent to one month's wages.

For nannies who are new to a family, calculating one day's pay for each month of employment is a standard approach.

While parents and nannies may be familiar with the idea of year end bonuses, many are not aware that the annual bonus counts as taxable income.

In a recent GTM survey, 52% of respondents listed Annual Bonus as one of the top benefits for nannies.

For nannies, bonuses do matter, as they indicate the nanny has successfully met or exceeded expectations and they show appreciation for the commitment and investment the nanny has made to the family throughout the year.

Nothing good comes from not giving your nanny a year end bonus. From hurt feelings to feeling unappreciated and undervalued, when it comes to holiday giving, your nanny is someone you don't want to leave out.

Posted in Advice for Parents | Comments Off

on Nanny Holiday Bonuses and Gifts

The 2022 Nanny Industry Calendar has just been released! If you are seeking professional development, please be sure to check out these opportunities and register to attend.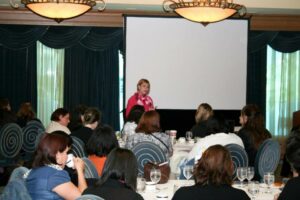 The International Nanny Association will be hosting its 2022 Annual Conference March 31 – April 3, 2022 in Las Vegas, Nevada. Please visit inaconference.org/ to register or learn more about this event.

International Nanny Training Day will be celebrated April 9, 2022. More information about this event can be found at nannypalooza.com/nntd.html as it becomes available.

The Great British Nanny Conference will be held April 30, 2022 in Manhattan, New York featuring speakers from both the US and the UK. To learn more or to purchase your ticket, visit uknanny.org/new-york/.

The US Nanny Association will hold its annual conference in September 2022. More information will be available on their website in April 2022. Visit usnanny.org/conference/ for conference updates as they become available.

Nannypalooza will be held October 7-9, 2022 in Raleigh, North Carolina at the Double Tree by Hilton Raleigh-Durham Airport location. For conference updates, to purchase your ticket, and to learn more about this annual event, please visit www.nannypalooza.com.

The 2022 APNA Conference details will be held October 19-22, 2022 in San Diego, California. Visit theapna.org/ for updates as they become available.

For nanny specific training that can be accessed online and completed at your own pace, please visit NannyTraining.com to view the full course catalog.

Posted in Advice for Nannies, Nanny Training | Comments Off

on 2022 Nanny Conference Calendar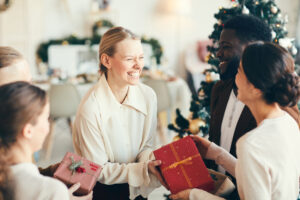 When it comes to holiday gift giving, finding just the right gift for your charges' parents can be a real challenge. Trying to find something that isn't too personal, yet personal enough can make Christmas shopping more stressful than fun. As you consider a holiday gift for your nanny family, these gift ideas strike the right balance between personal and professional and will help you feel like you've found the gift that's practically perfect in every way.
Handprint ornament. For families who celebrate Christmas, having a handprint ornament to cherish for years to come will likely be a favorite. While there are many do it yourself versions, taking a trip to your local pottery store to have your charges' handprint stamped on a ceramic globe and kiln fired will take it up a notch and leave you with a one-of-a-kind piece of irreplaceable art.
Framed photos. Capture that perfect photo? Have it printed on high quality photo paper and choose a frame that compliments the photo just right. Place the frame in tissue paper, box it up, and wrap the box in Christmas themed paper, adding twine, bows or ribbon to make the packaging as elaborate as you wish.
Framed art. Like the photo idea but come up short on the perfect shot? Frame a piece of the child's artwork. Create a Christmas themed painting or drawing and wrap it up! Choose a gift box, themed paper, and deck the package out as much as you wish!
Homemade dessert. From peppermint bark to chocolate fudge, most nannies have a special dessert that people can't wait to experience during the holidays. Prepare your most famous recipe and then wow them with presentation.
Something personalized. From charcuterie boards with the family's last name engraved to popcorn bowls- one with each family member's name, personalized gifts that are customized to your nanny family's tastes and are a creative and memorable gift idea.
Choosing the right gift for your nanny family just got a little easier. Personalized gifts that demonstrate that you know the family are the perfect choice when you want to maintain professional boundaries while adding a personal touch.

Posted in Advice for Nannies | Comments Off

on 5 Christmas Gift Ideas for Nanny Families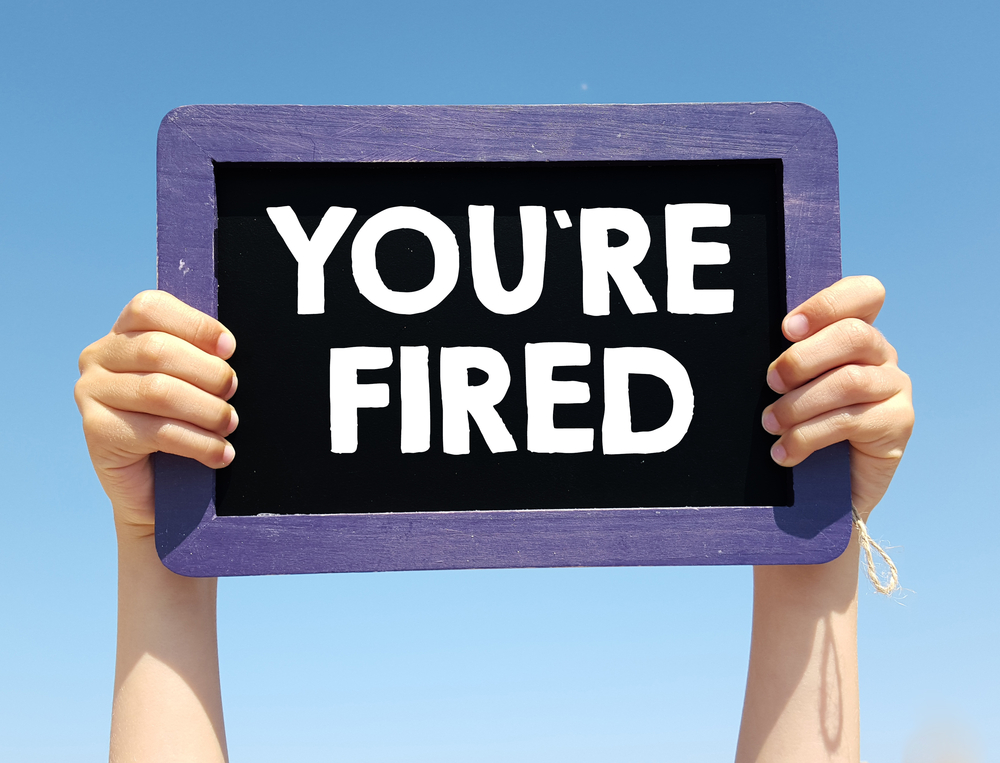 Working in a private household can be a real challenge. With no human resource personnel to serve as a go between, parents and nannies are on their own when it comes to navigating the employer and employee relationship. For nannies who are concerned about job security, if you don't want to get fired, avoid these five common pitfalls.
Showing Up Late. For many nanny employers, there is nothing more off putting than starting the day with their nanny rolling in just after her start time while leisurely sipping her coffee and putting her things away. Instead of arriving to work at your start time, arrive a few minutes before your shift begins so when the clock strikes your start time, you are ready to work.
Spending Tons of Time on the Cell Phone. When parents are seeking a nanny, one of things they most commonly share is that they do not want to hire a nanny who spends a lot of time on her phone. Parents want to be sure that their nanny is actively engaging their child, and fear that with a screen always out, that simply won't happen. When you are on duty, your employer is paying you for a service. Once you arrive at work, silence your phone, and keep it put away until you have designated down time.
Oversharing. When your employer asks how your weekend was, she really doesn't want to know the details, she wants to know that you're well rested and ready to start the week. Pulling your nanny family into personal drama or sharing details about your love life or latest night out can damage the image they have of you and make them second guess the trust they put in you.
The Wrong Fit. While it's common practice to be on best behavior during interviews, you still want your true personality to shine through. There's nothing more cringe worthy for a family than interviewing Mary Poppins and having Mrs. Doubtfire show up. If you're normally upbeat and energetic, let that shine through at the interview. If you're quieter and more reserved, let that shine too.
Failure to Perform Job Duties. When it comes to being a nanny, the role typically includes taking care of all tasks related to the children, including the children's laundry and children's meal prep. While job creep can be a real issue, completing the tasks you are responsible for is essential. Forgetting to load the dishwasher, to put away the laundry, to empty the diaper pail, and to do other seemingly trivial tasks can add up to big resentment quickly. Having a personal work ethic that includes exceeding expectations is one way to ensure that failing to perform doesn't become an issue on the job.
While working as a nanny can offer lots of flexibility when compared to a traditional workplace, there are certain traditional workplace expectations that certainly do carryover. Avoiding common mistakes that lead to firing can help to ensure job security and a happy work environment.

Posted in Advice for Nannies, Advice for Parents | Comments Off

on Avoid These 5 Nanny Job Mistakes

← Older posts