The Official Blog of Morningside Nannies
There are many ways to find a nanny.
Regardless of how you find applicants, it is essential that you hire SMART.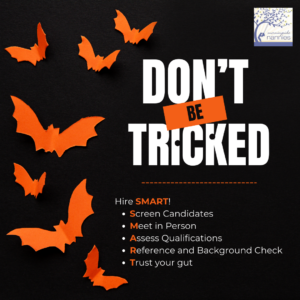 Hire SMART!
You must know who you are hiring and making an informed and educated hiring decision is the first step in doing so.
Screening candidates, conducting in-person interviews, accessing qualifications and the appropriate supporting documentation, conducting reference and background checks, and trusting your gut are some of the best steps you can take to gather the information needed to make an informed and educated hiring decision.
Morningside Nannies only accepts 2-3% of applicants and only presents vetted and screened candidates to parents who are seeking a qualified and experienced nanny, allowing parents to focus on fit.
If you are seeking a Houston-based qualified nanny for your family, call Morningside Nannies for a complimentary consultation at (713) 526-3989.
Posted in
Advice for Parents
,
Houston
|
Comments Off

on Hire Smart
For many parents, finding the best nanny is a crucial decision in ensuring the well-being and happiness of their children.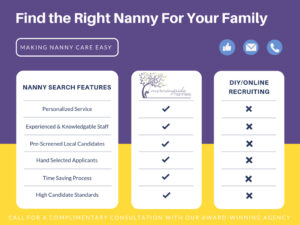 Before you start your search, it's essential to clearly define your childcare needs and expectations.
Consider factors such as:
Hours and schedule: Will you need a full-time, part-time, or occasional nanny? Consider your typical schedule and be sure to factor in buffer time for work emergencies and commutes.
Specific skills or qualifications: Are there any specific skills, qualifications, or certifications you require from a nanny, such as a background in early childhood education or experience with special needs children?
Household duties: Do you expect your nanny to perform additional household tasks or to have any non-childcare responsibilities, such as family meal preparation or running errands?
Childcare philosophy: Are there specific parenting styles or philosophies you'd like your nanny to align with?
Role in family: Are you seeking to have a formal relationship with your nanny or are you expecting her to become an extended member of your family?
Having a clear understanding of your requirements will help you draft an accurate job description that will focus your search on nannies who truly meet your hiring criteria.
When choosing a nanny, finding someone you trust and feel comfortable with is key. Trust your instincts and consider how well the candidate fits into your family dynamics.  Remember that a strong personal connection and a shared childcare philosophy can be just as important as qualifications and experience.
At Morningside Nannies we conduct objective screening for our families, ensuring that parents are only interviewing candidates who meet their hiring criteria, allowing them to focus on family fit and connection.
To learn more about our candidate screening and family matching process, call us today for a complimentary consultation at (713) 526-3989.
Posted in
Advice for Parents
,
Houston
|
Comments Off

on Finding Your Fit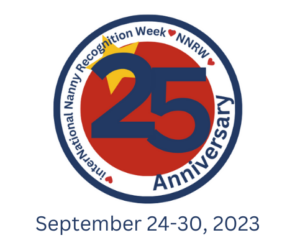 Since 1998, National Nanny Recognition Week has been observed the last week of September to recognize and celebrate nannies across the United States. National Nanny Recognition Week was started by individuals within the in-home childcare industry to recognize the valuable role nannies play in the lives of families.
National Nanny Recognition Week is a time to celebrate the wonderful work nannies do and the difference they make in the lives of the children in their care and the families whom they serve.
If you employ nanny, consider recognizing her during National Nanny Recognition Week this year.
Here are 10 ways that you can show your nanny that you appreciate the valuable care she provides your children and the work she does for your family.
1. Gift your nanny a Caregiver membership to the International Nanny Association
For $55 a year, your nanny will have the resources and support of a professional organization.  The International Nanny Association (www.nanny.org) is a non-profit educational association that serves as the umbrella association for the in-home child care industry.
2. Send her to the spa
Your nanny spends so much time taking care of others she could use a little time to take care of herself. A day of beauty can provide the pampering she needs to be rejuvenated and reenergized!
3. Have the children make her a special gift
A mug with their handprints that says "World's Best Nanny" or a framed drawing your child made or photo of them all together will touch your nanny's heart and provide a gift she'll treasure forever.
 4. Share a meal
Consider taking your nanny out to dinner to celebrate National Nanny Recognition Week. If you prefer to stay home,  prepare the nanny a homemade meal or order take-out from her favorite place.
5. Meet a need
Has your nanny expressed interest in going to the gym or attending a nanny event like Nannypalooza? Consider giving her some money to put towards something she's wanted to do but perhaps isn't in her current budget.
6. Give a gift card
A gift certificate to your nanny's favorite store, restaurant, or even a prepaid gift card is the perfect gift to give when you're not sure what to get.
7. Pay for professional development
Enroll your nanny in training that will benefit her and your family. GlobalNannyTraining.com offers CACHE | NCFE accredited training especially for nannies. The course was developed by Morningside Nannies own Michelle LaRowe who has educated nannies in over 30 countries.
8. A surprise paid day off
Let your nanny know you appreciate her by giving her a surprise paid day off. Many nannies work long hours and often don't get off work until the bank, the doctor's office and other important venues until after closing.  Consider giving your nanny the day to celebrate and to take care of herself and her personal business, on you!
9. Give her a gift subscription to Nanny Magazine
At NannyMag.com, you can purchase a gift subscription for $21 a year. This gets your nanny access to tips, articles and advice to help her be the best nanny she can be in four digital issues a year.
10.  Nanny Swag
Industry insiders have created tons of swag designed especially for nannies. NannyTees.com and TheNannyCards.com are just two websites that offer nanny specific merch.
As any parent who has one knows, having a great nanny makes life easier. If you are fortunate enough to have a quality nanny, be sure to recognize her during National Nanny Recognition Week. In the business of life, you may only see each other in passing, which can make it easy to forget to say thanks. During National Nanny Recognition Week take a time-out to say thanks. You'll be glad you did – and your nanny will be too!
Posted in
Advice for Parents
,
All About Nannies
,
News
|
Comments Off

on National Nanny Recognition Week
Personalized and Trusted Care: Morningside Nannies prides itself on matching families with experienced, compassionate, and background-checked caregivers who provide personalized care tailored to each child's unique needs. With a rigorous screening process and a commitment to excellence, parents can trust that their little ones are in experienced hands.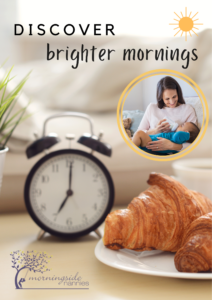 Peace of Mind and Flexibility: As a parent, peace of mind is invaluable. Morningside Nannies offers the flexibility of customizable childcare solutions, whether it's full-time, or part-time, live-in or live-out. Parents can focus on their work or personal commitments with confidence, knowing their children are well taken care of in a nurturing environment.
Unparalleled Support and Expertise: Morningside Nannies goes beyond just matching caregivers with families. We provide ongoing support, resources, and access to industry experts. From paying your nanny legally to establishing a written work agreement, our team is dedicated to helping parents navigate household employment with ease and ensure their children receive the best care possible.
Start Your Nanny Search Now: MorningsideNannies.com
Posted in
Advice for Parents
|
Comments Off

on Discover Brighter Mornings with Morningside Nannies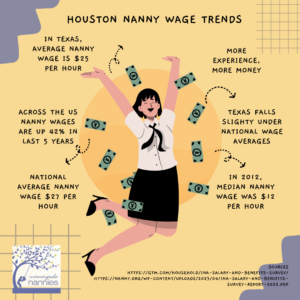 The results of the 2022 INA Nanny Salary and Benefits Survey are in.
The key takeaways for the Houston market include:
The national nanny median hourly rate continues to increase. In 2012, it was $16, in 2017 it was $19, and in 2022, it was $25 per hour.
The national average nanny rate is $27 per hour. This is a 42% increase over the past five years. In Texas it is $25 per hour.
Higher wages and more benefits indicate that the pandemic has brought to light the value of child care.
Posted in
Advice for Nannies
,
Advice for Parents
,
News
|
Comments Off

on Houston Nanny Wage Trends
Posted in
Advice for Parents
|
Comments Off

on 2023 Tax Responsibilities for Nanny Employers
Wondering what 2023 has in store for the Houston nanny market?
Here's a few trends to look for as you conduct your nanny search.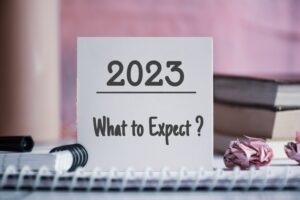 1. Increased Federal Tax Thresholds
The earnings threshold that triggers the requirement to remit FICA taxes on a household employee's wages will increase to $2,600 in 2023, up from from $2,400 in 2022. If the annual FICA wage threshold is reached, the household employer becomes responsible for remitting both the employee and employer portions of FICA on all the wages they paid to the employee during the tax year. When wages paid to a household employee do not reach the annual FICA threshold, the household employer is not required to issue a W-2.
2. An IRS Mileage Rate Increase
Beginning on January 1, 2023, the standard mileage rates for the use of a car (also vans, pickups or panel trucks) will be 65.5 cents per mile driven for business use, up 3 cents from the midyear increase setting the rate for the second half of 2022.
3. Nanny Wage Increases 
"Last year was one of the tightest nanny job markets in recent memory, or, maybe ever. With daycare centers closed or offering limited availability, the demand for in-home childcare skyrocketed. While that demand may have slowed a little bit, hourly rates for nannies increased by up to $4/hour."
4. Higher Nanny Wage Expectations 
We are seeing accepted full-time job offers at gross wage rates between $22-26 per hour, and have seen jobs place as high as $32 per hour in Q4 of 2022. Part-time hourly wage rate expectations continue to be more than full-time hourly wage rate expectations, with the fewer the hours guaranteed, the higher the wage expectation.
5. Industry Standard Benefits
Nannies continue to expect fair and legal pay, and a minimum of guaranteed wages, paid vacation, paid major holidays, sick days, and the IRS mileage reimbursement rate of on the job driving when using their own personal vehicle.
6. Nanny Shortages 
The pandemic nanny shortage that we saw in 2021 continues with there being more jobs than there are nannies. We are seeking search windows of 2-8 weeks for full-time searches and 6-12 weeks or more for part-time searches and double the amount of jobs than available nannies.
7. Guaranteed Hours
Nannies continue to expect to be paid for the minimum schedule they agreed to when accepting the job offer, regardless of if the hours are worked. If family comes into town and the nanny is given the day off so that the children can enjoy time with family, the nanny would still expect to be paid.
8. New Rules Surrounding Venmo or App Payments
The IRS has delayed the implementation of this new tax reporting rule. Receiving payment for services via a mobile app won't generate a Form 1099-K if these payments totaled more than $600 in 2022. The rule will now apply to 2023 payments.
9. A Competitive Nanny Market
Nannies have their choice of jobs, so they are less likely to take on dual roles, like nanny/housekeeper, or take on tasks not related to the children. They can afford to be choosy in the jobs they interview for and don't have to make the concessions that were typical to land their perfect job, prior to the pandemic.
10. In Person Interviews
During 2021 and 2022, many parents were hiring nannies directly from Zoom interviews. We are starting to see a trend of returning to the in-person interviews and shadow interviews, that disappeared during the height of the pandemic.
Posted in
Advice for Nannies
,
Advice for Parents
|
Comments Off

on 10 Houston Nanny Trends for 2023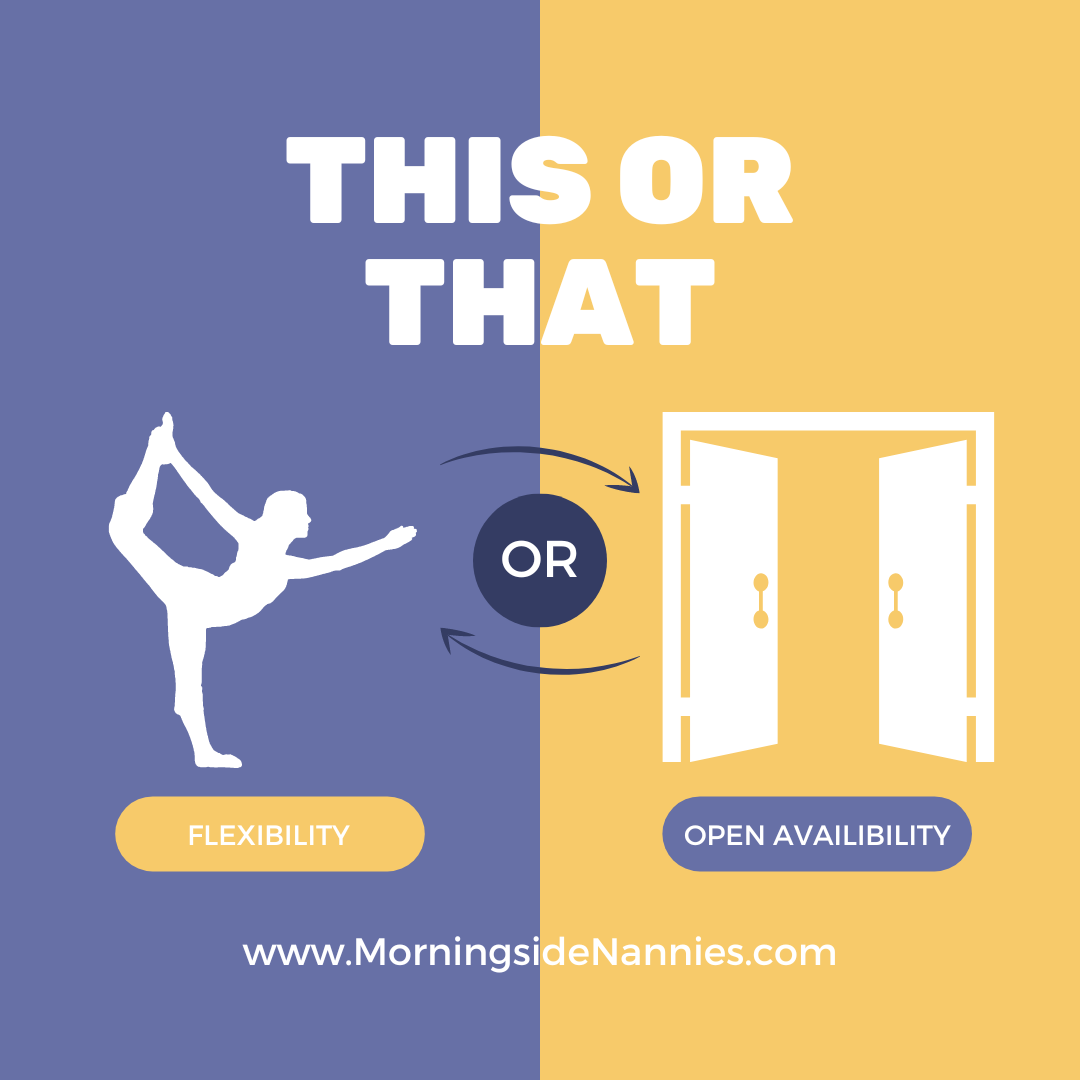 Everyone understands that one of the many benefits of employing a nanny is the flexibility that comes with it.
Running a few minutes late due to traffic? No problem.
Work emergency that requires you to stay late?  Not an issue.
Got a weekend wedding and need date night coverage? You've got it!
Overnight care needed due to a work trip and the grandparents got ill and cancel coming into town to provide coverage? Don't worry, the nanny will have your back.
When a family states that they need flexibility in their job description and during their nanny search, these are some of the exact scenarios that nannies are well-prepared for and have come to expect.
But what happens when that occasional need for additional coverage turns into a daily or at least predictable expectation?
You've crossed the line from needing flexibility into the need for open availability.
The nanny who is hired for afterschool care only is now needed to cover full days whenever school is not in session. The nanny can't have another job because she needs to be available for work.
The nanny is expected to work until the employer is finished his or her work for the day, with no indication of what time that will be. The nanny can't make afterwork plans because she may need to be available for work.
The nanny is required to work a split shift, but is not paid for hours in between, yet must be available if she is needed to provide care during the day. The nanny can't take another job, make appointments, or attend classes, because she may need to be available for work.
The nanny is needed to travel with the family, but she doesn't usually work full-time hours. The nanny can't keep her normal obligations outside of her work hours because she is needed for work.
The nanny is expected to be on call when the parents are on call, so she can't have another job because she may be needed to provide care. The nanny can't make any plans, because without notice, she may have to work.
The nanny is encouraged to float hours because of regular schedule changes. The nanny can't take any commitments during her workweek because she expected to be available when her employer needs her.
So how do nanny employers ensure they have childcare when they need it most?
Advertise accurately for your care need. Consider your care needs carefully. How many times do you run late per week? How often are schools closed and you need back-up coverage? How frequently are the children home from school sick? What are your summer childcare plans? If you find that you regularly need move coverage than the schedule you are advertising for, adjust your schedule or adjust your expectations regarding the nanny's need to provide the coverage.
Compensate for the availability needed. Structure your schedule and compensation for the maximum amount of coverage you'll need. Plan on paying your nanny for the hours she needs to be available to ensure you have the coverage when you need it most.
Have a backup plan. If you regularly need coverage outside of your typical schedule, consider hiring a second nanny or having an up-to-date call list of screened caregivers that you can use to fill the gaps. If you regularly need weekend coverage, consider hiring a weekend nanny.
Consider the benefits of full-time care. If your availability need is for full-time, but your core needs are part-time consider transitioning to a full-time nanny/assistant role. If running errands, home organization, grocery shopping and other non-deep cleaning type tasks would be beneficial to you, consider building out your role to build in the availability you need.
Remember the give and take. Nanny employers who offer their nanny flexibility will often get additional flexibility in return. Does your nanny need to attend a doctor's appointment? Is she running late because she's stuck behind an accident on the freeway? Consider how you respond to these requests if you are seeking additional flexibility in return.
Ensuring you have the coverage when you need it is one of the benefits of hiring a nanny care. As the employer, you set the schedule and you hire someone who can meet your scheduling needs. Honestly evaluating your care needs, transparently communicating them to potential hires, and appropriately compensating your nanny will ensure that you can attract and maintain a nanny who will be there for you when you need her most.
Posted in
Advice for Parents
| Tagged
Flexibility
|
Comments Off

on Flexibility or Open Availability?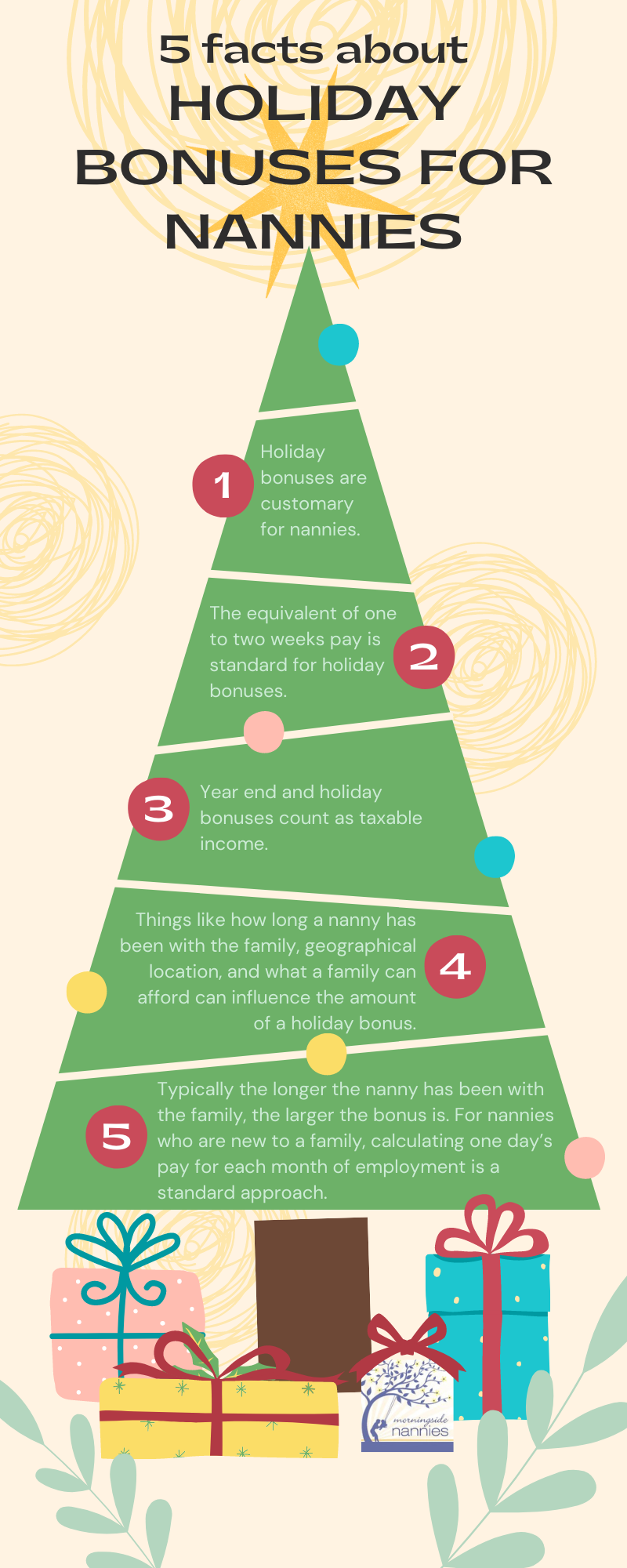 Holiday bonuses are customary within the nanny industry with parents giving their nanny with a yearend or holiday bonus.
In fact, many nanny employers factor the holiday bonus into their childcare budget and include reference to it in their written work agreement with their nanny.
If you are considering offering your nanny a holiday bonus, here are 5 things you need to know:
Traditionally speaking, nannies receive a holiday bonus equivalent to one to two week's wages.
Things like experience, how long a nanny has been with the family, geographical location and what a family can truly afford can influence how much a bonus is.
This amount typically increases the longer a nanny has been with a family, with long-term nannies receiving as much as what is equivalent to one month's wages.
For nannies who are new to a family, calculating one day's pay for each month of employment is a standard approach.
While parents and nannies may be familiar with the idea of yearend bonuses, many are not aware that the annual bonus counts as taxable income.
For nannies, bonuses do matter, as they indicate the nanny has successfully met or exceeded your expectations and they show appreciation for the commitment and investment the nanny has made to the family throughout the year and builds positive feelings towards the relationship.
Posted in
Advice for Parents
|
Comments Off

on 5 Facts About Nanny Holiday Bonuses
While nannies fall under the umbrella of childcare providers, their role, workplace, and responsibilities are certainly unique.
Childcare trainings designed for daycare workers, center-based providers, and early childhood educators certainly cover content that nannies can apply to their work but does not always take into consideration the special challenges, circumstances, and situations that nannies regularly face in their role or their workplace.
For that reason, when considering training, nannies will benefit from programs that are developed specifically for them by those who know the nanny industry best.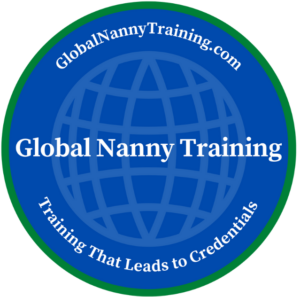 1. Nanny specific training increases your understanding of nanny knowledge, your role, and responsibilities, which is required to be successful. While many other childcare roles require certification or licensing based on established standards to obtain work, no such requirement yet exists for nannies in the United States. Over the course of the last 25 years, however, industry organizations have begun to develop best practices, standards, and recommend minimum requirements for nannies in effort to bring uniformity in understanding to the role nannies play in families and the responsibilities they have in their work. When choosing nanny specific training, look for educators who have experience as nannies, have played a key role in helping to develop and promote industry accepted norms, and have extensive experience and knowledge about the nanny industry.
2. Nanny specific training educates you about the challenges that come with the unique work environment of a nanny. When you work in a childcare center, you never have to worry about your boss walking out of his office in his underwear, go without a co-worker being arm's reach away ready to lend a hand, or not having constant oversight as you perform your duties. Nannies work largely unsupervised in their employers' private homes. The intimate nature of the workplace and the dynamics of the relationship between parents and a caregiver who often spends more time in their home, with their children, then they do can bring many challenges. Nanny specific education is designed from the understanding of the unique workplace and unique relationships that nannies encounter and provides training form that perspective.
3. Nanny specific training empowers you to be your own human resources advocate. When you work as a nanny, you have no one to help you when your paycheck seems off or when you have questions about scheduling your vacation or how to notify your employer when you are sick. You are forced to figure these things out on your own, hopefully prior to starting a position with the creation of a written work agreement and household manual. Nanny specific training gives you tools and strategies for starting off the employer/employee relationship right, having tough conversations about the business side of nannying, and understanding the law, wage compliance, and tax implications related to being and hiring a nanny.
4. Nanny specific training is developed specifically for nannies. Nanny specific training isn't childcare training adapted for nannies, it's created for nannies with a special understanding of what a nanny is, where a nanny works, and what a nanny needs to know to be successful. As a center-based childcare provider, there are things about the children in your care, the families you work with, your employers, and your workplace that you will never know or never need to know, like how to get to the children's doctor's office or how to contact grandma, but for nannies, this information is vital in ensuring they can safely and effectively perform their job.
5. Nanny specific training can give you added earning potential credibility. Voluntarily enrolling and completing training that is specifically created for your role in the workplace demonstrates that you are a professional who desires to be more knowledgeable in your area of professional practice. With third-party accreditation now available to nannies in the United States by NCFE/CACHE, the most recognized childcare care awarding organization in the world, there has never been a better time to increase your nanny knowledge which can increase your earning potential and credibility.
As you consider your career path in the childcare world, there are more educational opportunities than ever for nannies. Choosing training developed specifically for nannies by recognized leaders in the nanny industry will help to ensure that you are gaining knowledge from those who truly understand the important work nannies do and those who can teach you how to do it best.
Michelle LaRowe has over 25 years of experience in the nanny industry and has worked as an award-winning nanny, past executive director of the International Nanny Association, executive director of an award-winning nanny referral agency, and is the lead educator at NannyTraining.com and GlobalNannyTraining.com. She is also the publisher of Nanny Magazine, the industry's leading trade publication. Michelle, along with Stella Reid, launched the first US Based NCFE accredited nanny training program and continues to develop competency-based training specifically for nannies.
Posted in
Advice for Nannies
|
Comments Off

on 5 Reasons Nanny Specific Training is Essential
← Older posts