6 Myths Behind Trial Periods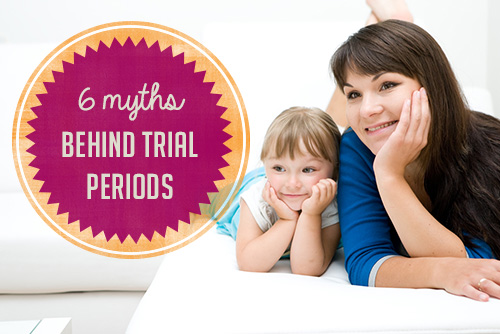 When it comes to hiring a nanny, many parents are interested in having a trial period with a candidate before making their job offer official. This often stems from the belief that a trial period offers them some special advantages. However, this belief is most often based on a misunderstanding of what a trial period is and isn't designed to do.
Before you consider requiring a trial period, you'll want to separate fact from fiction and be sure you're familiar with these 6 debunked trial period myths.
1. Trial Periods Are Part of the Screening Process
Trial periods aren't designed to be part of the nanny screening process; however they are often incorrectly used as such. Trial periods are designed to test the abilities of the candidate that the parents have extended an offer of employment to and to provide an opportunity to confirm that the candidate is able to do everything she said she could and agreed to in the pre-employment screening process. When trial periods are used correctly, they can be very beneficial to both a nanny and family. For example, if a family really wants a live-in nanny, but the candidate they wish to hire has only worked as a live-out nanny, having a trial period makes sense so that both the nanny and family can be sure the arrangement will work out.
2. Trial Periods Are a Great Way to Secure Temporary Care
Trial periods aren't designed to provide an easy back-up care solution. Parents should never settle for a candidate to "hold them over" until a better candidate comes along. Instead, trial periods should only be considered for a candidate who parents have extended an offer of employment to and have a desire to commit to a working relationship with. If an agency offers a replacement policy, offering a candidate a position with the intent of simply requesting a replacement if it doesn't work out is undermining the search and pre-employment screening process.
3. Trial Periods Relieve Parents and Nannies From Responsibility
Even during the trial period, the candidate becomes an employee. If the offer of employment is accepted and a trial period is mutually agreed upon, both the parents and nanny have entered into an employment arrangement and nanny/family relationship. Regardless of how the candidate was referred to them, as always, parents must accept responsibilities for their hiring decisions and should only terminate an employee after trying to reconcile the relationship and correct any job performance issues, as long as the children's safety and family's security is not at risk.
4. Trial Periods Ensure That You Aren't Committed
Many parents believe a trial period is their only opportunity to end a working relationship with a nanny if things don't work out as planned. This is simply not true. A written work agreement can outline reasons and the process for termination and in states where an employee works at-will; one can virtually be terminated anytime, as long as the reason for termination isn't illegal.  The bottom line is that a family is never stuck with a nanny. Terminating an employee is always an option.
5. Trial Periods Don't Require Payment
Some parents believe that they can test-drive a nanny for free under the guise of "seeing how it goes" before making a commitment. Most often parents will ask a nanny to consent to a trial period before making the job offer official and wrongly consider it part of the interview process.  Nannies should always be paid their typical hourly wage rate when working a trial period. The terms of the trial period, including salary, should be discussed and put into writing prior to it commencing.
6. Trial Periods Provide a Guarantee
Anyone can be who you want them to be for a short-time and chances are, if there are going to problems in the working relationship they won't rear their ugly heads until the relationship is firmly established.
Like with any employee, there is never a guarantee that a candidate will work out, however if parents invest the time required to properly screen and interview candidates, take the advice of a reputable placement specialist, and draft a written work agreement with a potential hire, the chances of the relationship working out is in their favor.
← 10 Places for a Dad and Daughter Date Night in Houston | 10 Family Friendly Churches in Houston →
Comments are closed.